Sports
John Harris Dominates Bishop Diego Football
Running Back Is Dynamic Combo of Power and Agility
There are plenty of mothers who are either adamantly opposed or extremely resistant to letting their boys play football.
Then there's Janet Harris. "My mom grew up with 11 brothers in Iowa," John Harris said. "She's rough and tough. She was an all-state basketball player. She's the one I play catch with." She's also the one who insisted her son play tackle football. "I took him to sign up for the YFL when we moved to Santa Barbara in 2010," Janet said. "He got out of the line and said, 'I don't want to play.' I grabbed him by the collar and put him back in line. Boys don't get from other sports what they get from football. My son has grown so much, become so strong."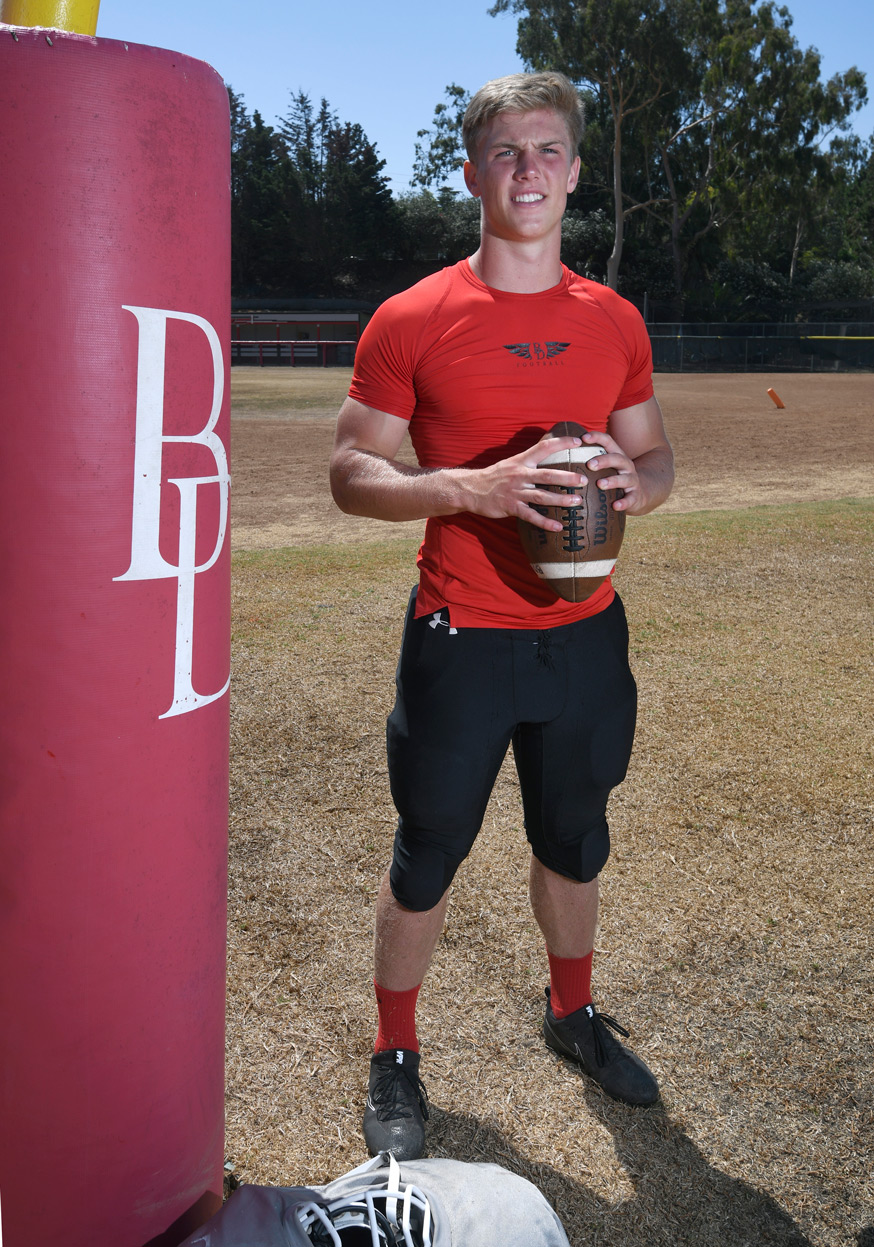 John Harris is entering his senior year at Bishop Diego High as the top running back and one of the best all-around athletes in the city. At 6'2″ and 205 pounds, he's a dynamic combination of power and agility. Coach Tom Crawford sees multiple ways he can lead the Cardinals this fall.
Harris averaged more than eight yards a carry while racking up 1,309 rushing yards last year. "There were four games when he had fewer than 10 carries," Crawford said. "He could have run for 250 yards in each of those games, but when you're up by 30 points, you don't need that. He's a humble kid. I never heard him grumble or say a single thing about wanting the ball more, needing more carries."
The senior is a two-way player. "As a freshman, he started at defensive end," Crawford said. "He's played outside backer, and he's a heck of a safety. Last year, we spot played him at safety, and we used him as a pass-rushing d-end."
Harris's versatility extends throughout Bishop Diego's athletic program. He played basketball as a freshman and sophomore, and last year he was on the soccer team. In the spring, he played volleyball. He said he'll go back to basketball this year, and then, he said, "I'm thinking about baseball." That would make him a five-sport athlete in an era when few students play as many as three sports.
It's football that he'll play in college. Because he's a straight-A student ​— ​sporting a 4.52 grade-point average with advanced placement classes ​— ​he has attracted the interest of Ivy League schools. He's visited Harvard, Yale, and Columbia.
UC Davis is also in the picture, Harris said. He's in no rush to commit. "I'll want to stretch it out as long as I can and get the best picture of all the options," he said.
Bishop Diego faces a top-heavy football schedule this fall. The Cardinals open at home (SBCC's La Playa Stadium) on Friday, August 25, against Desert Pines from Las Vegas. The Jaguars won the Nevada 3A (second highest division) state championship last year and sent five graduates to Pac-12 colleges. The following week, Bishop visits Central Coast power Arroyo Grande.
The Cardinals are not daunted when they take the field against much larger schools. Two years ago, they were matched up in the CIF playoffs against Newbury Park, a perennial power in the football-rich Conejo Valley. They surprised the Panthers with an offensive outburst, built up a big lead, and held on for a 53-47 victory. "That game was just insane, ridiculous," said Harris, one of Bishop's sophomore standouts in 2015.
Those sophomores are now seniors who will lead the Cardinals into the coming season. The offensive line is big and savvy. "Coach [Crawford] has some good schemes," Harris said. "His thought process that goes into each game plan is pretty deep. You've got to do your thing, and if everybody does, it works out."
The schemes may showcase Harris as a receiver this fall. "We're going to throw to him," Crawford said. "He's so big, he creates a matchup problem. You try to double-team him, [and] it helps us in terms of running stuff inside."
There's always the risk of injuries in football. Harris has been relatively unscathed. He said he's never had a concussion, and his coach is trying to keep the threat level low. "We're not doing an intrasquad scrimmage this year," Crawford said. "This group is pretty experienced, and from my perspective, there's no need to do another day of real contact. We're practicing more in shoulder pads and shorts."
Harris said, "I'm not worried. Look at the [Seattle] Seahawks, all the emphasis they're putting on safe tackling. It's going in a good direction."
If he plays in the Ivy League, which does not participate in postseason playoffs or bowls, Harris would experience fewer collisions in his career, not that he wants to miss out on extra action. "No bowls is a bummer," he said. After college, he does not plan on continuing to play football. "I've been thinking about medicine," he said. His father, Courtney Harris, is a retired heart surgeon.
Janet Harris was helping out on the sideline at Bishop's games last year, and she relished a taste of full-contact football during the Cardinals' last playoff game against Salesian. "John was running toward me," she said. "A linebacker came over from the other side, and he didn't take out John. He took [me] out … A piece of my pelvis broke off, and a meniscus got torn." It's only made her stronger, she said: "I'm ready for the next season."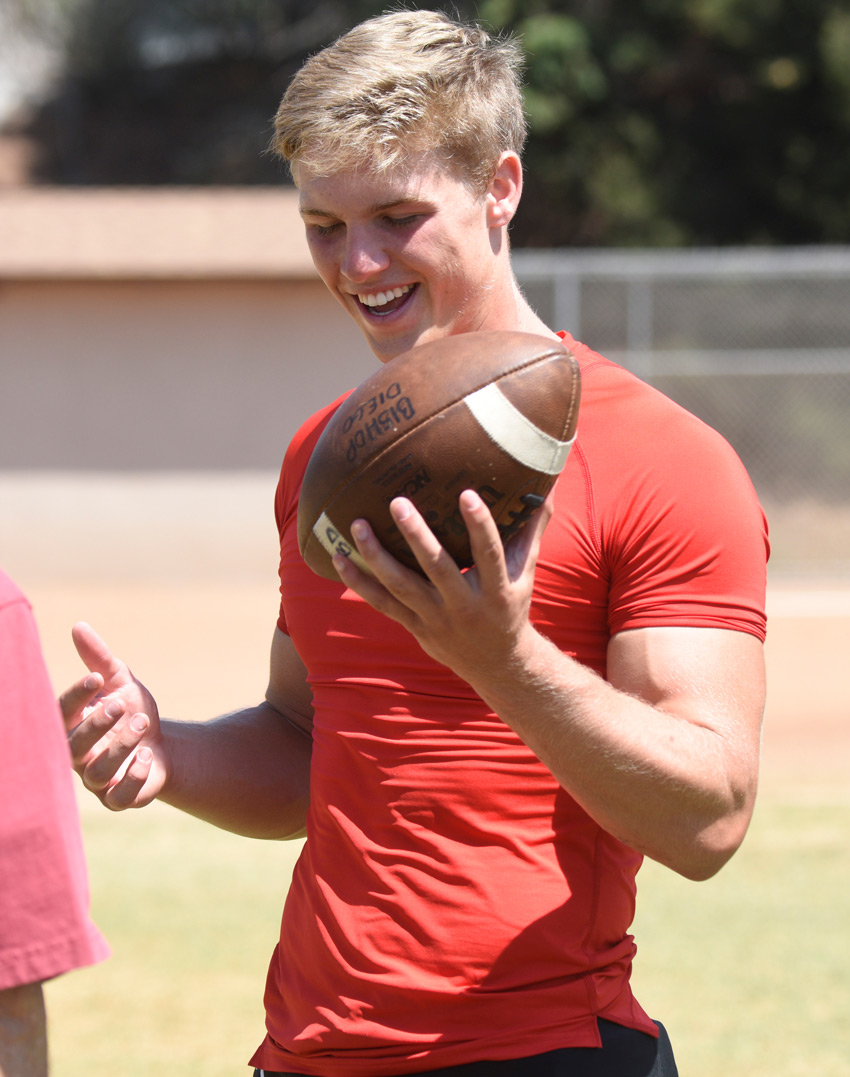 TWO FULL WEEKENDS OF FOOTBALL
HIGH SCHOOL
Friday, 8/25
• Dos Pueblos vs. San Juan Hills, Scott O'Leary Stadium, 7pm.
• San Marcos at Santa Ynez, 7pm.
• Bishop Diego vs. Desert Pines, La Playa Stadium, 7:30pm.
Saturday, 8/26
• Santa Barbara vs. Saugus, La Playa Stadium, 7pm.
Friday, 9/1
• Santa Barbara vs. Santa Maria, La Playa Stadium, 7pm.
• San Marcos vs. Morro Bay, Warkentin Stadium, 7pm.
• Dos Pueblos vs. Lompoc Cabrillo, Scott O'Leary Stadium, 7pm.
• Bishop Diego at Arroyo Grande, 7pm.
• Carpinteria vs. Santa Ynez, Carpinteria Valley Memorial Stadium, 7:30pm.
Eight-Man:
• Laguna Blanca at Santa Maria Valley Christian, 7pm.
• Cate at Mojave, 7pm.
COMMUNITY COLLEGE
Saturday, 9/2
• SBCC vs. Ventura, La Playa Stadium, 1pm.
GAME OF THE WEEK
8/19: College Men's Soccer: Westmont at UCSB
The Gauchos have dominated Westmont in this traditional season opener, but after last year's 3-0 defeat, the Warriors went on to capture their first conference championship since 2002 and finished with an 11-5-1 record in Coach Dave Wolf's 26th season. Westmont's starters include junior defender Tim Heiduk (Dos Pueblos High) and sophomore goalkeeper Lalo Delgado (Carpinteria). UCSB is coming off a 10-7-3 season and regular-season Big West title in Tim Vom Steeg's 18th year as coach. The Gauchos suffered a blow when midfielder Kevin Feucht, their leading scorer in 2016, suffered a season-ending knee injury in practice. Newcomers include forward Rodney Michael, the California Gatorade Player of the Year from Dunn School. 7pm. Harder Stadium, UCSB. $8-$10. Call 893-UCSB (8272) or visit ucsbgauchos.com.