From Napa's Wine Country, Alison Crowe, who grew up in Carpinteria and is now a winemaker for Plata, Garnet, and Picket Fence, wrote about how to prep for fire and evacuation on her blog, Girl and the Grape.
My parents were just up here in Napa helping me prepare to evacuate during the October Wine Country Wildfires, and now they are facing the Thomas Fire at home. My heart goes out to all my friends and family in the area. There's not much I can do from hundreds of miles away, but I can at least compile a list of lessons and "to do's" I learned during October's wildfires.
If you have to evacuate soon, like in the next few hours:
—Make a list of things to do and to pack. Stress makes us forgetful. Writing it down will add to your sanity and calm.
—Know your escape routes, and stay posted because they might get pinched off. Have a backup escape plan or two.
—Arrange an out-of-the-area rendezvous point with your family or crew post-evacuation in case you get separated. That way you'll know immediately if everyone made it out okay.
—If you haven't already, sign up for local alert systems. In Santa Barbara County, go to awareandprepare.org.
—Turn on local radio channels, and listen in on a battery-operated radio. National news is mostly worthless.
—Be wary of false information or rumors on social media. Check-in with people verbally or via messaging to confirm.
—Find all your animals immediately. So many people got delayed chasing down scared cats or dogs.
—Evacuate little kids early if possible, as early as possible. It will be far less traumatic for them watching from Grandma's than seeing your scared faces and listening to the stressful grownup conversations.
—"Fireproof" safes are not.
—If you don't have time to pack a suitcase, grab your dirty laundry basket. It'll be full of items that fit and match the weather; you can always visit a laundromat.
—Open your garage doors. In the event of a power outage, it's difficult to open electric doors.
—Pack only the essentials. Do the critical stuff first (passports, clothes, medicine, phones, laptops or tablets, chargers, batteries, food, water, pets, and pet food). Pack up extra boxes only if you have time (like your jewelry box, the wedding silver, etc). This is where a prioritized "To Do" list is important.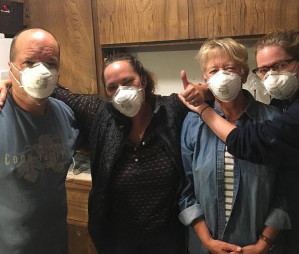 courtesy