Voices
How to Get Ready for a Fire
Carpinteria Native Alison Crowe Just Had to Do It in Napa
From Napa's Wine Country, Alison Crowe, who grew up in Carpinteria and is now a winemaker for Plata, Garnet, and Picket Fence, wrote about how to prep for fire and evacuation on her blog, Girl and the Grape.
My parents were just up here in Napa helping me prepare to evacuate during the October Wine Country Wildfires, and now they are facing the Thomas Fire at home. My heart goes out to all my friends and family in the area. There's not much I can do from hundreds of miles away, but I can at least compile a list of lessons and "to do's" I learned during October's wildfires.
If you have to evacuate soon, like in the next few hours:
—Make a list of things to do and to pack. Stress makes us forgetful. Writing it down will add to your sanity and calm.
—Know your escape routes, and stay posted because they might get pinched off. Have a backup escape plan or two.
—Arrange an out-of-the-area rendezvous point with your family or crew post-evacuation in case you get separated. That way you'll know immediately if everyone made it out okay.
—If you haven't already, sign up for local alert systems. In Santa Barbara County, go to awareandprepare.org.
—Turn on local radio channels, and listen in on a battery-operated radio. National news is mostly worthless.
—Be wary of false information or rumors on social media. Check-in with people verbally or via messaging to confirm.
—Find all your animals immediately. So many people got delayed chasing down scared cats or dogs.
—Evacuate little kids early if possible, as early as possible. It will be far less traumatic for them watching from Grandma's than seeing your scared faces and listening to the stressful grownup conversations.
—"Fireproof" safes are not.
—If you don't have time to pack a suitcase, grab your dirty laundry basket. It'll be full of items that fit and match the weather; you can always visit a laundromat.
—Open your garage doors. In the event of a power outage, it's difficult to open electric doors.
—Pack only the essentials. Do the critical stuff first (passports, clothes, medicine, phones, laptops or tablets, chargers, batteries, food, water, pets, and pet food). Pack up extra boxes only if you have time (like your jewelry box, the wedding silver, etc). This is where a prioritized "To Do" list is important.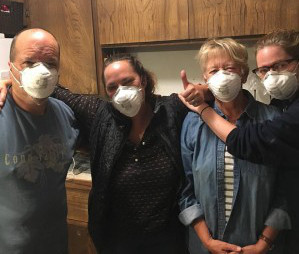 —Be prepared for the power to go out at any time.
—Snap pictures of every room in your house and anything valuable in the yard or outbuildings for insurance purposes.
—If you have well-irrigated orchards, vineyards, or green space, consider moving cars, boats, or RVs into the middle if you can't evacuate all of your vehicles. This saved a lot of vehicles during the wine country fires.
—If you have a pool and a pump, you've got a great source of water to irrigate your roof and property.
—Turn off your gas when you leave.
If you think you might have to evacuate in the next day or two:
—Prepare as early as possible.
—Pack an "immediate" go bag and keep it by your front door.
—Take out cash, preferably in smaller bills, and keep some in your cars and in your "go" bag.
—Fill all vehicles' gas tanks.
—Park your vehicles with the nose pointed out.
—Put a flashlight in all vehicles in case you have to evacuate at night.
—Know how to open your garage doors in the absence of electricity. Normally there is a hand-pull mechanism.
—Sleep with shoes beside your bed in case you have to get out fast in the middle of the night.
—Keep a flashlight with fresh batteries by your bed.
—Save key electronic documents to the cloud in case you don't have time to pack your computer.
—Move all woodpiles, wooden or plastic patio furniture, and other burnables away from the house.
—Listen for public announcements. You may have to boil your water if water treatment plants lose power.
—Clean out your gutters.
—Get out your earthquake/disaster kit, go through it, make sure your supplies are fresh and current. Shop for items you need to replace.
—If you have time, pack the things you know you'd miss if your house burned down: original artwork, kids' art projects, photographs, antiques, family heirlooms.
If you don't think you have to evacuate but are dealing with severe smoke:
—Be a good neighbor, and open your home to evacuees.
—If you have the space, offer up your driveway or property for boat or RV storage for evacuees.
—Volunteer at the Red Cross, Salvation Army, or shelter.
—Buy air filters and masks as early as you can; they will quickly run out. Highly recommended are masks labeled NIOSH-approved, marked N95 or P100. If out-of-town friends come to help, ask them to bring masks. If you still get deliveries, order them online.
—Keep windows closed.
—Invest in a portable USB battery so you can charge your phone if the power goes out.
—You may think the fire won't come your way: Act like it will.