The third time may be the charm for district elections in the City of Goleta. The Notice of Violation of California Voting Rights Act the city received on February 6 asserts that the city defeated district elections in 2001, but Margaret Connell, the city's first mayor, recalls it differently. City residents narrowly approved by-district elections in the vote for incorporation in 2001, but city divisions were never implemented.
Back in November 2001, voters were asked to choose by-district versus at-large elections as part of the city incorporation vote. County election records show the measure passed in favor of district elections by 50.85 to 49.15 percent, a win by 96 votes among 5,630 cast.
The city attorney at the time, Julie Hayward Biggs, then with Burke, Williams and Sorensen in Riverside, vividly remembered staying in Goleta Monday through Friday for weeks on end, coming from her Riverside office to participate in public meetings. The people were asked to help decide on district boundaries, she said, along with Claremont McKenna's Rose Institute, a part of the college's Government Department, and National Demographics Corporation, which drew up the maps.
In the process, Hayward Biggs said, all involved came to realize that for a small city like Goleta, "districts would start to divide the community, just when coming together was the purpose." It would be easier for politicians to reach their constituents in a smaller portion of the city, she acknowledged, but an orientation toward the city as a whole could be lost. She also said that the city was not under threat of litigation for district elections at the time, but that the city mothers and fathers chose to clarify the choices with ballot measures.
Jean Blois, who served on Goleta's first City Council and also as mayor, recalled no agreement formed on a district map in the public meetings, and no agreement on the best method of choosing the council, either. They felt it was a matter for the citizens to decide again.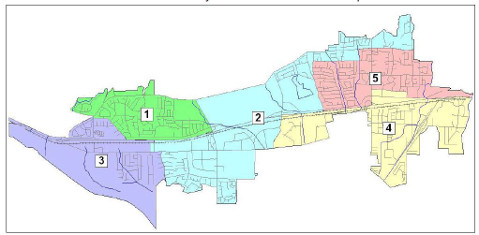 National Demographics Corp.