At age 10, Christin Brown began spending hours in the beauty salon chair getting what's known as "creamy crack" painted onto her tightly coiled hair. "The damage was done," said the African American woman now in her mid-thirties.
As a teenager, Brown could not even remember what her natural hair looked like. Growing up in Oakland, her parents worked demanding jobs ​— ​her mom as a delivery nurse in a maximum-security prison and her dad in real estate. They had her straighten her hair out of convenience; plus, she thought natural hair was childish.
But when she turned 18, Brown let her girlfriend, Ashley Kelly, cut off her long, chemically straightened black hair. They waited to see "little black olives" appear all over her head.
"Black women grow up not knowing their hair is curly," explained Kelly, who is also African American. Mass media has shown black hair as wild and savage. Several years ago, the skin care company Nivea received heavy backlash after running a print advertisement of a short-haired black man throwing a head with an Afro with the phrase, "Re-civilize Yourself." "It's that old mentality," Brown said, "you look feral because your hair does exactly what [it wants to do]."
Nine years ago, the now-married couple opened LunaBella, one of the only studios to specialize in curly hair in Santa Barbara. Kelly, who is also from Oakland, came to Santa Barbara to attend Brooks Institute of Photography (now closed), and Brown later moved here to be with her. They both quit their stable jobs in the corporate beauty industry at the height of the Recession. "We were running before we were crawling," Brown said. "That is the black woman's motto."
When they first launched their business, they were only on location, and they worked at a lot of weddings. Five years ago, they moved into their Mission Street studio from their previous one in El Mercado Plaza. It is small yet airy, and the light blue walls make the space feel cool, although their energy is warm. It's like walking into a spa where you don't have to whisper.
They might be the only black-lesbian-owned business in Santa Barbara. At first, they didn't put their faces on their own website, instead featuring photos of pretty white women. They didn't want prospective clients to think they could only style black hair. In fact, they noted, 65 percent of people have naturally curly or wavy hair. Cutting curly hair is an art. Brown explained you must cut it while it is dry ​— ​and only one curl at a time.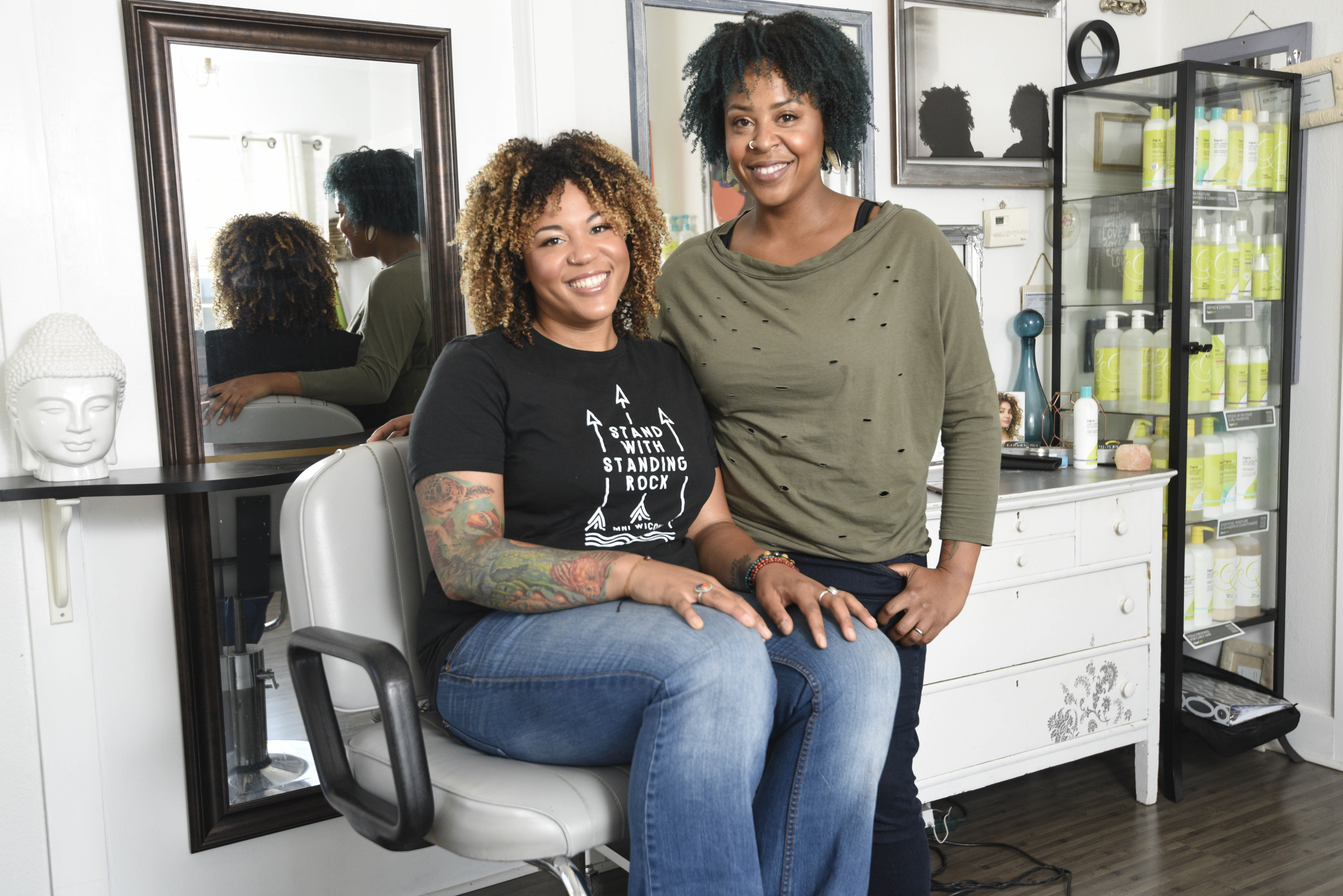 By Paul Wellman