Carpinteria quarterback Vance Keiser and his favorite target wide receiver Brady Sturdivan came through in the clutch to help the Warriors secure a 27-14 victory over Fillmore on Friday night at Carpinteria Valley Memorial Stadium.
It was the first game for Carpinteria in the newly formed Citrus Coast League and the Warriors were eager to make their mark against a solid Fillmore team that entered the game with a 3-1 record. Strong red zone defense and a dynamic passing attack made victory a reality.
"I didn't expect anything different than this. I haven't slept in the three days," said Carpinteria coach Rick Candaele. "I thought that we would probably have to make some big plays somewhere."
Carpinteria was clinging to a 20-14 lead early in the fourth quarter as Fillmore strung together a 17-play drive down to the Carpinteria seven-yard line, but the Flashes turned the ball over on downs at the 10:06 mark of the fourth quarter.
Two plays later, Keiser connected with Sturdivan, who took a quick slant 86 yards down to the Fillmore eight–yard line. After Kaiser lost three yards on a scramble, he found Sturdivan in the corner of the end zone on a fade, increasing the Carpinteria lead to 27-14 with 8:06 remaining in the fourth quarter.
"Vance always finds me when I'm open. He's a heck of a player," Sturdivan said. "He always catches me at the right time and it works out well."
Keiser threw touchdown passes of ten yards to Jonathan Mora and 34 yards to Jacob Mata in the first half as the Warriors took a 14-7 lead into the locker room at halftime.
Fillmore's first drive of the second half was doomed by penalties and Carpinteria increased its lead to 20-7 on its ensuing possession when Sturdivan hauled in a jump ball from Keiser and raced 58 yards for a touchdown.
Sturdivan finished with six catches for 196 yards and two touchdowns. Kaiser finished 10 of 12 for 281 yards.
The visiting Flashes responded with a seven-play 75 yards drive capped off by a one-yard touchdown run by quarterback Jake Saviers, cutting their deficit to 20-14, but that's as close as Fillmore would come to taking the lead.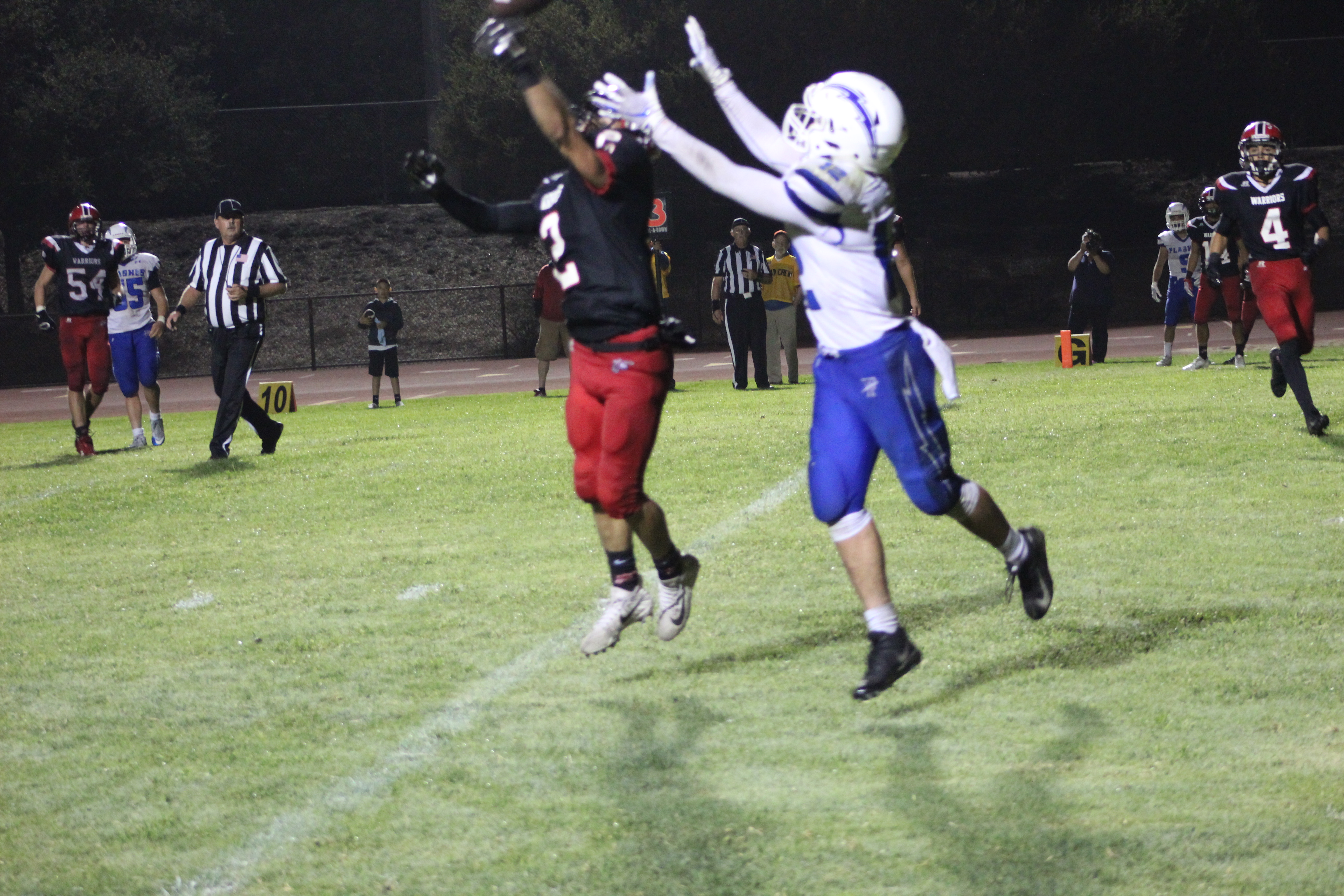 By Victor Bryant