Living
Head to Toe, BOSB'06
You Can Never Look Too Good
Consignment Store
The Closet
1213 State St., Ste. L, 963-8083
Sometimes it's not always easy to leave
it. Billing itself as Santa Barbara's "Hippest resale boutique,"
The Closet is open every day. But on Tuesdays, Thursdays, and
Saturdays, The Closet is open to take in consignment clothing,
which means fresh stock and buying and trading frenzies. Like
Heraclitus's river, it's new each time you step into it.
Finalist Jessica
Hair Salon
Walter Claudio Salon Spa
11 W. Figueroa St., 963-7579
"There are lots of great places to get your hair cut in town,"
admitted Lauren Watkins, "but we pride ourselves on really taking
care of the customer." They use Aveda products and get lots of
in-store education sessions, and they keep up with fashions. "But
we have a lot of great clients, and we try hard to treat them
right," Watkins said.
Finalist Underground Hair Artists
Nail Salon
Artistic Nails and Spa
5801 Calle Real, Goleta, 964-7588; 322 Paseo Nuevo, 560-0633
"Maybe we got so good because we try our best with every
client," said the Paseo Nuevo store's manager Vu Nguyen. "We also
give away a lot of coupons, and at City College we give away
student discounts. I think those are the reasons that people like
us. Oh, and we are very good at what we do, too," he said.
Finalist Skin Deep
Day Spa
Avia Spa
350 Chapala St., 730-7303
"I don't know why we win," said assistant manager Michelle Ridd.
"Maybe because we have the best therapists, the best aestheticians,
and we offer a great variety of stuff — it's a salon, it's a spa,
and we have tanning. Hmm, what else. Oh yeah, it's a beautiful
location." The corner of Gutierrez and Chapala? "Well, the building
is beautiful. And we're very happy the readers voted for us."
Finalist Camille the Day Spa
Women's Clothing Boutique
Blue Bee
911½ State St., 897-1137
"We're super excited, we're super surprised, and we're super
grateful," said Marty Bebout who co-owns Blue Bee with John
Doucette. Only six years ago, they moved the business here from Los
Angles because they wanted to live in S.B. And Santa Barbara has
returned the compliment by making Blue Bee huge. "We're humbled,"
he said. "And we always want to be working harder, setting our bar
higher. Like I said, we are super grateful."
Finalist Natasha
Place to Get Men's Clothing
Banana Republic Men's
101 Paseo Nuevo, 966-5553
It was an independent store that turned heads so fast that the
Gap made a move, purchasing it in 1985. While the fashions are
aimed at men between the ages of 20 and a young 50, the store has a
wider variety of clothes than the name seems to suggest. It's
always been difficult to shop for men in this town, for some
strange reason — maybe because the male sartorial urge tops out at
shorts in this paradise climate. And BR has that aspect covered for
sure. But the readers' confidence suggests it has long pants,
too.
Finalist Men's Wearhouse
Place to Buy a Hat
Green and Yellow Basket Shop
911 State St., 965-7722
There has been a store named Green and Yellow Basket Shop on
State Street since 1950. The present owners, Ed and Susie
Dougherty, bought the place in 1976 and don't really sell baskets
anymore, though for a long time that was the stock in trade. When
we called Ed, he was unpacking hats, coincidentally. "The fall
season," he laughed. "But we sell a lot of them and we have a lot
of variety. The best thing is that young men are starting to wear
hats now. If that takes off, it'll be great for us. Maybe it will
go back to what it was like in the 1940s when all men wore hats.
That would be great."
Finalist Nordstrom
Vintage Store
Yellowstone Clothing Inc.
527 State St., 963-9609
The Big '80s are big again, in vintage stores. At least that's
what Stephanie Haugen, who co-owns Yellowstone with her husband
Paul, believes — and she ought to know. They've been running a biz
that began in Isla Vista way back before the Big '80s began — 1974
to be exact. Throughout the years the store has gathered such a rep
that now big designers come in and buy stuff. "Later, I'll look in
their catalogue and say, 'Oh my god, there's that western shirt
they bought, only it's been changed a bit.'" Stephanie doesn't
mind; it's the business they chose, and it's been big. "We are very
fortunate," she said.
Finalist Victorian Vogue and The Costume
Shoppe
Place for Eyewear; Sunglasses Selection
Occhiali Fine Eyewear
7 W. Canon Perdido St., 963‑5760; 1046 Coast Village Rd.,
Montecito, 565-3415
This is one of those awards very few would dispute. Almost 19
years in the business here, owners Salli and Irwin Eve's Occhiali
has great fashions, great sales, an unbelievably fun and helpful
staff, and Irwin's own winning personality parked behind everything
he does. "We really care that when people leave here, they look
wonderful," said Irwin. "I think my staff is really good, too," he
said. Most of S.B. would agree, and if boys are making passes at
girls who wear glasses and vice versa in this town, you can bet
Irwin is pleased.
Finalists Place for Eyewear: S.B. Eyeglass
Factory; Sunglasses Selection: Sunglass Hut International
Women's Shoe Store; Men's Shoe Store
Nordstrom
17 W. Canon Perdido St., 564-8770
Since they first built the place in the late 1980s, Nordstrom
has dominated awards for footwear. Part of the reason is a
selection that includes high-end fashion — although you could
probably pay more on Rodeo Drive. The other reason, of course, is
the generous return policy. It's hard not to get a leg up shopping
for shoes there.
Finalists Women's Shoe Store: Nine West; Men's
Shoe Store: Foot Locker
Place to Get a Facial; Beauty Products
Store
Skin Deep
3405 State St., 687-9497
Native Santa Barbarans, the Hasche sisters built their empire in
a part of town that gets an inordinate amount of attention from our
readers. (Upper State has Chaucer's, Harry's, Danny's, and Skin
Deep, to name a few.) It's almost a club, with people going there
for product, facials, coiffure adjustment, and fabulous gifts. Tina
Hasche is very excited about winning. "Skin Deep is women working
with women, serving and supporting women of all ages and walks of
life. And we provide products and services to help them feel good
about themselves and look fabulous to boot!"
Finalists Place to Get a Facial: Avia Spa;
Beauty Products Store: American Beauty Supplies
Tailor
Justo The Tailor & Cleaners
3009 State St., 682-6633
Best known for rapid turn around, Justo brags about same-day
service if you're in by 10 a.m. By that afternoon, your zipper will
work nicely and your hem won't drag. They offer dry cleaning as
well, and life is just a tiny bit better knowing the Justo folks
are standing by as you face your next couture catastrophe. The
readers were happy to give them their stamp of approval.
Finalist Lee's Tailoring
Thrift Store
Alpha Thrift
5624 Hollister Ave., Goleta, 964-1123
This longtime institution on State Street made the news recently
for its swift departure — the victim of vertiginous rent increases,
according to reports. Savvy folks know Alpha as a big low-cost
clearinghouse for unbelievable treasures other folks inexplicably
gave away. It's a good spot for furniture, clothing, knickknacks
(some paddywhacks, we are told), and lots of books. But now you
must travel to Goleta for your rummage, forage, and deal-seeking
activities in Alpha, because downtown it isn't anymore.
Finalist Magnolia Antiques and More
Dry Cleaner
Ablitt's Fine Cleaners
14 W. Gutierrez St., 963-6677
In 1984, Neil and Sue Ablitt, both from families in the cleaning
business, helped their company build a reputation for picking up
and delivering to small companies around town, gradually building a
strong following among young professionals. Meanwhile, lots of
other people heard about the service as well as such customer
amenities like easy resolutions of spot disputes. Two years ago,
the Ablitts' daughter Sasha took over the four-generation family
biz and will likely be present when clothes are no longer picked up
but instead teleported to the Ablitt's Cleaners hovering near the
corner of State and Gutierrez.
Finalist One Hour Martinizing
Craft Store
Michaels Arts & Crafts
187 N. Fairview Ave., Goleta, 967-7119
It's a chain that stretches from this country into Canada, and
one of the chief advantages of that fact is that pricing can be
kept low with giant buying power, according to assistant manager
Marlene Enger. It also means there are astounding varieties of
Styrofoam, canvases, brushes, papers, cotton stuff, and the
dazzling plentitude of whatnots. Enger agrees there's lots of cool
stuff. "We don't have everything in the universe, but we have a
lot," she said.
Finalist Craft Essentials
Barber Shop
Danny's Custom Styling
3337 State St., 687-7915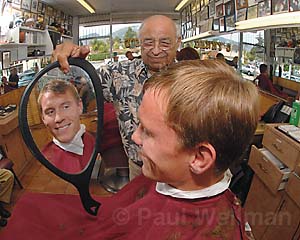 Sam Huerta was born in Fresno to a
family of barbers, including his father, grandfather, and uncles.
His father told him he would be a barber, so he'd better get ready
for barber college. That was 43 years ago, and seven years ago he
bought Danny's, which has been in business since the 1960's when
the Beatles released their first records. "People like it here
because we've got a lot of old barbers," he laughed, adding that he
is one of the few left in town who will do a shave. "Plus, this
shop has a great view of the mountains, and when a beautiful woman
walks by, the customers always say, 'You do have a nice view,'"
said Huerta.
Finalist Arturo's Family Haircutting