Living
Bitty Bloom
Small Flowers for Tiny Insects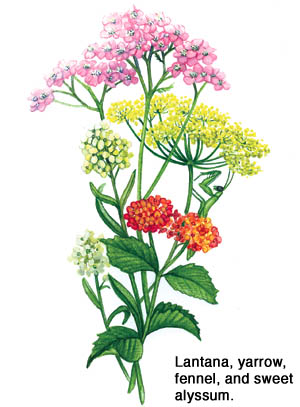 Flowers have been around for more than 100 million years, and although humans have been able to bend them to our will to a small extent, they have evolved with other issues in mind besides providing us with eye candy. One of the greatest influences on floral evolution is the need to procreate, and very early on many flowers enlisted the help of other organisms to ensure the success of this endeavor. Insects were abundant by the time flowers appeared, so it is no wonder myriad relationships between them arose.
In fact, many flowers have evolved in consort with a cast of insect and bird pollinators. Deep tubular flowers may be visited by moths or bats and reward them with nectar; flowers such as lotuses and arum lilies offer food rewards and even heat up the air to provide a snug mating and resting place for beetles and others; and some puyas and aloes offer a perch for nectar-sipping birds. To attract smaller insects, a number of flowers aggregate together in various structures. By banding together, they provide a more visible target and also a chance to satisfy more different species of insects.
In order to promote a balanced ecological system in our gardens, it is wise to provide food and habitat for a wide range of insects. Some of the most helpful in the struggle against pests such as aphids are tiny insects that parasitize them. These little wasps and hoverflies need nectar and pollen to complete their life cycles just as many other insects do and it is often the larvae of these species that perform the pest control. Since their mouth parts are in proportion to their diminutive size, the flowers they can feed from are necessarily small as well. Plants that provide compound inflorescences of many small flowers are many, and there are plenty of showy ones to include in your garden design.
Some species in the carrot family produce lots of tiny flowers in large umbels if left to grow. These include angelica, coriander, celery, carrots, dill, and fennel. Most of these are best treated as annuals here; it's fine to harvest the herbs while they are young, but leave at least some of the plants to flower to feed insects as well. There are plenty of pretty posies in the cabbage family that also employ this floral strategy. Draba, spider flower (Cleome), wallflower (Erysimum), candytuft (Iberis), money plant (Lunaria), and sweet alyssum (Lobularia) all have the requisite clusters of small flowers. The sunflower family also sports lots of species that have aggregated hundreds, if not thousands, of tiny tubular flowers in a large dome or platform. Asters, African daisies (Dimorphotheca and Arctotis), calendulas, chrysanthemums, cosmos, dahlias, sunflowers (Helianthus), gerberas, coneflowers (Rudbeckia), marigolds (Tagetes), tansy, and many more all belong in this family and there are species and hybrids galore. Another large family of useful candidates to attract these beneficial insects is the mint family, which also includes all the sages. Plant any of the mints, sages, and lavenders as well as rosemary, thyme, oregano, and basil with abandon. This family also contains the ornamental species Plectranthus, Stachys, Nepeta, Ajuga, Leonurus, Monarda, and Phlomis. Verbena and some of its kin such as lantana, Clerodendrum, and Stachytarpheta also have lots of small flowers clustered together for convenient insect hopping.
Other plant families also present rewards on flowers that are readily accessed by many sizes of insects. Peas and beans and their decorative relatives like lupine and wisteria provide nectar, as do acacias, fairy dusters (Calliandra), orchid tree (Bauhinia), and senna. Members of the hollyhock family have nectar-producing structures as well as lots of pollen from the stamens. Think hibiscus, abutilon, mallow (Malva), globe mallow (Sphaeralcea), and tree mallow (Lavatera). Poppies of all types and sizes from oriental and Iceland poppies (Papaver) to prickly poppy (Argemone) and California poppy (Eschscholzia) have easy access to flowers and are a favorite of adult hoverflies, whose larvae eat aphids.
Plant any number or combination of these food plants and the insects will come. Give a thought to having something in bloom at all times of the year. It's one thing to attract the little guys; you want them to stay to maintain an even balance of power between pests and beneficials.
Virginia Hayes, curator of Ganna Walska Lotusland, will answer your gardening questions. Address them to Gardens, The Independent, 122 W. Figueroa St., S.B., CA 93101. Send email to vahayes@lotusland.org.