Living
Let Them Live
How to Keep and Grow Orchids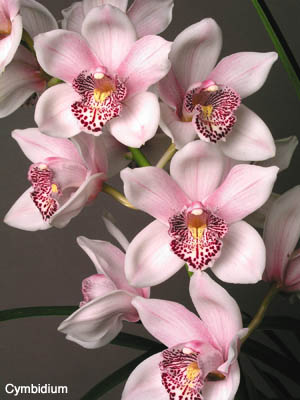 Exotic, flamboyant, and overtly sexual, orchids can be fatally seductive when in bloom. Whether you succumbed to the great bargains on stunning new varieties at the orchid show or just couldn't stop yourself when faced with Trader Joe's rock-bottom prices, you may be the new owner of a blooming orchid. For the softhearted, there's nothing worse than buying that luscious phalaenopsis (the ones that look like a flight of moths) or stunning cymbidium (the "classic" potted orchid around our parts), watching its flowers fade and fall at last (a month or two later for most), and then not knowing what to do to keep it happy. And many despair of ever seeing it repeat that fabulous display again. Here's a guide to the easier-to-grow orchids. With a little care, you can with confidence hope to see the show repeated year after year.
Easiest to grow are the handful of species, and their myriad hybrids and selections, that happily grow year 'round outdoors along the South Coast. Foremost among them are the cymbidiums. There are literally thousands of hybrids of just a few parental species and most take to our cool coastal climate extremely well. Their general requirements are for temperatures between 40-90 degrees Fahrenheit, although they will tolerate periods of temperatures as low as 25 degrees Fahrenheit before being damaged. What they also require to bloom well, though, are nighttime temperatures lower than 55 degrees Fahrenheit during the fall and winter to promote bud development. This means they are perfectly suited for outdoor culture. Couple this with a half-shady spot and a dash of balanced fertilizer and you have a recipe for success. Stand pots of cymbidiums under the shade of trees or on your partially vine-covered patio to achieve the right level of light and irrigate at weekly intervals unless the weather is particularly hot and dry. Dose them with a handful of time-release fertilizer once or twice a year (depending on release rate) or regular hits of a liquid product formulated just for orchids. Once plants have produced flower spikes, they can be brought indoors to enjoy the bloom period, but move them back out as flowers fade.
Cymbidiums, like many orchids, are naturally epiphytic in nature, clinging to tree trunks and branches with fibrous roots. Their growth pattern is typical of one of the two main types of epiphytic orchids. In this type (called sympodial), the stem of the plant grows parallel to its host producing roots along its length and enlarged leaf clusters called pseudobulbs from which a few leaves and eventually a flower spike arise. Although they can be grown in the garden just as they would in nature, most growers pot sections of the stem with its pseudobulbs in a very fast-draining organic material such as fir bark. The roots are capable of sucking up lots of moisture in a hurry into a spongy outer layer and then releasing it slowly to the inner layers.
The other type of growth (called monopodial) is characterized by an elongated stem that arises from a branching root system and is less common among the garden variety of orchids. One well-known species of monopodial orchids is epidendrum, sometimes called reed-stem orchids. These are extremely easy to grow and produce tall spikes (as tall as four feet) topped with clusters of tiny orchid flowers in hot pink, orange, and bright yellow. Most others are warm-climate species that do best only in greenhouses here.
Other easy selections can be found among the species of Laelia anceps and Paphiopedilum. Laelia flowers are of a classic orchid shape. They look like miniature corsage orchids (those are generally in the genus Cattleya) and come in colors from palest white through pink and rich lavender. The species are native to Mexico and cultivated ones are most often mounted on trees or pieces of driftwood that can stand or hang in the garden wherever medium shade is found. They will continue to increase in size through the production of more pseudobulbs and produce an ever larger burst of color in winter. Slipper orchids in the genus Paphiopedilum are a little fussier. Most are grown in pots filled with bark. They grow slowly and are small in stature, so finding a spot where you can keep track of them and see them up close and personal is a prime consideration. Water and fertilizer treatments are similar to those for cymbidiums.
As for those moth orchids? Their optimum temperatures are between 60-90 degrees Fahrenheit. If you want to try them, they should be considered as house plants. The trick is finding enough bright light indoors to induce them to bloom again. Most successful phalaenopsis growers swear by a spot in front of an east window that doesn't receive extensive direct sunlight, although translucent skylights may also produce good results. Otherwise, grow them with similar potting media, fertilizer, and water regimes as those of other potted orchids.
With thousands of species and cultivars of orchids in cultivation, it's hard not to be lured into adopting one or more. Just remember, you are not alone in trying to care for them. There are plenty of hobbyists and professionals to help you find just the right regimen for your new charges, especially the experts from whom you buy them at the orchid show. For those you got at Trader Joe's-well, maybe this little primer will help.
Spring Education
It's spring! Most of us find the longer, warmer days enough incentive to get out in the garden or natural landscape. But if you want to approach nature with a little more knowledge or inspiration, here are some classes and workshops to get you going.
•Backyard Food Forests: Apply permaculture principles to the home garden. Saturday, March 17, 10 a.m.
-1 p.m. Santa Barbara Organic Garden Club. Contact Larry Saltzman at 451-4168 or lbsaltzman@aol.com.
•Orchid Show: Free workshops on orchid care. Friday, March 16 to Sunday, March 18. Earl Warren Showgrounds (3400 Calle Real). Call 969-5746.
•Sustainability Workshop: Saturday, March 24, 9 a.m.-4 p.m. Lotusland (695 Ashley Rd.). Call 969-9990 or visit lotusland.org.
•Learning California Plant Families: Four Fridays, April 13 to May 4, 2:30-5 p.m. Santa Barbara Botanic Garden (1212 Mission Canyon Rd.). Call 682-4726 or visit sbbg.org.
•Good Plant, Bad Plant: Saturday, April 21, 10 a.m.
-12 p.m. Santa Barbara Botanic Garden (1212 Mission Canyon Rd.). Call 682-4726 or visit sbbg.org.
•Planting Seeds in the Ground: Saturday in April, date TBA. Santa Barbara Organic Garden Club. Contact Larry Saltzman at 451-4168 or lbsaltzman@aol.com.