ALL IN THE GETTING-TOGETHER: Collaboration and dialogue are part of the unique creed of jazz, given the music's fluidity and its built-in improvisational imperative. Part of the music-making process in jazz, in fact, has to do with sonic socialization skills, the ability to detect which players might be good-or goading-musical conversationalists. But nothing is a given in love, war, and musical alliances: The potential is ripe for egos, "creative differences," or misread intentions to get in the way of a musical connection.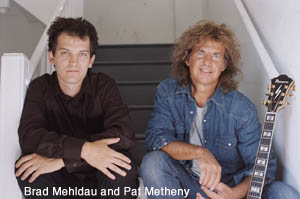 Then there are the success stories that exceed expectations, such as the fruitful coupling of Pat Metheny and Brad Mehldau, who have put out two strong albums culled from a highly productive series of NYC recording sessions that took place in December 2005. Metheny Mehldau and the newly released Metheny Mehldau Quartet (Nonesuch) are recommendable fare for anyone seeking a new jazz sound, forsaking neither deep-boned lyricism nor the blowing instinct of players with technique to burn-but cleanly.
This spring, the Metheny Mehldau group hits the road for the first time, stopping at Campbell Hall on Sunday and ending up on this summer's European jazz festival circuit. Sunday's show may well turn out to be the jazz show of the season here in Santa Barbara. Both musicians have played memorable shows at the Lobero recently: Metheny with his trio and with the Gary Burton Revisited band; Mehldau with his standard-setting trio (with bassist Larry Grenadier and drummer Jeff Ballard, who join Metheny and Mehldau on tour). What the pair brings to this project, though, is something fresh and special. They connect on many levels, including the fact that both are fundamentally romantic-not to say sentimental-searchers in their art.
Their rapport shouldn't come as a huge surprise. Yes, Mehldau, 36, is nearly 20 years younger than Metheny. He was just a sprout-not even yet a teenager-in the '70s, when the guitarist was solidifying both his essential musical voice and his considerable audience base, both of which have continued impressively through the decades. But Mehldau's ideas about music were influenced profoundly by '70s jazz icons, including Metheny-for his admixture of melodicism, virtuosity, and chance-taking within set limits-and also Keith Jarrett, for the same qualities (plus Jarrett's advanced ideas about pianism and his links to classical tradition).
For his part, when Metheny heard Mehldau in the early '90s, the guitarist knew a sensitive powerhouse player when he heard one. Metheny played with Joshua Redman on the saxist's debut album, and Redman went on to hire young Mehldau. Then Mehldau retreated to Los Angeles for several years, for various reasons, capping off his West Coast idyll with the intriguing oddity Largo (so named after the vibe-y club on Fairfax). That was the last time Mehldau dabbled with electronic keyboards, to date. Grand piano is clearly his true calling: He brings all-over passion and intellectual acuity to the instrument, pursuing adventures in melodic invention and a liberated left hand.
As heard on numerous impressive recordings, Mehldau fares beautifully in trio and solo formats because he brings so much musical content and propulsion to the table. But he also listens well and bows to the god of restraint, a quality evident in his work with Metheny. In short, their match is one made in jazz heaven, or some such place. Catch them while you can. One never knows how long these special "side project" liaisons will last.
TO-DOINGS: Earth, Wind & Fire may be a '70s holdover whose classic work is forever identified with that era when jazz and R&B blissfully intertwined, in acts like EWF, Stevie Wonder, Sly and the Family Stone, Rufus, and Marvin Gaye. But, as their Santa Barbara Bowl shows have taught us, hearing their taut soul machinery live is still a thrill, even without the signature sound of Maurice White (who's ailing and doesn't tour with them). Check them out at the Chumash Casino tonight, March 22. (Got e? fringebeat@independent.com.)