News
Healing Old Wounds
Parents of Church Sex Abuse Victim Raise Money for Therapy
It was almost 15 years ago that Ray Higgins discovered that his son Michael had been sexually molested by Father Robert Van Handel, a Franciscan monk and former teacher and choirmaster at St. Anthony's Seminary. Since then, Van Handel was sentenced to eight years behind bars for sexual abuse and was removed from the priesthood. Michael Higgins, for his pain, received a $90,000 legal settlement from the Franciscans, underwent therapy, managed to get sober, got married, had two kids, and holds down a steady job as a probation officer somewhere back East.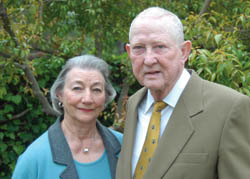 But in all that time, Ray Higgins and his wife Anne-who used to consider themselves "cradle-to-grave Catholics"-have not been able to let go. In the early '90s, when the St. Anthony's scandal first surfaced, the Higginses helped lead the charge that forced the Franciscans to conduct an official inquiry into sexual abuse. They discovered that 25 percent of the priests and brothers assigned to St. Anthony's over a 23-year period were sexual predators. Today, the Higginses are still reaching out to victims of clergy sexual abuse and offering them free therapy. Based on his family's experience, Higgins said therapy provided his son the most valuable help he received. He added that none of the other organizations bird-dogging the Catholic Church was sufficiently focused and equipped to do the job.
"A lot of victims are living hand-to-mouth. They have real difficulty holding down jobs. They don't have their careers in order, and therapy's not cheap," he said. "They just can't afford it." To meet this need, Higgins said he and his wife just formed the Therapy Trust for Victims of Clergy Sex Abuse. He said the trust will start off bankrolling therapy for 12 patients, estimating each will require two years at a cost of $10,000 each. For cash, the Higginses approached some of the 23 men and two women who successfully sued the Franciscans for a $28-million settlement last March for sexual offenses that occurred at either St. Anthony's or the Mission. Higgins said he has so far approached eight of the litigants-who reportedly received $1.27 million each-and none has turned him down. "We got a 100 percent response," he said. "They weren't in this just for money. They sued to get acknowledgment that this happened to them and to see that it didn't happen again. And they're more than willing to help others."
Without getting into specifics, Higgins said he's received pledges of "hundreds of thousands of dollars." He also promised that he and his wife would cover all the administrative costs out of their own pockets, "so that 100 percent of the money raised went for therapy." The hardest part, he imagines, will be screening the applicants to determine whose needs are greatest and which ones have the best chances for success. To help with this, two therapists will serve on his screening board. Higgins said the trust-which will be national in scope-will help applicants find a qualified therapist, but will leave it to them to find someone who fits their needs. The therapists-not the applicants-will receive the trust money.
During his struggles with the Franciscans, Higgins has often exuded a searing sense of personal betrayal. For decades, he and his wife had thoroughly immersed themselves in the daily life of St. Anthony's Catholic community. Today, he said, he regards his Catholic upbringing as "brainwashing" and is seeking spiritual solace elsewhere. Whereas others victimized by sexual abuse have sought to put their pasts behind them, Higgins finds it comforting in a way to hold on. "There is that tendency, certainly," he acknowledged. "But a good part of our son's healing-and a good part of our own healing-has been our work with the victims."