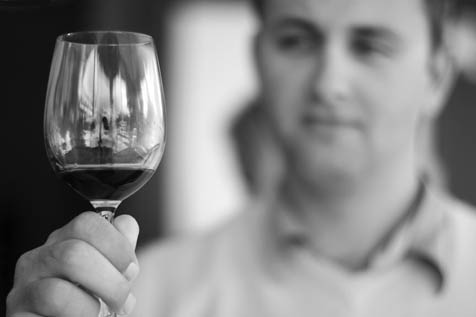 (In the interest of full disclosure, I am involved in two of the wineries whose wines are represented in the Wine Cask Futures Tasting. I do not review nor discuss either one of them below.)
The Wine Cask Futures Tasting has become one of the most popular wine events in the county. Held twice annually-once in March and again in April-it attracts wine lovers from all over the southern Central Coast and Los Angeles. Challenging as it may be to navigate through an ocean of eager, energetic wine lovers all wanting to purchase "futures" (i.e., wines that have not yet been released) from some of their favorite producers, or wanting to discover the "next big thing," it remains one of the most exciting and revelatory tastings in all of Santa Barbara.
I attended the March tasting, arriving early to have extra time to taste the more than 100 wines featured. As is the case with tastings such as these, I spit out all the wines I taste and it's a good thing I did-it was an exceedingly warm day and there were many higher alcohol wines to taste: I had to remain clear-minded enough to observe each wine as its own little universe, quite apart from all the hustle and bustle that was unfolding around me.
That said, I was able to focus on each wine, though it was quite a bit of work; I'm happy to say I found quite a few gems. I would love to write about all of them, but given space constraints, I've chosen my top 10 producers and their featured wines. Here are my favorites in alphabetical order:
Au Bon Climat: 2005 Nielsen Vineyard Pinot Noir, Santa Maria Valley
God bless Jim Clendenen. He's been making wine for almost 25 years and somehow, rather miraculously, they've never been better. He seems to have tapped into the soul of his vineyard sources and, perhaps having the benefit of time and patience, he is able to translate their virtues into remarkably balanced and layered wines. The first taste of this one nearly knocked me over. Cover up the label and it could have been made in Burgundy-it's one of those wines you want to return to over and over again. Definitely a pinot noir lover's pinot.
Costa de Oro: 2006 Santa Maria Valley, Pinot Noir, Clone 777
The first thing about this wine that captured my interest was the alluring, gorgeous smell of dusty berries, decaying roses, mocha, wet forest floor, and ripe plum. The mouth feel is also nearly perfect, with fine, even tannins coating the palate with a lovely texture. This wine is forward and lush, yet, somehow, it remains balanced. Creating this kind of pinot is an art, and this wine is a minor masterpiece.
Curran: 2005 Reeves Ranch Syrah, Santa Ynez Valley/p>
I'm pretty picky about my syrahs. I tend not to like syrahs that are overly extracted or so reduced they become almost off-putting in their aromas. Kris Curran has learned to have a measured hand with syrah, and the results are very pleasant. There are notes of violets, mocha, and blueberries on the nose of this wine. If you're a syrah lover, check out this one. Though I did not have it with food, my sense is it's great with food; never overbearing or over-the-top.
Barrack: 2006 "Brand," Santa Ynez Valley
This Happy Canyon Vineyard producer is turning out some great Bordeaux-variety-based blends. The "Brand" offering is a blend of cabernet franc, merlot, and cabernet sauvignon. This wine surprised me. In the past, I have found Santa Barbara Bordeaux-style wines to be "green," or vegetal, and lacking in complexity. But the "Brand" offering is one I'd go out and buy. I loved the kir and eucalyptus nose of this wine. This brand is one to watch.
Jaffurs: 2005 Syrah, Verna's Vineyard, Santa Barbara County
I have been a fan of Craig Jaffurs's wines for years now; he is another one of those rare winemakers who just keeps getting better. His wines are some of the purest of intention in the county. In other words, his syrah tastes like syrah, his grenache tastes like grenache, and so on. Jaffurs is one of the most consistent producers around, and I found this wine to be perfectly gorgeous, with generous nuances of white and black cracked pepper, boysenberry cobbler, and roasted meat on the nose. It's one that every syrah lover needs to try at least once, if not twice : okay, maybe three times.
Jelly Roll: 2006 Syrah, Larner and Stolpman, Santa Ynez Valley
There were only about 200 cases of this wine produced, so if you see it in a store or restaurant, make sure to buy a bottle. What I like most about this wine is that it's deliriously fruit-forward, but never cloying. It's all about blueberries, blackberries, huckleberries, and raspberries. But all that fruit is mellowed by a subtle oak note. If you're lucky enough to find a bottle, try decanting it for four to six hours before dinner. This wine is a real find.
Piedrasassi: 2004 Syrah, Harrison Clarke Vineyard, Santa Ynez Valley, Barrel Select
This producer is a relative newcomer to the syrah scene, but so far I've been pretty wowed by its efforts. I normally start thinking about what dishes to pair with a certain wine I find riveting, but this one may be able to stand all on its own; it's a meal unto itself. The flavor profile is nearly grand in its scope, with echoes of berries, crushed wet rocks, graphite, violets, sandalwood, and cedar on the nose and mouth of this wine.
Palmina: 2005 Barbera, Zotovich Vineyard, Santa Rita Hills
I absolutely love this wine. It's a refreshing change from the mostly Burgundian, Rh'ne, and Bordeaux-style wines I have on a regular basis. As soon as I tasted it, I said to myself, "You really do need to drink Italian-style wines more often." It's thoughtfully made, nicely balanced, and sets the imagination on fire with hints of frankincense and cardamom on the nose.
Summerland: 2006 Pinot Noir, Solomon Hills Vineyard, Santa Maria Valley, Barrel Selection
Summerland Winery has been on a roll as of late. Its chardonnay and pinot noir program is one of my favorites, and its wines show an elegant and refined sensibility. There is a depth to this wine that begs time to consider all its layers. It also possesses great mouth feel, which is such an important component to a well-made pinot noir.
Verdad: 2006 Albari±o, Ibarra-Young Vineyard, Santa Ynez Valley
This is the perfect white wine for raw oysters on a bed of ice. For me, the allure of albari±o is in its acid and delicacy. When well made, which is the case with this offering from Verdad, this variety is crisp, lean, and fresh. I like the bright gooseberry, lime rind, and grapefruit notes. It's the kind of wine you want to reach for on a warm summer's night while eating mussels, clams, or bay scallops and overlooking the ocean.
4*1*1
Visit winecask.com for more information.