Living
My eBay Encounters
'You Have Too Much'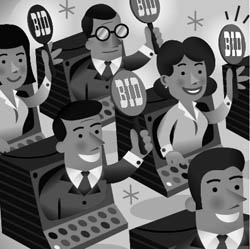 E-Bay was old news by the time I discovered it, but I was riveted; it was the great bazaar of the modern world, an endless procession of goods to browse and bid on. Cake carriers, comic books, costume jewelry, block print tablecloths, Italian espresso pots, Persian carpets-there was no product, it seemed, that couldn't be bought or sold on eBay.
I liked the culture, too: the descriptions with their oddly personal touches and misspellings, the "thank you for looking" and "God bless you" messages, the sense of shared risk and trust, the bidding strategies and feedback protocol. I liked the fact that it was always accessible, a 24/7 flea market, diversion for procrastinators, company for insomniacs, an unapologetic manifestation of the human impulse to trade.
Maybe I had too much time on my hands, but I found myself poking around eBay way more than seemed proper. Mostly I just looked, but I discovered the thrill of bidding too, and sometimes I "won" the item-in one week, three small "semi-anteek" wool rugs from Iran and a necklace with a quartzite pendant. These effortless computer-click transactions were followed by days of anticipation, then a delivery from UPS-the rugs came rolled in thick blue plastic, bound with twine, almost impossible to undo; the necklace, in a padded manila envelope : and here they were in my house, the physical realities of tiny pictures from far away. I loved the rugs-well, two of them-and the necklace was a bit tacky but too cheap to matter; I wore it like an Olympic medallion. Got stuff? Yeah.
I cannot account for my randomly shifting obsessions, but I next moved on to vintage postcards. I have always liked them, the quaint idyllic scenes, the warm colors not quite in line with the images, the sense of time stilled, even the space on the back for a 1 cent stamp. Whether I actually need to own them is quite another story. And yet I found myself checking eBay regularly for old postcards of certain places from my past. I found a set of Brooklyn scenes-feeding the seals at the Prospect Park Zoo, the Botanical Gardens, Coney Island. Incredibly, no one else seemed to want them. For the minimum bid of $3.95, they became my property. I looked at them, felt that sweet sad tug of nostalgia, and put them away in a drawer.
Then I came upon a postcard listed as Cliffs Near Santa Barbara; it showed the spirals and turrets of the sandy bluffs above the sea along the 101 somewhere north of Santa Barbara, maybe near El Capitan, but I couldn't be sure. There was a sun-bleached chunk of a concrete structure wedged into the cliff, perhaps the remnant of a bridge or railway barrier. The surf along the undulating coast was tinted turquoise, the highway was a narrow winding road punctuated by an occasional telephone pole, and a solitary northbound vehicle appeared as a tiny smudge of black. The scene had that dreamlike aura characteristic of old-fashioned postcards, but whether purely an artist's rendition or based on a photo, it depicted a view that still felt oddly (and reassuringly) familiar. "Print quality not so good," the seller had candidly written, "but might be nice for a collector of Santa Barbara memorabilia." The starting bid was 95 cents. I am not a collector, but I was intrigued-I craved; I bid. A short fierce battle ensued, but I stopped at $6, was immediately outbid, and stepped back with some relief.
The day after my bidding skirmish over the postcard, I had occasion to drive into town, past the very scene the postcard pictured, and straight into the golden light of Santa Barbara, which in that moment appeared to be fulfilling what J. Smeaton Chase referred to in 1913 as "her comfortable destiny, dozing among palms and roses beside the bluest of seas." The mountains in the distance looked too beautiful to be real, and a pair of dark-haired children had set up a little stand by the side of a back street, but they were selling cherimoya fruit instead of lemonade. I walked with my dog in an alley I'd never noticed that followed a creek in a tree-shaded gorge, listening to birdsong, smelling spring, and wondering at my good karma. A spray-painted sign on a wooden fence said, "You have too much" and all I could do was agree.
Visit Cynthia's blog at stillamazed.typepad.com