Business
Arcobaleno Trade Grand Opening
West Haley Shop Benefits Head Start Program
It is not by coincidence that Arcobaleno Trade's grand opening is scheduled for World Fair Trade Day, May 12. Five weeks after opening its doors for business, Sandie Doles' shop at 7 West Haley will celebrate with performances of dance and music, free chocolate, and a raffle of some of her wares, which come from Africa, Latin America, India, Thailand, the Philippines, and the USA.
Everything in the store, according to Doles, from the teas and coffees to the clothes, jewelry, and lamps, is "ethically produced," by which she means that the workers receive a living wage and children are not exploited. Doles added that much of it is also produced in an environmentally sensitive fashion.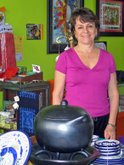 Arcobaleno's walls are hung with a revolving show of works by Santa Barbara artists who, instead of paying a commission to Doles as the gallery owner, donate 20 percent of their proceeds to the Head Start Program of the Community Action Commission. The theme of the 2007 World Fair Trade Day – as proclaimed by the International Fair Trade Association – is "Kids Need Fair Trade." That just happens to be a sentiment that hits home for Doles, who in her former life – before she became a small business owner – worked for Head Start and for the Lou Grant Parent-Child Workshop in Carpinteria.
All proceeds from the opening day raffle will also benefit Head Start, providing grants that the preschool teachers can use to buy classroom supplies. The celebration takes place from 10 a.m. until 6 p.m. on the second Saturday in May, the day designated since 2005 as World Fair Trade Day. That's this weekend, so check it out.