Columns
The Laws of Love
Chassy's Sub Talks Attraction, Action, and Satisfaction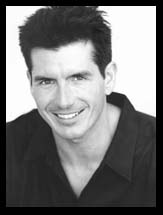 Right about now Chassy is probably driving 100 mph on the Autobahn, or perhaps sipping a cafe Vienna in Vienna. Who knows where her trip will take her, but you can bet that she is living it up! I'm sure no matter where, what, or who she does, the Biker is in the back of her mind.
Now where did I leave off from last weeks soulful ravings of a mad man? (Clarification: a man that is mad for a woman.) I believe I was hip-deep in gloating about the glories of a guy going gaga over a gorgeous girl. Now that's a mouthful. Try to say that twice!
I wonder if my last column helped anyone find the faith to believe they too can find someone special. Because as we all know that is what life is all about, right? The storybook ending of guy meets girl, girl falls for guy, and they live happily ever after. We all have seen a movie about it, or surely know someone who has had it happen to them. I know that it's possible, beyond a shadow of doubt. My own mom even found someone after being widowed 10 years prior! Yes, they live a meager (but joyous) life in the sweet surroundings of love and passion. How many people do you know – or know of – that have done the same, or at least have started down that path to prenuptial bliss. Whoops. Did I say prenuptial? I almost forgot even a storybook ending has to come with a bumper-to-bumper warrantee. So if this item fails, you shall end up exactly right where you started; rolling on to the definition of what defines us as couples coupling.
Soul mates, twin souls, fate, destiny, or karma are all terms used to define what we believe to be the end result of our venture to find a life partner. And I will be the first to tell you; no one said that was easy, especially in Santa Barbara. It would seem that the people in SB are either single and fancy free, or settled in with the two kids, two cars, and a house combo! No, I'm not trying to rain on anyone's parade when it comes to finding that special someone. Even in SB, it is more than a possibility; it is a probability if you believe it will happen for you! Belief is that tiny seed of faith which will see you through the most desperate of times. A little faith is up for grabs, so get it while it's HOT!
Last week I mentioned the "Laws of Love"- attraction, action, and satisfaction. Attraction is to believe like attracts like, and that if you can think it, you can do it! How does that apply to love? Wait. Am I talking to myself here? Now if I could answer that, I'd need someone put me out of my misery, and quick. Ever wanted that new car that just came out? Or ladies, remember that first meeting with the new pair of shoes in the window? So you dwell on it quite a bit, and then it hits like a Hurricane! You see that item everywhere you turn, and now your level of wanting will either explode or extinguish. The same goes for love. How can you attract love if you don't dwell on it? Try a little home experiment with this theory. Write a paragraph or two about the person you would ultimately want in your life, describing them emotionally, physically, and such. Then write another paragraph of how this would affect your life for the better. Then fold it up, and think about what you wrote a few minutes everyday. That's what we call the law of attraction; and if you combine this with faith, you will see results!
The remaining two laws are a combination of action and satisfaction. Action would be summed up as putting forth the efforts to bring what you want "to you." In other words, go out, go to the gym, go get coffee, and basically put yourself in the places where fate will come to you. The more you are seen, the better your chances are for finding a companion.
The hardest of all these laws would have to be the last, right? (As if the first two laws are a cake walk.) Satisfaction, what does that mean to you? To some it may be a white picket fence, two cars, two kids, an ocean view, becoming a stay-at-home mom with a doctor for a husband. Okay step back for a minute, and wake up! Nothing in life is ever perfect. No one person will ever entertain happiness 24 hours a day, seven days a week. Satisfaction starts with self, and then is applied to serving yourself and others around you. Your partner will never satisfy the ability to silence your own inner voice. This is something you have to satisfy yourself, or you may end up walking away from the very thing you love. The law of satisfaction is primarily being able to accept yourself, accept your situation, and accept that we all have faults. Then by building a relationship from the ground up – through communication, appreciation, and consideration – you will reach a satisfactory level of love!
Give this boy a pat on the back! Nurse, it seems that the doctor is in – the LOVE DOCTOR that is! Come on. Don't rob me of my sarcastic ability to flatter myself. Relationships are not easy, and they take a lot of work. So if you are looking for the fast route to a fantasy life filled with love and no work, keep on dreaming. On a heart-to-heart level, I myself encounter moments of discouragement and often feel as if I may not be able to make it work; no one is ever perfect. The grass may seem to be greener somewhere else, but it will all have to be mowed – no matter where you put your feet. So if you love the person you are with, try your best to make it work until it just doesn't work at all. Then at least you know you tried your best. In the words of Patton, "If a man does his best, what else is there?" Yes I know it's the age of women's lib, so feel free to sub "person" for "man." But who am I to rewrite anyone's quote? Sadly I leave you, dear Santa Barbara, for Chassy returns next week to ruffle your feathers. I bid all of you farewell. Who knows, perhaps they will bring me back to continue where we left off! Always feel free to post a comment here, or email your questions to Ryan@CoachmeCasanova.com. Until that time, single is as single does, so start thinking soul mate!