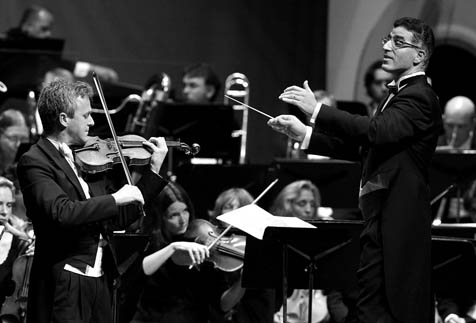 With a bang, a crash, and a boom, Nir Kabaretti brought his inaugural season with the Santa Barbara Symphony to a spectacular close. He began the concert with Leonard Bernstein's Overture to Candide, gracefully balancing its humor with its intricate rhythms and clever surprises-the Can-Can never sounded so good. The rest of the evening showed us the full range of the Santa Barbara Symphony's capabilities, offering everything from late romantic heartbreak to modernist strangeness.
The heartbreak came from Martin Chalifour's passionate performance of the Sibelius Violin Concerto. As the orchestra gave us the roar of the wind sweeping over Sibelius's native Finland, the violin answered with solitary, often melancholy melodic lines of defiance. Chalifour, a professor of violin at USC's Thornton School of Music, maintained an astounding clarity of tone while giving us all the emotion we wanted. Appropriately enough, he played the Stradivarius that Nathan Milstein owned for 40 years, generously provided by its current owner, Jerry Kohl. The instrument seems to favor flawless intonation and clear phrasing. After a standing ovation from the audience, Chalifour played a quick encore: the slow movement from one of J.S. Bach's violin sonatas. No one breathed as he let the last note fade into silence.
After the intermission, Stravinsky's Firebird Suite came to life. Maestro Kabaretti managed its challenging (and often bizarre) time signatures with ease, letting the orchestra bring out its deceptively simple melodies among its many odd notes and strange noises. Most importantly, everyone understood how the Firebird helped Prince Ivan dance his way to victory over King Kashchei. Each movement told the story clearly, from the mysterious, magical Firebird's quick steps, represented by a quirky wind motif played over an ominous bass line, to the truly infernal dance of King Kashchei's magical creatures, full of jeering horns and startling jumps, to the majestic finale that celebrates his defeat.
The Firebird was over, but we had one more dance on our card. This season ended with Ravel's tribute to Johann Strauss, La Valse. Like several of Ravel's works, this pome choreographique takes a few simple melodies and twists them almost beyond recognition, but it's all good fun. Kabaretti seemed to dance the audience-and the whole orchestra-around the room, and then dropped us all on the floor at the work's deliberately abrupt end. Let's dance with the orchestra again next season; this one ended too soon.