Business
Tiffany Coming to Town
Jewel Retailers Plan to Open in La Cumbre This Fall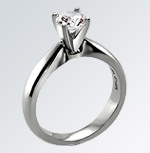 Jewelry retailer Tiffany & Co. has just finalized a lease to open a new store in La Cumbre Plaza shopping center in fall of 2007, the company announced May 16.
Internationally celebrated for its high-end jewelry and silverware since 1937-and immortalized in the 1961 film Breakfast at Tiffany's – the retailer is opening a 3,400-square foot store will offer its celebrated diamonds, as well as the signature designs of Elsa Peretti, Paloma Picasso, Jean Schlumberger, and Frank Gehry. A prominent player in the $33 billion-a year American jewelry retail industry, Tiffany & Co. merchandise rarely dips below $100 and an off-the-rack bracelet can cost $50,000.
La Cumbre Plaza has long been home to Brooks Shoes, Macy's, and Sears, and until now the upper State Street Center has served a more casual audience than the Paseo Nuevo mall on downtown State Street. Tiffany & Co. would join an array of new stores like J. Crew and Lucy Apparel, recently added to the Plaza in an effort to attract more upscale businesses.
"We're bringing in some better stores," confirmed Alice Love, senior marketing manager for Macerich Corporation, which brought La Cumbre Plaza in 2004. She said she would characterize most of the new additions as affordable to most Santa Barbarans. Two new restaurants are on the way: The family-friendly Marmalade Cafe – a chain that can also be found in Malibu and in Westlake Village – and the more exclusive Ruth's Chris Steakhouse. They replace Red Robin gourmet burgers, Express women's casual business fashions, and Bath & Body Works, all of whom chose not to renew their leases.
Though just recently announced, the arrival of the internationally renowned jeweler is already stirring up a flurry of reactions from community members. One issue that Tiffany is prepared to address is the use of jewels to fund conflict in war-torn areas, particularly in central and western Africa. Often termed "conflict diamonds," they entered popular consciousness with the 2006 motion picture Blood Diamond. Aware of serious concern, Tiffany & Co. is taking extra steps to establish a confident consumer market in Santa Barbara and around the country. A 2007 report by Global Witness and Amnesty International praise Tiffany & Co. – along with two other corporations, Sterling and Helzberg Diamond Shops – for taking "stronger measures" than others in the diamond industry and for having the "most comprehensive policies," including Tiffany's chain of custody certification, internal and third-party auditing procedures, and other "pro-active measures for responsibly sourcing diamonds." The company's 2006 Sustainability booklet, which discusses Tiffany's material sourcing, is available online and in stores for customers to view. Currently, Tiffany imports its diamonds from three primary locations: the Canadian Arctic, Africa, and Russia.
Tiffany & Co. operates jewelry and specialty retail through subsidiary companies, currently operating 167 retail stores in 18 countries. The company's arrival in Santa Barbara is part of its larger store expansion strategy. Tiffany anticipates that it will open five to seven new stores a year, according to Marc Aaron, vice president of investor relations.