Living
Cops Nab Drug Dealers
Sheriff's Department Cracks Down on Narcotics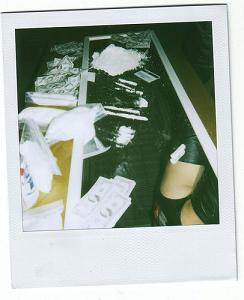 The Santa Barbara Sheriff's Department did a little cleaning up this past week, popping into numerous homes of suspected drug dealers throughout the county. Armed with search warrants, officers arrested 11 people who were in possession of various drugs – totaling a street value of $23,300 – as well as recovering $7,600 in cash.
On Tuesday a three month-long investigation ended when narcotics detectives arrested K.C. Goodwin, 35, and Lauren Lammers, 21, at a home on the 3300 block of Richland Drive in Goleta. The detectives seized approximately six ounces of methamphetamine, valued at around $16,800. They also found stolen property and $2,500 in U.S. currency. Both Goodwin and Lammers were booked into County Jail.
On Wednesday, narcotics detectives arrested 21-year-old Adriel Arias at a home on the 4200 block of Calle Real in Goleta, where they seized approximately one ounce of cocaine – valued at about $2,800 – along with $4,300 in cash, and other drug paraphernalia. Arias and his older brother Simon were both arrested. Simon Arias was booked for being under the influence of a controlled substance, as well as being in violation of his probation.
Later that same day, after a month long investigation, six Santa Barbara residents in the 1500 block of San Roque Road were arrested when detectives found $700 worth of methamphetamine and two grams of cocaine.
Finally, on Tuesday, narcotics detectives found about one ounce of tar heroin in the residence of Mario Gasca, 55, of Lompoc. He was arrested and booked into County Jail.