Living
Suicide Barrier Planned for Highway 154 Bridge
Project Scheduled for Completion by 2010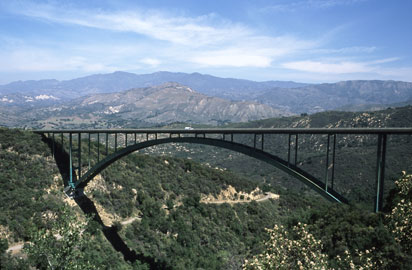 Hoping to prevent suicides, a slew of local and government agencies are moving forward with plans to build a possibly 6-foot steel safety barrier along the sides of the Cold Springs Arch Bridge on Highway 154. Having secured $1 million from the California Office of Traffic Safety, Caltrans hopes to see the project started by the summer of 2010, pending environmental impact reviews.
Forty-three people have committed suicide by jumping off the bridge since it was built in 1963, and 31 of those deaths have occurred within the last 25 years. While no other bridge in the county rivals this number, it is far from Golden Gate Bridge's record of two dozen suicides each year (with a total of about 1,300 to date) or even compared to San Diego's Coronado Bay Bridge, which has seen 115 jumpers since 1988.
To address the matter, a multi-agency task force has been formed with members including Caltrans, the Glendon Association, the county Sheriff's Department, California Highway Patrol, Santa Barbara County Association of Governments (SBCAG), Santa Barbara County, Family Service Agency 2-1-1 Helpline, and others. Joining them in almost unanimous support at a recent town hall meeting were about 50 local residents, many of whom pushed for an earlier completion date and expressed frustration when told it would take more time.
Despite the long three-year wait, Caltrans spokesman Jim Shivers said the project has in fact been expedited, with a year shaved off its approval process due to the pressing nature of the problem. However, he said a myriad of concerns still needs to be taken into account before anything is built, ranging from the effects on wildlife in the area to finding an aesthetically pleasing design. Not least of these considerations is the bridge's potential induction into National Registrar of Historic Places, which would add layers to the review standards. "We're having some discussions with local historical groups about this," Shivers said.
Once the suggested plans go through a series of open public forums – including one tentatively scheduled for July 25 – Caltrans headquarters in Sacramento will design the barrier, perhaps using significantly less than the awarded $1 million to do so, Shivers said. Until then, the agency will seek out public opinion, thoughts or complaints. "We would encourage anyone who has concern to come forward," he said.