Opinion
Giada Ate Here
Food Network Celeb Takes a Tour of SB
Where's the Justice?: That's what Ralph Fertig of Quick Release, the Santa Barbara Bicycle Coalition newsletter, is asking. Superior Court Judge Clifford Anderson declared a mistrial after a jury came back split 6-6 over charges that motorist Ernesto Botello was guilty of misdemeanor vehicular manslaughter in the death of 12-year old bicyclist Jake Boysel last September. The DA's office declined to retry Botello. "We weep at our loss of Jake Boysel, then at our loss of justice," wrote Fertig, the Coalition's president.
DA to be Fined?: Santa Barbara County DA Christie Stanley may be fined $300 by the California Fair Political Practices Commission for failing to promptly report the date she acquired a stock, according to The Santa Maria Times. Stanley told the Times that her husband acquired the Sun Microsystems stock before they were married and that omitting the date was an oversight.
Frank and Harry: Frank Kelly, who wrote speeches for President Harry Truman during his 1948 election campaign, recalls the time he took his mother to the White House to visit Truman. "My mother patted him on the arm, saying, 'I'm awfully glad Frank and you won the election.' "
Giada Ate Here: Giada De Laurentiis, that cuisine queen of the Food Network, was in town and I (groan) missed her. She was here taping one of her Weekend Getaways segments that'll air on July 27. Her whirlwind agenda: Tasting our own McConnell's ice cream, dinner at Bouchon, then lunch at the Brown Pelican at Hendry's Beach, dinner at Trattoria Grappolo in Santa Ynez, and Sunday brunch at Elements. After brunch, Giada and her crew took a gander at the I Madonnari Chalk Art Festival at the Mission. Elements, by the way, will host the Second Annual Old Spanish Days Winetasting at the Courthouse Sunken Garden on July 28 from 4-7 p.m. Folks from over 30 wineries will be pouring, Elements' chef Paul Becking will be serving hors d'oeuvres, and there'll be live music. Earlier, Elements will host a tasting of reserve and estate wines from 2:30-4 p.m., and be pairing Becking's foods with the wines. Tickets are available at the Arlington Ticket Agency, and online at www.elementsrestaurantandbar.com, or www.oldspanishdays-fiesta.org.
Political Wizard: Santa Barbara City Council member Iya Falcone got all dolled up for the Summer Solstice fund-raiser at Pascucci's restaurant the other night, calling herself, "The Wizard of Wishes." For a tip, she'd listen to any comment about the city government, "good, bad or indifferent."
House Tour: Ronnie Mellen tells me that the recent Pearl Chase Society Historic Homes Tour broke a record, selling 933 tickets to benefit the cause.
Music Men – and Women: CAMA (Community Arts Music Association) kicks off its 89th season on November 13. The St. Petersburg Philharmonic arrives at the good old Arlington with Nelson Freire at the keyboards. They'll be performing Schumann's Piano Concert in A Minor, followed by Prokofiev's Symphony No. 5. Then, on January 23, the famed Pinchas Zukerman will be conducting England's Royal Philharmonic – and performing as a violin soloist. On the menu are Elgar's Serenade for Strings, Bruch's Violin Concerto No. 1, and Beethoven's Symphony No. 5. There'll also be concerts on February 28, March 11, March 26, and April 9. Details to come.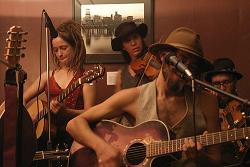 Gypsy Musik, Etc: When the delightful Big Dog Parade was over and I hit the sidewalk near the judges' stand, I heard the funky sounds of a small band of what looked like a group of young Eastern European street musicians. Their music was so klezmerizing that I couldn't leave – I even dropped a ten spot for the CD. The Underscore Orkestra plays a mix of gypsy, klezmer, salsa, and much more; stuff like Dark Eyes. I only wish I knew when and where they're playing again.
Guys to Ride: Lance Mason, Fred Clough, Richard Ward, and several other menfolk will be joining the bike Race Across America to raise money for Santa Barbara's Child Abuse Listening Mediation (CALM).
Sitting Bull: The feature length documentary, Sitting Bull: A Stone in My Heart – which screened at the 2007 Santa Barbara International Film Festival – will be shown in Lompoc on Saturday. Filmmakers John and Grace Ferry of Santa Barbara will be in attendance. The screening starts at 6 p.m. at the Lompoc Civic Auditorium and is sponsored by the Film Festival and the city of Lompoc.
Barney Brantingham can be reached at barney@independent.com or 805-965-5205. He writes online columns on Tuesdays and Fridays and a print column in The Santa Barbara Independent.