News
Jury Finds Anti-White Bias
Shades of Gray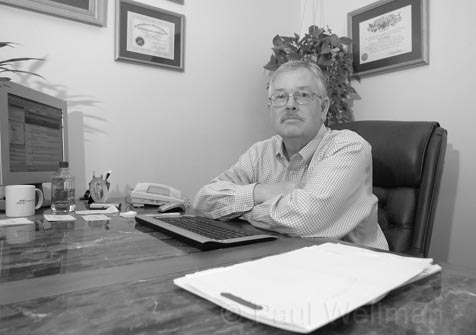 In what may be the first lawsuit in Santa Barbara County to successfully allege racial discrimination against whites, a civil jury awarded $384,000 plus attorney's fees to three former employees of American Indian Health & Services (AIHS). In their verdict rendered shortly after 5 p.m. on Friday, June 8, following two and a half days of deliberation, jurors said that the chair of the clinic's board, Maria Elizabeth Cordero, orchestrated the firing of the administrative staffers in order to replace them with Native Americans.
The chief piece of evidence against Cordero, who signed the documents terminating the employees in August 2005, was a question she had put to Arveda Nelson, an Indian Health Service official from Sacramento, when Nelson visited a clinic board meeting earlier that year. Cordero allegedly asked if white employees could be fired so that they could be replaced with Native Americans. Cordero maintained that she already knew the answer and that the question was rhetorical, meant to demonstrate to the other board members that it could not legally be done. Under federal law, urban Indian health clinics such as AIHS may give preference to Native Americans when they are hiring, but racial considerations can play no part whatsoever in decisions to terminate. According to both Cordero and the plaintiffs, the board had been agitating for the clinic to employ more Native Americans.
In addition, plaintiffs complained the boardmembers, including Cordero, discussed the oppression that Native Americans had historically undergone at the hands of whites and aired their views of its persistent effects. Cordero, who is of Chumash lineage, responded that she was merely stating facts and was not motivated by racism, pointing out that her mother, who frequently attended the court proceedings, is white and Jewish. "I am not bigoted against whites," said Cordero, in a pre-trial deposition. "I would have to cut half of me off."
Attorney Eric Woosley (pictured above)-who represented the plaintiffs along with co-counsel Jamie Scubelek-characterized the boardmembers' comments as "white-bashing," arguing that to have such conversations while his client-Richard Anderson, the clinic's chief financial officer-was present entitled Anderson to damages for severe emotional distress. Nonetheless, the jurors found the plaintiffs were entitled only to compensation for lost earnings, past and future. Anderson, who had the highest salary, received the highest award: $144,800. He now works as financial director for CARE Hospital, a veterinary clinic on Haley Street. As for the other plaintiffs, Michal Lynch is working independently as a bookkeeper, and Dyan Wirt is attending nursing school.
Despite numerous private conferences between Cordero and executive director Al Granados-and in contrast to their decision regarding Cordero's conduct-the jury did not find that race was a motivating factor in Granados's decision to fire the administrative staff, nor did it find that the AIHS as an entity was at fault. Granados's motivation was to replace the employees with his own team and to outsource work to contractors in an effort to make the clinic more efficient, according to John Maxwell, the defendants' attorney. It is true that the terminated staff had no negative indications in their personnel files, but they were at-will employees who could be fired at any time, he said, for any lawful reason "or for no reason at all." None of their replacements were Native Americans, according to the testimony, except for one Flathead tribal member who did not make it past his probationary period, mostly due to health reasons.
Maxwell attributed the verdict against Cordero to her discomfort on the stand. He said he is considering several avenues of appeal. Both he and Woosley said that the AIHS insurance policy would be billed for the award, not Cordero herself.