Columns
News-Press Shame Overshadows Party Report
Fundraiser Nets $100K+ for Jerry Roberts; Stephen Murdoch Releases Book; Jana Zimmer Makes Art; and Everyone Else Ebbs & Flows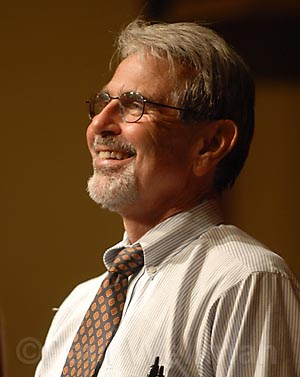 It's a shame Montage can't report how strongly Montecito was represented at last Saturday's Hope Ranch fundraiser to help Jerry Roberts defend a $25 million lawsuit brought on by his former and now notorious Santa Barbara employer. It's a shame, but as we have learned, there may be "ramifications" to revealing who's suing him, so Montage won't break the confidence.
But it's also a shame we can't list the names of the clergy, educators, philanthropists, politicians, attorneys, artists, writers, former publishers, non-profit leaders, former subscribers, and former advertisers who were among the 165 supporters gathering at Susan Rose's and Allan Ghitterman's home.
It's a shame we can't name the former and current reporters who attended the party and were honored along with Roberts.
It's a shame we can't tell you that community maven Mercedes Eichholz, on the occasion of her 90th birthday, was the most energetic, spirited, and vital person in the room – to prove it, she served up, by far, the best dish of the day.
It's a shame we can't report how brilliant Sara Miller McCune looked in blue (shown here with Craig Smith), and how she radiated as she showered $100,000 into Jerry's defense coffers.
It's a shame we can't tell you that reporter Dawn Hobbs stole the fashion spotlight in a room of formidable, well-dressed alpha-females, and how she stayed stylish, though bathed in tears during a tear-jerking ceremony.
It's a shame we can't tell you how odd it was to see Santa Barbara's news-magnets massed in quiet anonymity while the scribes, who used to cover the beats, beat it to center stage.
It's a shame we can't tell you how the duct-taped defiance, so prominent in the reporters' eyes last July, has been replaced with a look of confident courage.
It's a shame we can't share some silver linings of this mess, like former county reporter Barney McManigal (shown here with Roberts and host Susan Rose) sharing the good news that he's off to Oxford in October to begin his Ph.D.
And it's a shame we can't report how secure Jerry Roberts looks and acts, surrounded two real treasures: his beautiful wife and gorgeous daughter.
It's a shame we can't reveal how effective and eloquent Craig Smith and Steve Amerikaner were when they enumerated the importance and cost of fighting for responsible media.
And, it's a shame we can't tell you to contact Lawyers Alliance for Free Speech Rights, P.O. Box 5159, Santa Barbara, CA 93150 or the Journalist Loan Fund, 3412 Calle Noguera, Santa Barbara CA 93105, if you want to show financial support.
And, finally, it's a shame I cannot take back a call I made almost a year ago today, on June 21, 2006, to then-Montecito-beat-reporter Camilla Cohee. "Cami, get your ass down to the Montecito Planning Commission meeting," I provoked.
"Why?" she asked.
"Because Rob Lowe's there today. His too-big house is under review, hidden under the case named, 'Berkoff Trust.' Oh, and Cami, here's his address:."
FAILED IQ TEST: Could something as standard and mundane as an IQ test have perilous ramifications? Montecito author, Stephen Murdoch, asks that question in his new book, IQ: A Smart History of a Failed Idea, which hits bookstores this week. Murdoch discussed some of the book's concepts with Montage.
"In the early 20th century, the fledgling field of psychology used IQ tests to gain access and power in America through persuading people it could measure an innate ability called intelligence," Murdoch said. "The ability to measure mentality led to abuses over the past century." Murdoch details how the tests were used in surprising ways: to turn immigrants back on Ellis Island, to decide whether to sexually sterilize unwed mothers, and even, in the case of Nazi Germany, to determine if handicapped people should be executed.
Murdoch has long been interested in the topic, joggled at an early age by personal experience. "I remembered taking an IQ test at the end of sixth grade to enter the Gifted and Talented Education Program at Santa Barbara Junior High," he told Montage. "I didn't like the experience." He said despite having "passed" the exam and getting into GATE, he felt quite disconcerted. "I felt weighed, measured, and scrutinized by the process. In short, I resented it, but was fascinated by it at the same time." His fascination did not wane.
"It took me almost 20 years to return to the subject, after meandering through law and freelance journalism. I knew there were interesting stories about the tests that could be told in an accessible, story-driven way. That's what I have tried to write: an easy-to-read and enjoyable book that tells people just how broad an impact IQ tests have had on their lives and on society in general," he said.
A former human rights and civil litigation attorney, Murdoch penned the book from his Montecito home. Locally, he is known as the former News-PressMontecito community columnist and, more recently, he's made headlines by advocating for a pedestrian path along San Ysidro Road from the freeway to Montecito Union School. "You don't need to take IQ test to know how dangerous San Ysidro Road is for children trying to walk or bike to school. The driving and the amount of traffic are frightening."
Murdoch's book, published by John Wiley and Sons, will be available at Chaucer's Books. More information is available at www.stephenmurdoch.com.
EBBIN' AND FLOWIN': There is a rockin' group surf art show, entitled Ebb/ Flow, currently on exhibit at the East-West Gallery, 714 Bond Avenue.
This show features vintage surf photographs and unique functional art. It's Santa Barbara surf culture to the core, not to mention a "hang 10" exhibit with 10 percent of the proceeds going to Surfrider Foundation's Santa Barbara chapter, a group dedicated to the protection of the earth's oceans.
This exhibit is the summer show of East/West gallery, that sharp off-Milpas space, known for intriguing shows and owned by Henri Bristol, shown here with the show's curator Alexis Adler. Featured in the exhibit, which is up through July 31, are the works of legendary surf photographers Don James, Ron Church, Jeff Divine, Leroy Granis, C.R. Stecyk, and Jeff Hornbaker.
A unique added aspect of the show is function art, entitled FLOW – "Fine Lines on Water" – where several fine artists produced wildly imagined surfboards. The FLOW-show is the brainchild of curator Dianna Cohen and showcases the talents of Ron Reinel, Solomon Emquies, Alison Saar, Dianna Cohen, Alex Couwenberg, and Robbie Conal.
There were two opening events, both Friday and Saturday night, and both nights there was a swell of attention for this rad exhibit! Pictured here Friday night is surfing great and Montecito resident Shaun Tomson with his wife Carla, enjoying the photography with Surfrider S.B.'s event coordinator Matt Wallace and chair Scott Bull.
STILL DELIVERING A MESSAGE: Jana Zimmer is probably best known in Montecito as the attorney who dueled with developers to protecting neighbors' rights. Most recently, she was a voice of opposition against Ty Warner's Coral Casino project, and she carried the neighborhood message to Music Academy of the West when they proposed a large neighborhood development. In the arena of land-use law, Zimmer's message was always strong and clear.
However, two years ago, Zimmer packed up her law books, put her attorney's sword in its sheath, and retired from practicing law. "I bet there were a lot of people in Montecito who cheered that day," Zimmer joked. Today, Zimmer spends a great deal of her time creating art, and, no surprise here, her artwork carries a message that is strong and clear.
Zimmer's art is highly personal and very sophisticated. Honoring her mother, who was a Holocaust survivor, Zimmer finds a voice for her loved ones through a technique that combine monotypes with collage, chine collee, fabric, thread, pencil, and oil bar. The work incorporates historical documents, writing, and family photos into the art. It is sensitive, intriguing, and a textural and visual delight. Viewing Zimmer's art is a thought-provoking experience, and one not to be missed.
Her work is currently on display through July 5 at the Bronfman Family Jewish Center, 524 Chapala. Entitled "On the Art of Remaining Upright," the show will travel to Prague Jewish Museum in Czech Republic in September 2007.
MONTECITO MEANDERINGS: Mark June 28 down for the Montecito Association's semi-annual homeowners meeting to be held at 6 p.m. in Montecito Hall. The agenda includes a discussion of how to escape a wildfire, especially in the slide area of 144 where a locked gate prevails. There will also be a presentation on the 2008's impending 101 improvements:.
On June 20, the Montecito Planning Commission will discuss the Music Academy of the West's pass-through plan, with the hopes to limit cars taking short cuts through the academy:
Speaking of the Music Academy, the masters' class sessions are in full swing until August 11. For information, call 969-8787:.
The Santa Barbara Writers Conference gears up on Friday and Montecito is all over it – not only attending in mass, but teaching as well. Founders Barnaby and Mary Conrad will be there, along with Shelly Lowenkopf. Ray Bradbury returns to the podium Saturday night. The conference runs through June 29, and registration informaiton can be obtained from the web at sbwritersconference.com/june_schedule.php…..
And on a final note, Montage hears the Largura ridgeline residence at 2489 Bella Vista, getting a first peek at Monday's Montecito Board of Architectural Review Monday, caused quite a commotion. Look for this 5,700 square-foot, two-story house, designed by architect Bob Easton, to get a lot future evaluation and discussion.