Living
Dos Pueblos High's Austin Ford Is One of America's Best Snowboarders
Beach Boy Surfs Mountains
Austin Ford will be practicing moves on his board next month, as might be expected of a 15-year-old who lives in Santa Barbara near the beach and started surfing at the age of six. But there will be no waves for Ford to ride. He will be at Mount Hood, Oregon, sliding crazily on a snowboard atop a series of rails in an event known as the Bonfire Pipe to Pipe.
The connection between surfing and snowboarding is not that unusual. It is depicted in Johnny Tsunami, a Disney Channel movie about a Hawaiian youth whose family moved to Vermont. But very few kids who live near the surf are as eager to ride in the snow as Ford.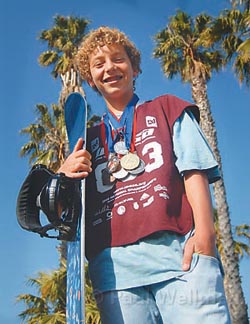 He dreamed of it before he tried it. "I'd draw snowboarding pictures in school," Ford said. "Drawing was the closest I could get to it. I thought it was the coolest thing. My teacher told my mom I must spend a lot of time going to the mountains and snowboarding."
Austin's parents, Richard and Kimberly Ford, decided to get him a snowboard for Christmas in 1998. Both had experience as skiers and were willing to take their son to the slopes. He nailed his first snowboarding lesson at Badger Pass. It was the same as when he had learned to surf.
"He told us he was a surfer, so we picked up a used board at a garage sale for $50 and, I'll be darned, he was a surfer," Kimberly said. "He got up the first time and has been up ever since."
Austin said the challenge of snowboarding is staying upright while flying through maneuvers in the halfpipe-the semicircular launching pad that's one of the sport's most popular events-or skittering down a steep slope. "In surfing, you have to catch the wave," he said. "In snowboarding, you're already on the wave."
Once he got a taste of it, snowboarding became his all-consuming passion. "I had no idea what our lives would be like in a few short years," Kimberly said. Austin started competing in the U.S.A. Snowboarding Association two years ago and qualified for the nationals both in 2006 and 2007. During that time, the Fords put 15,000 miles on their Land Cruiser while ferrying him to the mountains. It has become a routine for half the year.
"He is such a cool kid, my snow buddy," Kimberly said. "I love our road trips. He is really a very uniquely talented and understated young man." Both mother and son are moved by music, but while Kimberly is a singer of standards and originals in the jazz genre, Austin enjoys listening to rap. One of his favorites is "Thizzle Dance" by the late Mac Dre.
Competing against kids who live in snow country, Austin finished near the bottom of his age group at Northstar, the site of the nationals in April near Lake Tahoe. But he was exhilarated to be a participant and will be in the same division next year at Copper Mountain, Colorado. He will be a sophomore next year at Dos Pueblos High School, where he also plays water polo and competes in swimming.
"They help me get in shape for snowboarding," he said. "I like competing. Snowboarding is more focused on competing than surfing is. You get butterflies and hear the crowd cheering. It really pumps you up."
A RACE TO THE FINISH: The Kalyra Women's Race Team (featured in last week's Independent) was wheeling through West Virginia on Monday night, fewer than 450 miles from the finish line of the 3,043-mile Race Across America. The cyclists from Santa Barbara had started at Oceanside a week earlier, hoping to reach Atlantic City in a record-breaking time of six days, 12½ hours. After five days of continuous riding, they realized they could not make it without risking a blown gasket.
"We had to decide: Do we hammer hard and go for the record?" said Ernie Ferrel, the team's crew chief. "That would reduce our chances of finishing. We decided to stay healthy and get to Atlantic City in one piece." The riders-Denise Clark, Jill Gass, Sonia Ross and Lisa Tonello-were still averaging 17.6 miles per hour through 2,600 miles. "Denise goes up hills faster than some people go down," Ferrel said. "Jill is descending like a banshee. Sonia and Lisa are good all-around."
Pushing the women was an eight-man team sponsored by Santa Barbara Bank & Trust. The men moved ahead of them by three minutes on Sunday in Indianapolis, but the women retook the lead in Ohio and maintained a 10-minute margin late Monday.
For a report on the final results, see independent.com/teamkalyra.