News
Jerry Roberts Raises Cash
Fired NP Staffers Still Face Long Haul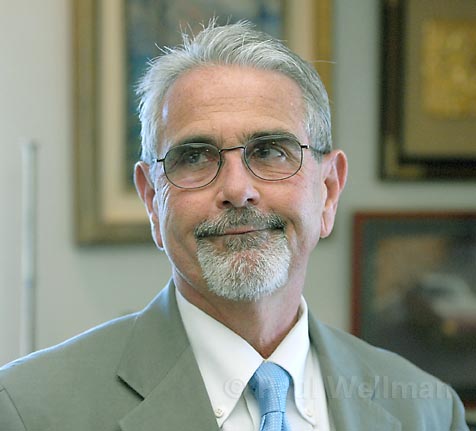 Former Santa Barbara News-Press editor Jerry Roberts is still stunned. A benefit party held in his honor last Saturday night at the Hope Ranch home of former county supervisor Susan Rose raised $135,000 to help him wage his legal battle against News-Press owner Wendy McCaw, his former boss and current nemesis. The fundraiser was sponsored by the Lawyers Alliance for Free Speech Rights, a group formed to help raise money for legal assistance for ousted NP staff.
Of the total donated sum, $100,000 came in the form of a check written by Sara Miller McCune, a prominent philanthropist who made her money publishing academic journals. Like many of the 165 who paid $125 to nibble, mingle, and drink wine donated by Fess Parker's daughter Ashley, McCune said she is most outraged at McCaw-who is suing Roberts for $25 million-for running a front page article in the News-Press on April 22, linking Roberts to an investigation of child pornography found on a computer he formerly used. (Police have abandoned the case, concluding it's physically impossible to determine who downloaded the pornographic images given that the computer had multiple owners and could be easily accessed by many News-Press employees. The disk is now in the possession of the FBI.) "I thought it was a shameful thing to do, and I was furious," Miller said. "But having published the very first text on journalistic ethics more than 25 years ago, I was aware that a very important line was being crossed last summer."
That's when Roberts, four senior editors, and the News-Press's iconic columnist Barney Brantingham walked off the job, charging McCaw with newsroom intrusions and violations of journalistic ethics. Since then, McCaw and her newspaper have been engaged in a political and legal face-off with Roberts, other former staffers, and much of the Santa Barbara community. Throughout it, Roberts has won several journalistic awards, but awards and news articles don't pay legal bills. After Roberts quit, McCaw sued him for $5 million, claiming he leaked internal documents to The Independent as part of a concerted campaign to weaken the News-Press for financial gain. Roberts countersued for $10 million, claiming McCaw's breach of ethics constituted a breach of contract. McCaw then counter-countersued for $25 million, leaving Roberts staring at legal bills that could run as high as $500,000. Roberts said he appreciated the support and McCune's donation, adding, "It's just weird. It's like I've become a politician. I have to raise money now. It used to be I'd be in the back of the room laughing at everyone, but now I'm giving speeches."
Roberts shared the podium with Mercedes Eichholz, an avid arts supporter celebrating her 90th birthday. Known for a sharp wit and even sharper tongue, Eichholz verbally eviscerated McCaw's co-publisher and fiance, Arthur Von Weisenberger, in terms so personal that even some of Von Weisenberger's harshest critics began to squirm. Eichholz's discourse was interrupted as Roberts and others launched into a hearty rendition of "Happy Birthday," and land use attorney Steve Amerikaner broke the tension by quipping, "I'm pleased to announce the formation of the Mercedes Eichholz Legal Defense Fund."
But despite the barbed levity at their expense, McCaw and her attorneys won a key victory last Friday, as the National Labor Relations Board (NLRB) voted 3-2 to reject a plea for injunctive relief, which would have forced McCaw to rehire at least nine of the reporters she fired for either bias or disloyalty. Attorneys for the Teamsters, which won the union election held nine months ago 33-6, argued that employees had been fired for their visible activism in support of the union. Union activists, like fired reporter Melinda Burns, had been hoping the labor board would order them back to work.
Instead, NLRB prosecutors will take McCaw and News-Press management to court beginning August 14 for illegally firing employees for their union sympathies. But that process will take longer to play out than the injunctive relief sought by the union. Burns estimated the decision would prolong the legal struggle between the union and McCaw by another 18 months.