"Girls used to give me their phone numbers; now they're trying to sell me real estate," Goo Goo Dolls' frontman John Rzeznik confessed to his audience after a woman in the front row tossed her business card onstage. The statement is an apt metaphor for the trajectory of the Goo Goo Dolls' career, which began some 12 years ago with the smash hit "Name." Since that initial explosion, the band has released a steady stream of follow-up albums, each slightly worse than the last, but virtually all offering at least one radio-ready super-ballad. Yet, as Monday night's show proved, although the quality of The Dolls' music will likely never again reach the heights of "Name"-a sentimental piece of rock perfection-there's nothing wrong with a little formulaic power pop now and then.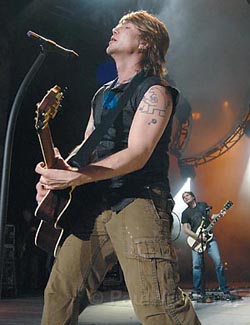 To start off the night, Christian rockers Lifehouse took the stage following the evening's first opener, Colbie Caillat. Lifehouse frontman Jason Wade could use a few rock-star lessons from Rzeznik. Although Wade did a fine job running through the band's list of hits, Lifehouse's crisp hooks and driving bass lines weren't enough to save the otherwise bland performance.
But the Goo Goo Dolls were determined to change all that. Before a modest stage set-three ceiling-mounted panels that resembled the ghosts from old Pacman video games displaying various visual effects-Rzeznik commanded the stage with the confidence and ease of a rock veteran. Robby Takac played the Jeremy Piven to Rzeznik's John Cusack, jumping in to crack a joke in his carnival caller voice or take the mike for a song or two. The duo had a surprisingly fresh chemistry and, despite the fact that they were playing songs they must have played thousands of times before, seemed giddy with delight at the prospect of getting to do it all over again.
The Dolls did right by their audience, performing one smash single after another to a crowd of mostly adoring fans, including "Name," "Iris," and "Black Balloon." When Rzeznik forgot the words to "Sympathy," his candor and joking apology diffused the potentially awkward situation. And even though each song began to sound eerily similar to the last as the evening progressed, The Dolls managed to provide what they do best: bite-sized, guilty pleasure pop.