Living
Three-Hour Standoff Ends Peacefully
Homes Near Soledad Street Site Temporarily Evacuated
A nearly three-hour standoff between police and a man wanted for parole violation ended peacefully Thursday, despite the man-who police had been calling "armed and dangerous"-telling people earlier he wouldn't be taken into custody peacefully and slashing one of his wrists before submitting to authorities.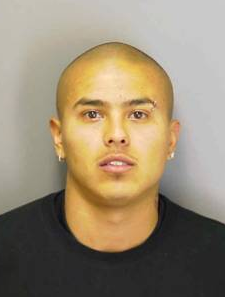 Daniel Ortiz, 22, a known gang member, walked out of the home he apparently lived in with his father at about 4:45 p.m., two hours and 45 minutes after police had first arrived to make an arrest. Word of Ortiz's alleged misdeeds-he allegedly had committed both assault and vandalism recently-had popped up in the last three days, and his parole officer asked that he be arrested. Santa Barbara police had heard several accounts of Ortiz making threats with a gun, and one person even reported seeing an actual gun in his possession. Police became aware of Ortiz's whereabouts Thursday, and went in to make an arrest.
Ortiz was holed up in his home at 303 S. Soledad, but police had blocked off a two- or three-block perimeter in each direction and evacuated many of the homes near Ortiz's residence. A group of about 30 residents and passersby gathered at the intersection of Canada and Indio Muerto streets, along with local media. Police were unsure at the time if anyone else was in the house with Ortiz, but there wasn't.
Police, who had set up a mobile command post on nearby Indio Muerto, tried several times to make contact with Ortiz via telephone, but he never answered. He did have contact with officers, yelling at them out the window and through the door, telling them he wasn't going to give up.
But he did, eventually, walking out the front door. After standing for a moment just outside the door with a hand behind his back, he surrendered. He had a cut on one of his wrists, which police said was self-inflicted, although it wasn't clear whether he was trying to commit suicide. He was taken into custody and brought to Santa Barbara Cottage Hospital. Police Lt. Paul McCaffrey described Ortiz as "clearly angry and agitated." He didn't say what Ortiz would be charged with beyond violation of probation.