Opinion
The Other Sister
Ventura Mixes Quaint and Culture to Provide the Ideal Daytrip
The Two Sisters: Ventura and Santa Barbara are like twin sisters who grew up to be very different.
They share a similar stretch of Southern California coast, a Mediterranean climate, and boast missions founded by Fr. Junipero Serra. But though they seemed to have gone their separate ways – Santa Barbara went lace, Ventura blue collar – times have changed.
As I learned last weekend, while Santa Barbara's downtown has devoted itself to bland chains and forgettable franchises, Ventura's downtown is a charming mix of mom-and-pop shops, antique stores, thrifts, coffee dens, and new restaurants offering innovative dishes.
In short, the seven walk-able blocks dubbed the Historic Downtown District are fun. And, I might add, real. Ventura renovates rather than razes, proving once again that old is good.
In comparison, one Santa Barbaran claimed to me, "Our downtown doesn't have a soul. It's turned its back on the people who live here." Not one thrift shop remains among the tourist-luring glitz, she pointed out.
When Susan and Winston Sullivan were forced to close Tutti's restaurant on Santa Barbara's Coast Village Road due to a lease problem, they found a spot just off Main Street on Palm Avenue. It was once a stable, then a city motor pool. It took the Sullivans two years to clean it up and rebuild.
Now Tutti's Off Main is a delight to behold, with quality food served indoors and out on the patio, live music, and take-out pastries in showcases from the old Tutti's. My chicken vincenza panini was as tasty a sandwich as I've ever had. (The Sullivans still operate Tuttini's bakery and coffee shop in downtown Santa Barbara on East Carrillo Street.)
More and more Santa Barbarans are driving to Ventura for weekend diversion. One friend says she often takes in a matinee movie at the art deco-style Century Downtown multiplex, then an early dinner, and is back home before dark.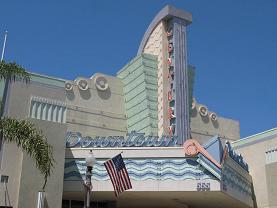 Sue and I attend plays at the Rubicon Theater Company – one of the best in the region (Hamlet was a recent production and Babes in Arms opens July 13). And we've long been plotting to spend a weekend wandering the town.
Our first stop was the Ventura County Museum of History and Art, across from the San Buenaventura Mission. You can tell a town by its museums, and this is clearly a community that cherishes and examines its history without worshipping it. (Like Santa Barbara?)
We found exactly one Starbucks and avoided it, preferring to take our coffee in the charming environs of Palermo. Our stroll took us up to the Bank of Books, not only a bookstore with 150,000 volumes and 1.5 million more in local warehouses, but which does a heady business of shipping around the U.S. and internationally, via Amazon.com.
Soon a museum will open there honoring Ventura's favorite literary son, mystery writer Earle Stanley Gardner of Perry Mason fame. Gardner also practiced law in town.
At Weaver Wines, located at 14 S. California St., we tasted whites and reds poured by owner Seana Sesma Weaver, a ninth-generation Santa Barbaran. You can't miss the bright neon signs at the 40s-style Busy Bee Cafe, where a roast turkey dinner and trimmings will set you back only $12.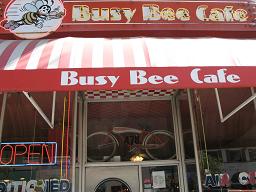 But we were headed for the newest addition to Ventura's restaurant scene, Brooks, located at 545 E. Thompson Blvd. Chef Andy Brooks – who once manned the ovens at San Ysidro Ranch's Stonehouse – is a much-talked about culinary star in town. The carnaroli risotto appetizer – crispy rock shrimp with ruby red grapefruit, sweet garlic, and aged pecorino romano, and a halibut entree were outstanding. Saturday night found us down the freeway boarding historic cars of the Fillmore @ Western Railway Co., which runs tourist trips through the Heritage Valley from Fillmore.
The Margarita Madness Dinner Train featured a Mexican dinner and a three-hour ride, with dancing to a mariachi band on a flatcar. By sheer luck we bumped into railroad buff Dave Wilkinson, who bought the train a dozen or so years ago and keeps adding cars from junkyards.
Most of his business, Dave told us as we rolled along and an ivory moon rose over the Ventura County hills, is from renting out sections of the his train empire to movie companies and commercial makers. He lives and breathes trains, a hobby he's indulged since he was a kid.
Up ahead, a diesel hooted at crossings. Dave also owns a few of the 200 or so steam locomotives that he says are still on wheels around the country. The problem, he said, is that fewer and fewer people know how to repair and maintain them.
After bunking in comfort at the Ventura Beach Marriott (no, that's not the tall hotel near the pier), we headed for a Sunday brunch at another of Ventura's top restaurants, The Sidecar (3029 E. Main St.), at the east end of town.
It's built around a turn-of-the-century rail car, which became a circus meal car, then a restaurant in 1933. Co-owner and chef Tim Kilcoyne, still in his 20s, has won a solid reputation for growing some of his ingredients and working with local farmers for much of the rest.
The circus folk never ate like this. But I'm certain they would have enjoyed his signature martinis, mixed with fruity flavors from jars on the bar.
Barney Brantingham can be reached at barney@independent.com or 805-965-5205. He is a staff columnist for the Santa Barbara Independent and writes online columns on Tuesdays and Fridays and a print column on Thursdays.