News
Fire Season '07 Roars to
Life in Los Padres
The Heat Is On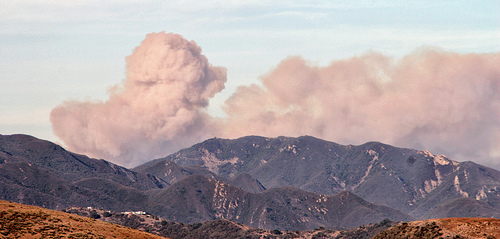 Shortly after 6 p.m. on Saturday evening, it was obvious to anyone looking toward the mountains that a fire was raging in the back country of Santa Barbara. With the soon-to-set sun turned an ominous blood orange and the telltale swirl of golden smoke clouding the horizon along the Santa Ynez Mountain range, fire crews from Santa Barbara County and the U.S. Forest Service rushed to a stretch of the Santa Ynez River near Paradise Road in the Los Padres National Forest as ash began to fall in the foothills and portions of downtown Santa Barbara.
With offshore Santa Ana winds prevailing and severe drought conditions in the area, the fire roared out of the riverbed and up the bone-dry hills on both sides of the river. After briefly climbing toward the populated East Camino Cielo area-the apex of the 1990 Painted Cave fire-the inferno was soon pushed back by firefighters and Mother Nature alike, its destructive flames sent north and east toward the Red Rock day-use area and the Upper Oso campground. By the time it was brought under control-as of 6 p.m. on Monday, July 2, the blaze was more than 80 percent contained-the Rancho Oso fire had burned for some two miles, consuming roughly 482 acres of forest land. No injuries or damage to structures was reported. Speaking cautiously given the unaccounted-for 20 percent, U.S. Forest Service fire information officer Jim Turner commented with a notable tone of relief Monday afternoon, "Boy, things looked grim at first. But fortunately for everyone, the fire went the other direction."
According to county fire department spokesperson Capt. Eli Iskow, around 7 p.m. Saturday night-little more than an hour and a half after the fire began-a major fight went down on the banks of the Santa Ynez River. Helicopters and "a lot of guys humping a lot of hose" held the hard line between the fire and the hills toward Camino Cielo. All told, more than 600 firefighters turned out to fight the blaze, along with dozens of fire engines, several bulldozers, five helicopters, and five massive air tankers. Thanks to their efforts-which cost the county an estimated $780,000-no residences were affected or evacuated during the height of the blaze.
However, several area residents expressed concern this week about the lack of information available to them during the early stages of the fire, with radio as well as television stations remaining mum on the subject for some time. On this point, Iskow agreed, though he noted that the county's fire news line had information on the situation within moments of dispatch being notified. In the future, Iskow recommends going to sbcfire.com or dialing 211 for information.
As for the campgrounds in the area, though none were specifically damaged, several were evacuated. According to Turner, campers from the Lower and Upper Oso grounds were safely escorted out during Saturday night and Sunday morning. As of press time, all camping and day use areas east of Highway 154 and before the first Santa Ynez River crossing were open for business as usual, while all facilities beyond that crossing were closed-a condition which, in Turner's estimation, would "probably last for some time."
Though disaster seemed to be averted with the Rancho Oso fire, a Red Flag Warning remained in effect for the county for much of the week-something that residents should get used to this summer, according to Iskow. "We are as dry right now as we usually would be in late fire season. We are used to conditions like this in late August or September but not on July 1," Iskow explained. He also noted that on Monday alone five separate small fires broke out across the county, from Figueroa Mountain and Lake Cachuma to Carpinteria and the Rancho San Marcos golf course. Stressing the importance of citizen responsibility and caution when visiting the forest, Iskow added in a deadly serious tone, "The message in all this is very clear. The brush is tinder-dry. From here on, any spark will be a fire : It just all depends on what the wind does with it."