Books
Teens Speak Out in Quarterly Publication, Shape of Voice
Finding Their Voice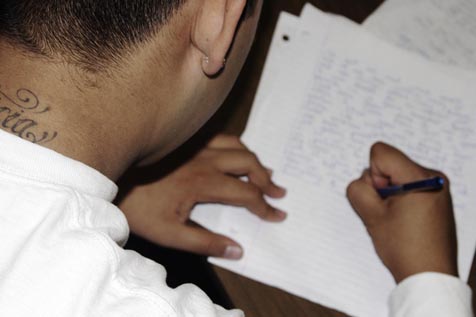 When some people talk, everyone stops and listens. For others who have something to say, it's hard to get anyone's attention, let alone their respect. All too often, teens fall into the latter category, and their voices go unheard. Thanks to a coalition of community groups, dedicated volunteers, and talented teenagers, Santa Barbara's youth have a new forum for making their voices heard: the quarterly newspaper, Shape of Voice.
Initially published as an insert in The Independent, Shape of Voice can now be found as an unbound, free paper competing against the stacks of other publications in coffee houses, book stores, schools, and youth centers. In weekly meetings held at the Twelve35 Teen Center, the Youth Media Project works to defeat in-school racism and prejudice by bringing together a diverse population of teenagers outside the classroom and helping them speak out.
The Youth Media Project took shape two years ago after Santa Barbara's Committee for Social Justice (CSJ) commissioned a survey of student treatment in area public high schools. The 150-page survey polled students and teachers on their experiences in the county's education system, and the results confirmed exactly what the committee had anticipated: a huge divide between Anglo and Latino students within the schools. Both student populations agreed schools were not properly serving Latino students.
In light of these findings, CSJ thought a city-wide youth newspaper would be a constructive way for students to express themselves and voice their concerns, while showcasing their overlooked talent and developing their communication skills. "We were very serious," explained CSJ cofounder Peter Marin. "We knew at the time that there were a lot of students getting screwed over. People pay attention to gangs, but people don't pay attention to the other marginalized students. We needed to reach out to these students outside of the school system." The committee planned the groundbreaking Youth Media Project, but soon realized it required a dedicated leader who would be able to shape such an ambitious undertaking.
Enter program director Kristi Curtis, who Marin said has dedicated her life to the project, putting in more than 40 hours per week, without a salary, to ensure its success. The Youth Media Project now works directly with approximately 40 students age 13-19, interacting with more than 200 other youth through various social events and workshops in collaboration with other area organizations including City@Peace and La Casa de la Raza. "It has always been our goal to increase the sense of social responsibility in the young people we work with," Curtis said. "We feel that through their learning experiences, we can begin to create strong youth leadership roles within our organization."
Staffed by volunteers, with the support of the philanthropic umbrella organization, Community School, Inc., and grants from other private organizations and individuals, the Youth Media Project is thriving. Its students construct Shape of Voice in its entirety, from editorial contributions to advertisements. Brainstorming, mentoring, and training sessions help the students develop and hone their craft, and leaders use art exhibits, film screenings, and world music to catalyze the flow of creative, positive thinking while exposing participants to new cultures and perspectives. The project's organizers have found that institutional exclusion has had an impact on the students' ability to contribute to such a demanding project, and long hours are dedicated to forming work rhythms that will help the individuals involved.
The resulting publication provides a rare and raw glimpse into the mind of a teenager. These aren't the typical dramas of teen angst, but rather a transformation of anger into art. One past Shape of Voice cover mixes Mexican mural traditions with urban street art, evoking a fusion of history with modern reality. Inside, the paper offers sensitive storytelling, intelligent insights, and photography. To that end, La Casa de la Raza is now offering Cochitlehualli 101-a black-and-white photography symposium that utilizes the 35mm camera for both fine art and documentary work, and offers the chance to be a part of an exhibit. The course name is derived from ancient Aztec Nahuatl, and means "seeing as through a dream."
Among the pages of the latest issue of Shape of Voice, readers will find a poll on whether or not 14-year-old gang murder suspect Ricardo Juarez should be tried as an adult, fine art photography exploring the concept of violence, and other works that help create a dialogue among teens, as well as between the youth and adult population. The paper's Web site, shapeofvoice.com, invites the community at large to share poems and thoughts through blogging, to learn about upcoming events and workshops, and to read past issues. In its fifth edition, the newspaper plans to focus on the theme, The Public School System: Whom Does It Benefit?
As Shape of Voice gains momentum, it will continue to illuminate such pressing topics by providing a forum for safe and full communication, cultivating the expression of ideas and opinions, and giving voice to a generation too often left unheard. In doing so, the paper is shaping these young people's future, and giving them the capability to change their world.
4•1•1
Shape of Voice is now available on city newsstands and in area schools, as well as online at shapeofvoice.com. To learn more or to make a donation to the project, visit the Web site or call 705-3380.