Living
King of Jordan Motors Through SB
Dines at Stearns Wharf's Harbor Restaurant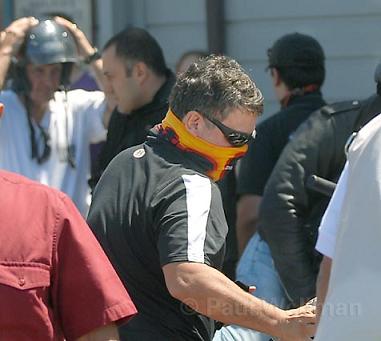 The reigning monarch of Jordan, King Abdullah II, took a pause from his motorcycle trip down the coast of California to stop in Santa Barbara to eat at the Harbor Restaurant on Stearns Wharf Thursday. The king and a group of his hog-riding friends arrived at the restaurant around 1:30 p.m. and stayed until about 2:35 p.m. The group – all on Harley Davidsons – has been riding for a few days throughout the state.
In addition to the line-up of motorcycles on the wharf, there was an obvious police presence that made passer-bys wonder who was in town. One man thought it was the governor, while many had no idea who could draw such security attention. But they did have their cameras ready for when the group finished eating.
When the group finally emerged, the man believed to be the King came out with sunglasses on and a black, flame-decorated face protector pulled up to his nose. After snapping a photo with a family outside, the man put on a motorcycle jacket, and the group roared toward land.
The restaurant wasn't closed to accommodate Abdullah, his son and 11 friends, because he wanted to be among people, restaurant manager Wissam Hamad said. But there was a strong protective presence. The U.S. Secret Service provides protection whenever foreign heads of state are on U.S. soil, and agents were stationed in numerous locations inside and outside the lobby, each wearing a communication earpiece and a lapel pin with the flag of Jordan on it.
The two valets working the parking lot, Eduardo Borges and Victor Sosa, weren't told what was happening, only to leave the entire left side of their parking lot open. "We thought it was an actor," Sosa said. "I never thought it'd be a king. It's kinda weird. I've never seen so many security here." By the Independent's unofficial count, there were ten vehicles in the lot – ranging from Chevy Suburbans to unmarked cars to a Ford Mustang – behind the 12 Harleys, along with two CHP patrol cars, roughly five CHP motorcycles and two Santa Barbara Police Department motorcycles.
The restaurant knew for about three weeks "someone important" was coming, according to Hamad, but didn't find out until they showed up who it was going to be. Hamad posited that the King came to the Harbor Restaurant for the view, the food and the service, all of which the King apparently appreciated, as he helped Hamad and other restaurant workers clear the table. Hamad, who is from Lebanon and moved to the United States last year, said people both here and abroad love King Abdullah II. "He a very nice person, a very gentle and kind king," he said.
It also sounded like the king was enjoying his vacation with the boys. "People said he's having a great time," according to one Secret Service agent.