News
Union Ratifies Contract
Supermarket Strike Averted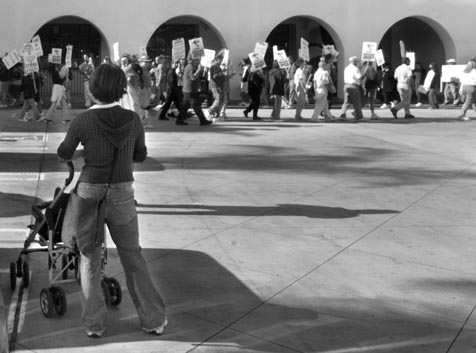 Supermarket employees in Santa Barbara reacted with pleasure and relief to terms of a contract agreement with Ralphs, Vons, and Albertsons supermarkets, which was announced by the United Food and Commercial Workers Union on July 23. The four-year contract guarantees annual wage increases and reduces the waiting period for healthcare eligibility to six months for new hires-down from 12 to 18 months under the previous contract, which expired in March. Union voters across Southern California ratified the contract by an 87 percent margin, according to the UFCW. One month earlier, following four months of fruitless negotiations, more than two-thirds of union voters had authorized the UFCW to call a strike if necessary.
"Now we don't have to worry about striking," said Claudia Cortez, a six-year employee of Ralphs Supermarket on Carrillo Street. Cortez currently earns the top wage of $15.10 per hour for a food clerk, but she will receive a raise to $18.40 after another 2,600 additional hours of work, under terms of the new contract. Except for promotions, veteran workers like Cortez have not had a raise since 2001. Cortez was also pleased that her children will be eligible for orthodonture. A meat-cutter hired seven months ago, who asked not to be named, said that he will be eligible for health care immediately and a 50-cent per hour raise.
The new four-year contract eliminates the two-tier wage system, which was the most contentious issue during the five-month strike of 2003. The bitter negotiations four years ago ultimately resulted in what the union considered an unsatisfactory contract. By contrast, the UFCW celebrated the agreement reached July 18. Elimination of the two-tier structure means that new hires progress on the wage scale at the same rate as do veterans, get the same benefits, and can reach the are same top pay for their job.
Annual wage increases range from $1.65 to $6 over the life of the contract, retroactive to March 5, when the previous contract expired. The contract provides preventative healthcare, increases employer contributions to the pension fund in order to secure current benefits, and protects the healthcare trust fund, according to the union, which will supplement the employers' contribution to health coverage by contributing $3,000 per employee from the fund. Nonetheless, a six-month reserve will remain in the fund by the end of the contract term.
The union credited public support garnered during door-to-door campaigning for the successful negotiations, especially a pledge signed by 50,000 people promising not to shop at Ralphs, Albertsons, or Vons if there was a strike.