Visual Arts
Artist Jana Zimmer Acknowledges the Holocaust, Respectfully
The Shoah Goes On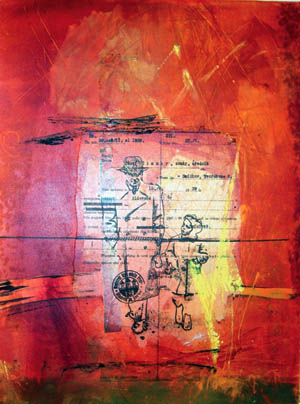 A man in hat and overcoat walks beside a little girl, who looks over at him questioningly. The landscape through which the father and daughter walk is fiery orange, as if they're walking through an inferno. This image is superimposed atop a Czech government document confirming that Josef Zimmer has removed his name from Prague's record of members of the Jewish religion. The form is dated May 1939, two months after Hitler entered Prague.
This work is part of Santa Barbara artist Jana Zimmer's exhibition, On The Art of Remaining Upright, which was previewed briefly at the Jewish Federation of Greater Santa Barbara before traveling this fall to the Czech Republic for display at the Jewish Museum in Prague and at the Terez-n Ghetto Museum. Zimmer's images incorporate historical documents, writings, and family photos and artwork with other media including collage, Chine collee, fabric, pencil, and oil bar as a means to honor and communicate her family's experiences during the Holocaust. Her bright yellows, somber ochres, and fiery reds are full of life-a sometimes startling contrast with the story her images tell. Zimmer integrates these bold hues with fragments of writing from both of her parents' life stories, pre-war photographs, and digitally altered versions of fragments of artwork created by her father's daughter Marketa (Ritta) as a child in the Terez-n ghetto prior to her death in Auschwitz. The stark juxtaposition of these youthful drawings with death notices and slivers of despondent writings is chilling. "I kept looking for evidence in her drawings of what this child in that place could be feeling, but they just look like any child's drawings," Zimmer said.
Though both of her parents were Holocaust survivors, in her early artwork Zimmer focused primarily on her mother's story. It wasn't until she agreed to the upcoming exhibitions in Europe that she shifted her focus to her father's relationship with his first daughter. Zimmer had known for decades that one of her half-sister's drawings had survived. She had come across it at the Jewish Museum in Prague in 1979 and subsequently learned that the museum had eight additional drawings by Ritta in its archive.
In 2006, Zimmer offered to donate her family photographs and documents to the museum to preserve these precious testaments in their country of origin. "The process of organizing the photos and documents to give away was actually painful," she explained, "because I would be mindlessly scanning pictures, and then realize, 'This is my cousin : this person was murdered :' Scanning the artwork was a lot easier. It felt like I was trying to communicate with them." Ensuing correspondence with museum staff led to interest in Zimmer's own artwork; she was ultimately offered exhibitions both in Prague and Terez-n.
Throughout her creative process, Zimmer has questioned how to most ethically portray her family's experiences. She believes that the Holocaust has been exploited in visual art and film, and is deeply conscious of not doing so in her work. "'There's no business like the Shoah business,' as they say," Zimmer joked. "I'd never want to be guilty of that. That's why I try to stay with specifics and see this subject matter for what it was, instead of using the Holocaust to illustrate some transcendent lesson. I'm trying to call these people back into being by acknowledging each of them individually. Globalizing it trivializes it."
When Zimmer embarked on this series, she didn't expect catharsis. "This has obviously been a recurrent theme in my life," Zimmer said. "It's never going to go away, it's never going to stay the same, and my relationship to it is not going to stay the same. When I was younger, I thought I was supposed to get over it somehow. But that's not going to happen and it's really okay. Twenty years ago it wasn't, but it is now."
4•1•1
On the Art of Remaining Upright: Terez-n Series 2007 will be on simultaneous view at the Prague Jewish Museum and the Terez-n Ghetto Museum in the Czech Republic beginning September 2007. Visit janazimmer.com.