Living
Your Worship: Calvary Chapel
Calvary Chapel Santa Barbara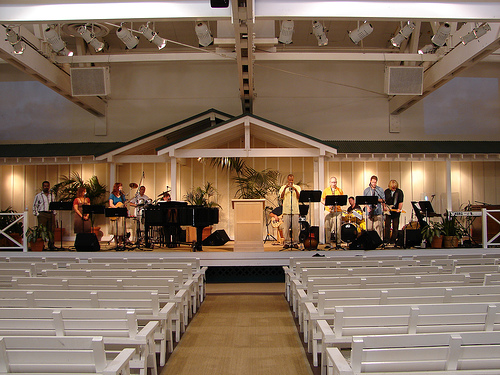 Church: Calvary Chapel, 1 N. Calle Cesar Chavez, Suite 21
Service Attended: Sunday, 9:30 a.m.
Senior Pastor: Ricky Ryan
Congregation Size: 2,200
Denomination: Christian (Evangelical)
Special Offerings: Kids' and family camp, Young Marrieds Ping Pong Tournaments and other socials, Single Moms prayer and support group, Saturday Night Life (services beginning at 6 p.m.); Hispanic Service, Sundays at 6 p.m.; Men's and Women's Real Life support and prayer groups; bookstore; Father-Daughter Date Nights; and numerous ministries, include surfing, missions, and singles. (Visit their web site for a complete list of offerings.)
Contact: (805) 730-1400
Walking up to Calvary Chapel in the Funk Zone, one has the sense of walking into a large family camp located in the heart of Southern California. Outside, smiling congregants man a full coffee bar and a table of doughnuts, while others offer information about upcoming activities and ways to get involved at Calvary. Multigenerational families arrive en masse, mostly well-dressed in California casual attire. Inside the giant warehouse turned lively worship space are rooms and activities for every age group. While mom and dad listen to the sermon in the main church, young kids are taught Bible lessons with games and crafts, and high schoolers sit on couches and listen to live Christian rock bands.
Mirroring the wide array of worship offerings at Sunday's four services, Calvary also offers a weekly calendar of events that makes summer camp seem boring. Given the numerous opportunities to get involved in worship and community, it's no wonder that Calvary Chapel is Santa Barbara's largest church. Although the 800-seat church had some wiggle room last Sunday, I was told it is always packed, except during summer.
The service began with songs of praise to Jesus, the words to which were projected onto screens at the front of the church, allowing congregants to add their voices to that of the singer and piano player, who offered his thanks in a sort of lyrical prayer. In a seemingly spontaneous expression of the deep spiritual joy he felt in praising Jesus through music, he belted out at one point, "If you don't know Jesus, you have never known joy!"
After some brief announcements about upcoming Calvary events, a mission group that had recently returned from Hungary spoke about their eye-opening experiences and told stories of connecting with the youth there as a slideshow played of photographs from the trip. In keeping with their belief that faith in Jesus Christ is the only path to salvation, Calvary congregants feel blessed to carry out Jesus' words in Matthew 28: "Go therefore and make disciples of all the nations." One mission participant spoke about how the trip had challenged her to put into practice the teaching of truly loving all thy neighbors, even those who may "not speak the same language, or may do church differently than you do."
As Senior Pastor Rick Ryan (who often preaches in a Hawaiian shirt) was on vacation, Pastor Lu Wing, who teaches Old Testament courses at the Calvary Chapel Bible College, gave the hour-long sermon. An intelligent explication of the role of blood in the Old Testament, Wing's sermon was peppered with jokes, in keeping with Calvary's lighthearted good cheer. As Wing led us through Biblical passages explaining the ways we can "apply the blood of Jesus Christ" to our daily lives in order to cleanse our consciences and set our spirits free, congregants followed along in their personal Bibles, marking passages and taking notes. By explaining how Bible stories that may seem inaccessible – such as a bird being dipped in blood and set free in a field – are actually relevant to our present times, Wing's sermon lent strength to the evangelical belief that the Bible is the one infallible Word of God.
To close, congregants raised their voices and clapped their hands in prayerful song before retiring outdoors to socialize and – in true So-Cal style – eat some burritos.