News
School District Cutbacks Bemoaned in Light of Budget Surplus
Mystery Money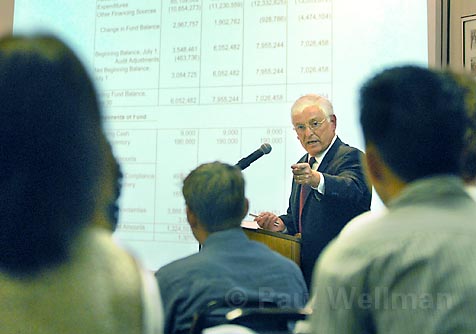 With the start of the school year less than two weeks off, inaction by the Santa Barbara School Board at its Tuesday meeting left parents and teachers in the audience audibly frustrated and Trustee Bob No»l zero-for-three in motions made by the time Board President Nancy Harter adjourned the meeting. No action had been planned for Tuesday's meeting, and district programs were left up in the air at its conclusion.
The district's apparent $4.8 million budget surplus was unearthed in June during a Friday evening meeting, slightly more than two months after the board had made $2.5 million in budget cuts. The public raised questions about the financial discrepancy, and Superintendent Brian Sarvis called for a review of the district's books by its business department as well as by an outside fiscal consultant. Those reviews would be in addition to the yearly review done by the Santa Barbara County Education Office.
In a presentation to the board, District Superintendent of Business Services Ed Diaz noted that the numbers are constantly changing and difficult to grasp, given the short period of time the internal auditors have had to do the work. But Diaz did his best to explain things to the board and public Tuesday, offering projections that show the district has an undesignated amount of $4.2 million for the 2007-08 year, a seemingly positive number. But looking down the road, Diaz has predicted that number will hit the red in 2009-10, when the deficit will reach $1.4 million. He admitted it was speculation, but-with the district's financial outlook in his hands and still no state budget finalized-it's his job to speculate. "We knew we'd have to look three years into the future because we've had trouble in the past with reserves," he said. The district will keep three percent reserves through 2010 as prescribed by law, but will also set aside an additional amount in its 2007-08
budget, leaving essentially a 6.26 percent reserve. If boardmembers had known this at the time they were making cuts, Trustee Kate Parker said, they might have been more inclined to continue programs for at least one more year.
No»l was frustrated from the get-go, aiming much of his ire at Diaz throughout the evening but later backing off, expressing frustration at the system for determining the district's financial situation. And that's when No»l's motioning began. He first made a motion for the state's Fiscal Crisis Management Assistance Team to come in and do an "extraordinary audit" to reconcile the numbers the district is currently seeing with previous sets of numbers, but withdrew the motion after new Director of Fiscal Services Shirley Corpuz pleaded with him to hold off and give her a chance to do her job and get her department in order. "When you say that, I melt," No»l replied to her request, adding that his motion hadn't received a rush of seconds in support.
Only minutes later, No»l made a second motion-again with no boardmembers offering any seconds. This time he requested that staff bring back some of the programs that were trimmed in April-the programs that "directly affect the students," as he put it. Parents had earlier pleaded with boardmembers during public comment to reinstate performing arts programs at the junior high level, two-thirds of which had been cut by the board. Trustee Annette Cordero took exception, telling No»l the board needed to take responsibility for the decision it made, no matter how difficult it was. "I don't want us to take a bad decision and make it worse," she said.
No»l did win a partial victory, when the board decided to pair a discussion on the feasibility of bringing back some of the school programs it cut with a discussion on its final 2006-07 budget when it meets on September 11.