Film & TV
Death Sentence
Kevin Bacon, Kelly Preston, and Aisha Tyler star in a film written by Ian Jeffers, based on the novel by Brian Garfield, and directed by James Wan.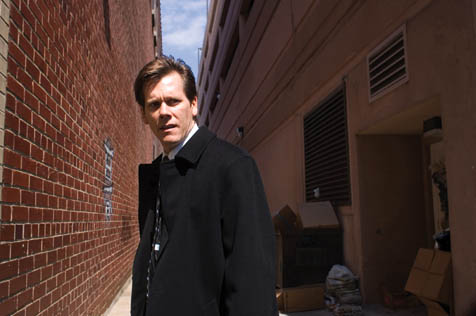 On some not-so-deep level, Death Sentence is all about transformation and righteous outrage. It's a contemporary fable about the happenstance intersection of evil and suburban complacency, as well as the inevitability and irresolution of the wheel of vengeance. Like the cop (Aisha Tyler) tells the revenge-hungry Kevin Bacon, "Everybody thinks they're right in a war."
But forget the deep stuff and pass the popcorn. Death Sentence is really a movie about kicking ass, wasting bad dudes, and sweet, sweet payback, in a mode rarely seen on the big screen since Charles Bronson's rampaging revenge flicks.
Directed with mostly sledgehammer-style subtlety by James Wan, Death Sentence positions its affecting elements even before it begins. Charming family movies run under the opening credits, setting up the emotional bond we expect will be toppled. Sure enough, a meeting with wrong-place/wrong-time fate triggers a cycle of surprisingly unrepentant violence.
Tautly choreographed fights in parking garages and squalid ramshackle digs become the main event in the film and it isn't long before any empathetic validity we felt for this family has been shoved aside. In one transitional scene, we see Bacon, an insurance man in his sensible Ford compact, following a gang's hopped-up Mustang into a sketchy neighborhood. Before long, he trades his pressed business suit for thug garb and a gnarly self-imposed haircut, and engages in a ritual gun-prepping scene straight out of Travis Bickle's pre-assault scene in Taxi Driver.
If Death Sentence lacks the kind of leavening doses of irony, wit, or self-knowledge of Grindhouse, it heads down a parallel path. What makes cheesy b-movies like this fun to watch is we are led willingly into believing that our protagonist is, in fact, dispensing ultra-violence from the side of right. Morality turns black-and-white and we can safely root for our man with the gun(s). Would that life were so clean.