News
Kids' Care Takes a Hit
Governor Cuts Outreach Funds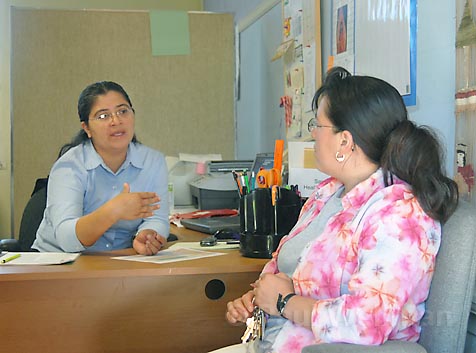 In the process of cutting the state budget by $700 million last month, Governor Arnold Schwarzenegger vetoed a program that was vital to Santa Barbara County's drive to enroll uninsured kids in health plans. The last-minute budget purging came at the behest of conservative Republican legislators and included other health programs. But this particular cut amounted to $34.6 million in State Children's Outreach Initiative funds and resulted in a $363,024 loss to Santa Barbara County's Children's Health Initiative (CHI) this year. "This is a huge functional loss to the expansion of children's health insurance here," said Patricia Wheatley, executive director of the County's First 5 Commission and a major player in the campaign for children's health coverage.
The money-known in bureaucratic circles as Outreach, Enrollment, Retention and Utilization (OERU) funds-originally flowed into county coffers late last year as a pleasant surprise, following Schwarzenegger's desire to help enroll uninsured kids in the state- and federally-funded Medi-Cal and Healthy Families programs. The dollars were aimed at the 20 California counties with the most uninsured children-a group in which Santa Barbara happens to be a leader.
Tara Dooley, who coordinates the Children's Health Initiative from the County Education Office, said the OERU funds were taking the fledgling Children's Health Initiative to a new level by enabling outreach to low-income families ordinarily too frightened even to consider their eligibility for Healthy Families or Medi-Cal. Many have not even heard of the new CHI public-private hybrid called Healthy Kids, which ignores immigration status and includes children in higher income brackets. The kids who benefit from CHI, Dooley said, were from families who might lack English skills or transportation. The three and a half additional full-time positions created by the program-which have now been eliminated-enabled partnerships with trusted community organizations like Isla Vista Youth Projects and Santa Maria's Binational Center for the Development of the Indigenous Communities, said Dooley, who is now patching together a scaled-back system for screening kids.
Word of the cut came on August 24, the day Schwarzenegger signed the budget into law following a 51-day impasse. The veto included a statement explaining that the cuts were needed to create a "prudent General Fund reserve." However, the retroactive veto left a 60-day gap in unpaid services which the Department of Social Services has agreed to pay-around $58,000, officials there said.
CHI programs are springing up in counties around the state, as employer-based coverage declines and more working families find themselves uninsured. The state- and federally-financed Healthy Families-now up for renewal in Congress-covers only kids in families with incomes up to 250 percent above the poverty line, or a maximum income of $51,625 for a family of four. But as premiums rise, families in higher income brackets are struggling to afford basic coverage, which now averages about $11,480 a year.
The CHI, originally devised in 2001 by child advocates in Santa Clara County, created the Healthy Kids plan to be compatible with Healthy Families and Medi-Cal except in its disregard of immigration status and coverage of children in families with incomes 250-300 percent above the poverty line. Add to that a strategic screening process and an intent to enroll kids in all three plans, and the Children's Health Initiative was born. Santa Barbara's CHI started in early 2006. In June 2007, the County Board of Supervisors provided $1 million to Santa Barbara CHI to boost enrollment of eligible children and pay for their associated premiums.
Leticia Moreno of Carpinteria has two daughters, ages 14 and 9, for whom she couldn't afford health insurance. Moreno called a Healthy Families information line and discovered that the fact her girls were born in Mexico disqualified them. But when Sandra Cardeno of the County Education Office visited their elementary school, Moreno learned about Healthy Kids and enrolled her girls. By that time, it had been two years since the girls' last dentist appointment. County Education's Dooley now wonders how many other children in these circumstances will be so lucky.