Film & TV
The Telluride Wrap-Up
The Best Film Fest
It's no secret that I love film festivals-I'm the happiest and most fulfilled in that environment. Every once in a while somebody asks me, "Which is your favorite?" My answer for the past 25 years has been the same: Telluride Film Festival. Nothing comes close. Nothing quite compares.
One of the things that make it so special is the journey to get there. It's not easy. At 9,000 feet above sea level, flying in is scary. I prefer to drive up the million-dollar highway from Durango, Colorado, into this little town, where gorgeous, steep peaks surround Old West architecture. Once you arrive, the sheer beauty of the place takes your breath away-or is that altitude sickness? This place feels like home to me, with the mountains safekeeping the greatest film adventure of them all.
In this festival, it's all about quality, not quantity. It only screens 35 films in four days. You don't know the schedule beforehand. You have to form lines before every movie unless you buy a really expensive patron pass. They give you a place in line an hour before every screening-so you wait, turn to your neighbor, and talk movies. Though I'm ultimately shy, I will talk to complete strangers in Telluride because the subject is movies, from what we just saw to what we are about to see. It just doesn't get any better.
It's a festival filled with quirkiness, featuring a mixture of overlooked classics, unearthed treasures, the latest indie gems, and a handful of Oscar hopefuls. No film is presented without its artists. And there are no red carpets, so everybody is approachable.
I ran into Kevin MacDonald, the Academy Award-winning documentary director who made The Last King of Scotland, and we casually chatted for a while about his thought-provoking new doc, My Enemy's Enemy, about Klaus Barbie. I shared a glass of pinot noir with none other than Jim Taylor, Academy Award winner for the Sideways screenplay, who was in town to support his wife Tamara Jenkins's film, The Savages. We talked about the success of the wine tours in the Santa Ynez Valley since the release of Sideways.
The programming this year featured the U.S. premieres of the best stuff from Cannes: Persepolis, an animated feature about a young Iranian woman's coming of age with the voices of Chiara Mastroianni and Catherine Deneuve; Julian Schnabel's elegiac The Diving Bell and the Butterfly; and the Egyptian sleeper hit The Band's Visit, a poignant screwball comedy about a marching band from Egypt stranded in Israel.
Last May, Cannes was stunned by Cristian Mungiu's Four Months, Three Weeks, and Two Days, which ultimately won the Palme d'Or. This is by far my favorite film at Telluride, even though I'd already seen it on the French Riviera. It tells the story of two college roommates, one of whom is seeking an abortion. The movie's mise-en-scne is astounding, filled with long, suspenseful takes. But this film is not about abortion-it's about how dictatorships corrupt the human soul. While bleak, I rejoiced at how the magic of cinema can turn the darkest chapters of history into astonishing art. The last scene in this movie will haunt me forever.
Fox Searchlight, the studio that brought us last year's Little Miss Sunshine, had two hit films at the festival. The first film is Juno and is directed by Jason Reitman-yes, the son of S.B.'s Ivan Reitman, and the director of 2005's Thank You for Smoking. It's about a teenager's pregnancy and her planning to put the child up for adoption. The film was by far the biggest crowd pleaser at Telluride-laugh-out-loud funny and heartbreaking. I found myself fighting tears. It has a star-making performance in Ellen Page (Hard Candy) as Juno, plus a great turn by Allison Janney and a surprising one from Jennifer Garner in a role that could have easily turned into cardboard as one half of the yuppie couple who wants Juno's child. The film is nimbly directed by Reitman, who shows he's no longer a promising talent-he's delivered the goods.
The second Searchlight film is Jenkins's The Savages, and I hold a special place in my heart for this film. It's about how a brother and sister deal with their father's dementia. The film is dark, funny, and real, and boasts terrific work from Laura Linney and Philip Seymour Hoffman as the most genuine onscreen brother/sister relationship I have seen. The father is dying of Parkinson's, like my father, which explains why I got so emotional watching it. Both the writing and pitch-perfect direction is by Jenkins (Slums of Beverly Hills). It's one of Linney's best performances, and Hoffman is one of the best actors of his generation.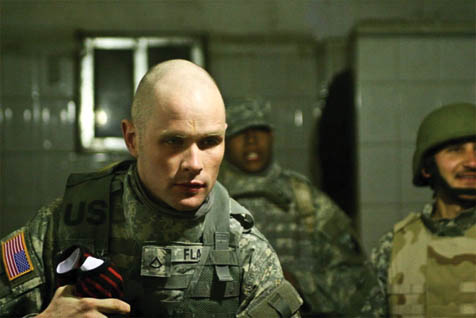 The festival had some political and controversial films as well. MacDonald's My Enemy's Enemy raised questions about the U.S. having Nazis under contract to fight communism after WWII. Also shown was Redacted by Brian De Palma, which proved to be the most divisive film, with audiences and critics loving it or hating it. It deals with a rape by American soldiers of a young Iraqi woman. Several people walked out of the movie, apparently unable to watch the proceedings. It's a disturbing film.
As I left Telluride and descended the mountain in my car, I was able to breathe easier. But I felt so heartbroken-it had come and gone so quickly.