Dance
The Flamenco of Javier Bar³n
Two Voices, One Dance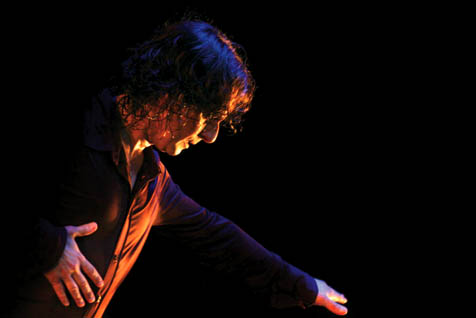 Eight years in, and Flamenco Arts Festival founders and organizers Alberto Pizano and Vibiana have struck the sweet spot of performing arts programming. At the helm of one of the nation's few annual flamenco festivals and the first in California, they attract world-class artists to a discerning audience. The performers they have brought to the Lobero stage since 2000-among them Eva Yerbabuena, Cristina Hoyos, Rafael Campallo, and Israel and Pastora Galv¡n-represent the most exciting and accomplished contemporary Spanish flamenco artists. Contemporary flamenco's increasing popularity in Southern California is a tribute not only to this region's Hispanic cultural legacy, but also to the Pizanos' commitment to programming the highest quality work they can find.
This year the festival showcases Javier Bar³n, the master bailaor raised in the flamenco culture of Seville and trained in Madrid, where other forms of classical and contemporary dance made a lasting impact on his style. Despite mixed influences, the purity of his flamenco is a matter of great pride, as is the centrality of the musicians to the work. Speaking through a translator from his studio in Seville, Bar³n talked about his show, Dos Voces para un Baile, and about the privilege of performing for an American audience.
What are the differences between flamenco in Seville and in Madrid? It's totally another school, with a different way to play the guitar, to sing, and to dance. I was born and raised in Seville, but I went to Madrid for about 10 years and in those years I danced in a different way, with a new type of music. In Seville, there is more improvisation, and in Madrid, it's more technical. In Madrid, I danced with the Ballet Nacional de Espa±a, so I trained in not only flamenco, but also ballet, classical Spanish dance, choreography, scenography, and makeup. I began my training in Madrid, really, but my desire was always to come back to my roots. But when I came home to Seville for a very famous flamenco competition called the Giraldillo a la Maestr-a, nobody knew I was from Seville. I won that competition.
The show I am bringing to Santa Barbara does not represent the two schools separately, but together, because I am a product of both. To dance the way I do, I had to study in both places.
Tell me about the show you'll be doing in Santa Barbara, Dos Voces para un Baile. The idea was to do a piece based on my own artistic life, representing the two eras, and the musicians I have worked with. It's a small show but at the same time a big show. We have no percussion, only two guitars, two cantares [singers], and two palmas [clappers], and in this way the show looks back to classic, pure flamenco. The percussion and other instruments you sometimes hear in other flamenco shows are not traditional. I worked only with the basics, so this show is very direct. At the same time, it's also a big musical work. There are 23 types of rhythm in the show, and no interruptions, which is difficult and magical at the same time.
It sounds as if there is a particularly close relationship between the singing and the dancing in this show. How does that work? I wanted to do a show where the cantares had a very big importance. Normally, the dance is primary, and then you have the music. In this case, it's almost the contrary; first I asked the musicians and the singers to compose the songs, and then I built the dance.
That takes a lot of trust. Are these musicians all artists you have worked with in the past? Yes. The singers Miguel Ortega and Jose Valencia and the guitar players Javier Patino and Ricardo Rivera-they have all created music for my flamenco shows in the past, so they mean a lot to me. Another very important thing is the whole group performs on the stage together. In many flamenco shows, the musicians are behind the dancer, but in this case we work together on the stage. The musicians are not in the background-they are right there alongside me.
How do you find American audiences as opposed to your audiences in Spain? It's very different dancing in the U.S., partly because I tend to perform in bigger theaters, and also because the American public has bigger expectations. When a Spanish flamenco dancer comes to the U.S., the anticipation is big, and the public is usually very warm. This is the first time I will bring this show to America, and I'm very happy to present it there for the first time. Santa Barbara is my only appearance in the States for this tour. I would like to represent it in other cities in America, but so far I have had no other offers.
4•1•1
Javier Bar³n will perform at the Lobero Theatre on Saturday, September 29, at 8 p.m. A reception will follow the show. For more information, call 963-0761 or visit flamencoarts.org. Masterclasses in flamenco guitar and dance technique will be offered on Sunday, September 30. Call 967-4164 for more information.