Columns
Instant Communication
From IM to SMS, MySpace to Facebook
Instant messaging, cell phones, MySpace and FaceBook. These days, the virtual world is second only to the so-called real world.
Welcome to teenage heaven.
With the widespread use of cell phones, text messaging is the most common method of instant communication. Surprisingly, this year there's been a decrease in the use of cell phones during class. Maybe seniors have smartened up, maybe the year is so fresh that we're still entertained with class, or maybe I've become immune to the whole deal. Regardless, text messaging has been known as the latest cheating device and the most discrete form of inter-class communication. It certainly costs less than calling someone, but though the stress from typing is horrible for people's fingers.
I'll admit: instant messaging is my favorite. I've had my most intelligent, philosophical conversations online, and I like being able to talk to friends who have moved away. Parents, however, seem to think otherwise. Guidebooks to "teenage slang" make me laugh. P911? NIFOC? What do those mean? I didn't know the meaning of "POS" until my mom told me. There are hundreds of news articles about the "online language" that teenagers use to cover up inappropriate cyber relationships. It's the perfect way to make parents distrust their kids even more. Remember the skinny rubber wristbands from five years ago, whose colors supposedly had suggestive meanings? No one I knew had any idea the colors meant anything. It certainly wasn't the reason I was wearing them, but try convincing parents otherwise. If teens don't know the dangers of instant messaging with strangers, it shows how far they've lost themselves in the real world.
Meanwhile, online social networks are convenient, fast, and free. MySpace has gotten a bad reputation over the years as a result of online predators and inappropriate pictures of minors. While it may be disturbing to see these stories on the news, it's nothing more than what happens in real life. On MySpace, I've learned way more than I ever wanted to know and seen more than I've ever wanted to see. However, the numerous bulletins describing the minute details of everyone's life do get annoying. The fact that these kids have lost the meaning of the word privacy is what is most disturbing.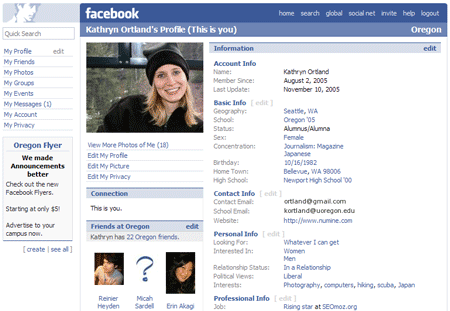 Facebook is the latest craze – professional, private, and geared towards an older audience. Originally intended for college students, its network has grown to include working professionals. Its instant communication, sleek design, and security settings have made it popular for high schoolers, especially for contacting recent graduates. Sure, the added features like games, quizzes, videos, music and other clutter swamp my friend's pages, but I guess I can't have everything. Besides, limiting everyone to the same generic page is simply atrocious.
It may seem like a new world, but don't worry-every generation is known for something. Mine just might exist online.
TTYL.