Living
Dialing for Dollars
Das Williams Leads Money Chase in City Council Race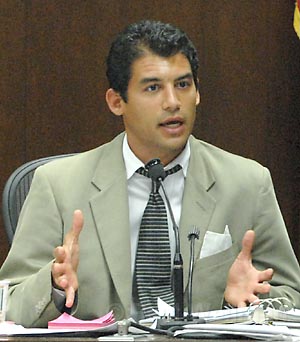 If money talks, Santa Barbara City Council candidate Das Williams, an incumbent, is shouting at a time when the rest of the candidates – and certainly the challengers – are whispering. Since the beginning of the year, Williams has raised nearly $55,000, including $22,500 in the past three months alone. That's a lot, especially considering $80,000 was the most any candidate spent in the last race.
But Williams – an outspoken operator who has sought to fuse environmental, social justice, and neighborhood preservation agendas under his political tent – has also spent way more than any other candidate: $42,000. Williams said $8,000 went to pay for a survey he commissioned several months ago that showed, among other things, strong popular support for City Hall's anti-global warming agenda but little for efforts to impeach the president.
Williams' biggest donation came from Ray Mahoob ($2,000), a State Street real estate owner who Williams said he's known since the two attended fourth grade together. Realtor Suzanne Perkins gave $2,000 as well; Perkins has supported Williams in the past because of his efforts to limit development along the Gaviota Coast. Williams got $1,500 combined from two ChannelKeeper supporters, Craig Madsen and Dan Emmett, both Los Angeles attorneys with property on the South Coast. He also got $750 from a Manhattan Beach compressed natural gas company, Clean Energy.
After Williams, incumbent Helene Schneider, another progressive Democrat with strong ties to Santa Barbara's community of feminist activists, reported the second largest campaign war chest at $33,000:..
For the rest of this story, see tomorrow's printed edition of The Independent.