Best Of
Caffeine to Cocktails
Best of Readers Poll 2007 - Caffeine to Cocktails
Coffee House
Daily Grind Coffee & Tea Station 2001 De la Vina St., 687-4966
There used to be gas stations on every corner of this town; the Daily Grind is one of the best adaptations of a former filling station. A big, high-roofed indoor space, the sunlight streams through a glass wall and fills the room where coffee, baked goods, and other comestibles are available for purchase. The coffee house is neatly situated on the bustling corner of Mission and De la Vina streets, so you can take your coffee outside into the fresh air and refresh your exhausted mind.
Finalist- Santa Barbara Roasting Company
Iced Mocha
Santa Barbara Roasting Company 321 Motor Wy., 962-5213; 607 Paseo Nuevo, 962-2070
"We are very honored to have won," said sales manager Joseph Crosby. But he's also feeling a little justification coming due, too. "We worked a long time perfecting the ingredients in our iced mocha. None of this [drink] comes in a package; we thought very carefully about what we were blending, so I'm glad to hear our hard work paid off."
Finalist- Daily Grind Coffee & Tea Station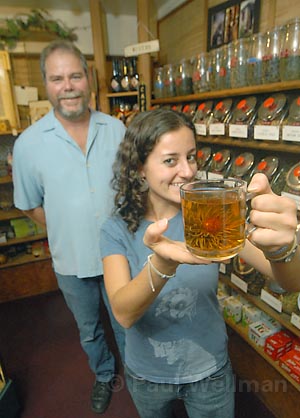 Tea Selection
Vices & Spices from Around the World 3558 State St., 687-7196
If the store's resolutely naughty-sounding name harkens you back to the 1970s, there's a good reason. Vices & Spices has been at this upper State Street location for 32 years now, and it's earned some expertise to go along with its self-proclaimed wicked reputation. "I'm going to say that people like this place because the people who work here know what they are selling," said employee Jenna Jordan. "We all know all the teas, and we're able to give great recommendations."
Finalist- Coffee Bean & Tea Leaf
Margarita
Carlitos Cafe y Cantina1324 State St., 962-7117
This family-owned business has been holding down the fort across from the Arlington Theatre since the 1980s, and they're not about to give the competition any more information than needed about how they take the big honors for constructing this fabled libation in a town where everybody thinks they know the best recipe. Carlos Lopes, whose parents opened the place, said he'd have to shoot us if he told the recipe, but mentioned it is important to use gold tequila. "This is a margarita destination and we're very proud. It's awesome that people vote for us," he said.
Finalist- El Paseo Restaurant
Hotel Bar
Hotel Andaluc-a 31 W. Carrillo St., 884-0300
There are two good reasons the Andaluc-a bar is a big favorite in town according to Konstantine Kabilafkas, the food and wine director of the posh downtown hotel. "It's a cozy place where you can hide with a special guest, not necessarily a place to see and be seen," he said of the rooftop watering hole, still a relatively new development in the downtown scheme of diversions. On the other hand, the view isn't bad. "It's upstairs on the sixth floor with a pool view and the highest location in town. I guess that's it. Location, location, location."
Finalist- Four Seasons Biltmore Hotel
Singles Bar
Place to Dance
College Night
Wildcat Lounge 15 W. Ortega St., 962-7970
"One reason I think the Wildcat has done so well is because we're constantly changing things," said Bob Stout, who opened the club in 1992 and is still pretty darned active in its running. The club has different themes ranging from lounge tunes to live bands, depending on the night. "I think of it as my art," he said, justifiably priding himself on the visual look of the club and his own passion, lighting. But most of all, Stout sticks with the idea of constant evolution. "We hire a lot of young creative people and encourage them as best we can."
Finalists- Singles Bar and College Night: Q's Sushi-A-Go-Go. Place to Dance: SOhO Restaurant & Music Club
S.B. County Winery Red Wine
S.B. County Winery White Wine
Firestone Vineyard 5000 Zaca Station Rd., Los Olivos, 688-3940
"It's fabulous; we're very happy we won," said Tonya Szele, director of retail operations for one of the best-known wineries in the Santa Ynez wine-growing area. "The white wine people seem to prefer right now is our 2006 sauvignon blanc and the red is 2004 syrah," Szele said confidently, noting that though the winery has just been sold to the Foley Wine Group, ending three decades of Firestone family ownership, she's sure that winemaking will continue in a way that our connoisseur readers will approve.
Finalists- S.B. County Winery Red Wine: Sunstone Vineyards & Winery; S.B. County Winery White Wine: Sanford Winery & Vineyards
Stiffest Drinks
Joe's Cafe 536 State St., 966-4638
"Now there's a surprise," said manager Luverna Peery, utilizing the rhetorical flourish we commonly label sarcasm. Joe's, the place our parents went for honest libations, remains a favorite of the readers most years. "The real reason we have such strong drinks is we don't measure," said Peery. "Other restaurants have a little device in the bottle that regulates how much will come out of the bottle. We don't own any of those," she said.
Finalist- Harry's Plaza Cafe
Restaurant Wine List
Wine Cask 813 Anacapa St., 966-9463
"It's great and it's only getting better," said wine director and restaurant sommelier Cheryl Stanley, who is excited about both winning the readers' poll and the changes afoot at the Wine Cask under new owner Bernard Rosenson. "He has an extensive cellar," she said, "and he's going to merge it with the restaurant." The best part, according to Stanley, is you can get a nice agreeable white wine to have with dinner as well as a "really big one from a very obscure source," she said.
Finalist- bouchon
Beer Selection on Tap
Zodo's Bowling & Beyond 5925 Calle Real, Goleta, 967-0128
"Absolutely the best spot to watch football," is the greeting heard by those who telephone this mad combo bowling alley, restaurant, and gathering place. "It'd be hard to beat us," said bar/restaurant manager Tony Blankenship, who's nonetheless grateful that the readers picked the bar with its 40 tap selections. (Ironically, with all the microbreweries and foreign varieties, Bud Light still outsells any other choice.) "After that it's the Honey Blonde, a beer that Firestone makes just for us," said Blankenship.
Finalist- The Brewhouse
S.B. County Brewery
The Brewhouse 229 W. Montecito St., 884-4664
They may not have been the readers' choice for best brewed beer, but The Brewhouse does top the list as the maker of the most delicious selection, which includes the Nirvana Pale and a Santa Barbara IPA. Co-owner Gary Jacobson also credits his brewer and co-owner with their nine-year-long success story. "Our secret is Pete Johnson. He's the best brewer in town. Hell, he's the best brewer in the state."
Finalist- Santa Barbara Brewing Company
S.B. County Brewed Beer
Sports Bar
Santa Barbara Brewing Company's Santa Barbara Blonde
Santa Barbara Brewing Company: 501 State St., 730-1040
"Cool. Thanks," said chatty bartender Cayton Erhard, who credits success in this region to brewer Tim McCarthy. "I'd say it was popular because it's so good. It's the kind of beer you can drink three or four pints of-it's not so alcoholic, but it tastes really good," Erhard said.
Finalists- S.B. County Brewed Beer: Islands Blonde; Sports Bar: Madison's Sports Grill
Place for Wine Tasting
Sunstone Vineyards & Winery 125 N. Refugio Rd., Santa Ynez, 688-9463
"The first thing is that we are blessed with all this beauty," said retail operations manager Michael Cobb, explaining that beyond this dazzling location came a very conscious attempt to model the tasting rooms after a French ch•teau. "Some people say Tuscany, but really it's French." But it would be an empty gesture if the wines weren't so good, and even then there is work involved. "We see three to five hundred people on a Saturday," Cobb said. "And though it seems calm on the surface, we're working our butts off behind the scenes to make it smooth. We're absolutely grateful to have won."
Finalist – Wine Cask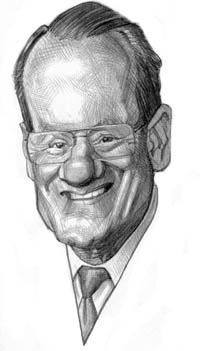 Brooks Firestone, County supervisor and wine country pioneer.
Favorite wine?
"It depends on the time of day, the mood, and what country I'm in. I would say that if I'm on a desert island and the cruise ship is sinking and pallets of wine are floating around, the pallet I would choose would be the one with a big, rich blend of cabernet sauvignon."