Best Of
Head to Toe
Best of Readers' Poll 2007 - Head to Toe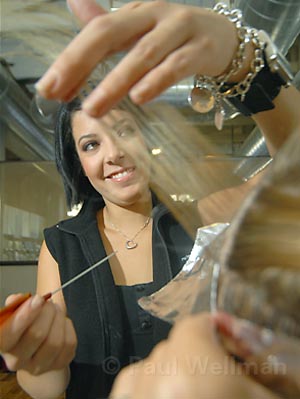 Hair Salon
Walter Claudio Salon Spa 11 W. Figueroa St., 963-7579
Stressing a combination of Aveda products, on-the-job fashion updates, and pampering service, Walter Claudio maintains its perennial status as salon numero uno among the coiffeur cognoscenti. With sunny rooms on Figueroa Street and a young-minded cosmetology-advanced staff, this salon is able to provide toe to crown net improvements on your body and your mind.
Finalist- Underground Hair Artists
Women's Shoe Store
Men's Shoe Store
Nordstrom 17 W. Canon Perdido St., 564-8770
Yes, Nordstrom is a department store, but it is also a bridge between universes. Most shoe apparel stores tend to sort themselves into either high or low budgets, but Nordstrom has both: men's sandals and Oxfords, London top boots and running shoes. This kind of variety goes double in the women's department. Add a great return policy to the satisfying variety of footwear, and you have the store the readers pick year after year, a shoe-in for fashionable necessity.
Finalists- Women's Shoe Store: Nine West; Men's Shoe Store: Foot Locker
Palminteri, KEYT news reporter
Favorite place to report?
"There's nothing like a TV live shot on State Street in downtown Santa Barbara. The backdrop is so beautiful on the air. It's also a great place to interact with the public, both local residents and visitors. During the Christmas holiday season, it's even more spectacular because of the colorful lights, and the number of people going in and out of the shops and restaurants."
Nail Salon
Artistic Nails and Spa 5801 Calle Real, Ste. F, Goleta, 964-7588; 1964 Cliff Dr., 730-1737; 651 Paseo Nuevo, 560-0633
Luxuries like nail care, leg waxes, and eyebrow fine-tuning make the difference between merely existing and living with a renewed sense of purpose. One of the best features of Artistic Nails is its commitment to fast, convenient service and prices that don't turn a happy luxury into a cash-draining hardship.
Finalist- Aqua Nail Bar
Barber Shop
Danny's Custom Styling 3337 State St., 687-7915
Since the era when the flat top with fenders was first invented, Danny's has been lowering ears in the San Roque neighborhood. Currently under a slight remodel that's temporarily forcing out one chair, the popularity of the shop has obviously not suffered. But don't worry, said owner Sam Huerta; things will be back in order by early winter and the greatest clip joint in town will get even sharper.
Finalist- Arturo's Family Haircutting
Women's Clothing
Boutique
Blue Bee 911 1/2 State St., 882-2468
John Doucette and Marty Bebout loved Santa Barbara so much they gave it a fresh boutique. Innumerable designers as well as their own jeans and light-hearted fashions in a State Street store they are constantly tending caught on with locals of many ages and pocketbook capacities. The city in turn made them an almost instant success. Now with five stores as well as big wins in the readers' poll, it's hard to avoid the pun, but it's clear there's a buzz about these guys.
Finalist- Wendy Foster
Place to Get Men's Clothing
Banana Republic Men's 101 Paseo Nuevo, 966-5553
Casual chic, Banana Republic is one of the Gap family of stores, along with Old Navy and Piperlime shoes. It's somewhere a little less classic than Eddie Bauer-which is gone now, anyway-and yet not as pricey as Blue Bee. It's level-headed fashion for the S.B. workaday warriors, who voted for the place in droves. In case you were wondering, the term Banana Republic was invented by the American writer O. Henry in his novel Cabbages and Kings. S.B. is more of an Avocado Autocracy.
Finalist- Blue Beetle
Thrift Store
Alpha Thrift Store 5624 Hollister Ave., Goleta, 964-1123; 5949 Hollister Ave., Goleta, 964-1123
Far and away the strongest contender for best thrift store, the Alpha Thrift stores pack a two-store punch. Five blocks away from each other on Hollister Avenue in Goleta, they are both well worth the bus or freeway ride from downtown. Weekly specials make hunting fun and the staff saves items all year for Halloween, making this your one-stop costume shop. The friendly managers and helpful staff, as well as the fact that the stores support a great organization, all contribute to Alpha's continuing success as Santa Barbara's favorite.
Finalist- Magnolia Antiques & More
Dry Cleaner
Ablitt's Fine Cleaners & Launderers 14 W. Gutierrez St., 963-6677
Decidedly not a chain, this cleaning establishment is in its second generation of Ablitt owners. The current CEO, Sasha Ablitt (daughter of Neil and Sue Ablitt), just happened to be out driving one of the trucks the day we called, because one of the regular drivers called in sick. People may unconsciously respond to the Santa Barbara-ness of the cleaner, but there's also the great convenience of free pickup and competitive prices that hang the big chains out to dry.
Finalist- One-Hour Martinizing
Eyewear Selection
Occhiali Fine Eyewear 7 W. Canon Perdido St., 963-5760; 1046 Coast Village Rd., Ste. H, 565-3415
This January will mark two decades for Irwin Eve and his family's high-fashion eyewear ascendancy in this town-and we the four-eyed citizens can't imagine how dorky we looked before Occhiali opened. "We like to think the store is a kind of throwback to an earlier age," said Eve, stressing the extremely personable service available there. But fashion matters to them, too. "Our customers travel all over the world, so we want them to see things here that are as nice as anything they might see in Paris or Milan."
Finalist- Goleta Valley Optical
Day Spa
Place to Get a Facial
Avia Spa 350 Chapala St., Ste. 101, 730-7303
"At Avia, we always strive for excellence," said owner Suzanne Gore, "and we are extremely proud to be recognized as the best day spa three years in a row. Thank you very much."
Finalists- Day Spa: Camille The Day Spa; Place to Get a Facial: Skin Deep
Craft Store
Michaels Arts & Crafts 183 N. Fairview Ave., Goleta, 967-7119
There is a great tradition of crafty Americans who put together snowpeople from Styrofoam, carve elaborately scary and sweet jack-o'-lanterns, and make dazzling scrapbooks for future generations to enjoy. Michaels feeds those imaginations, while serving the professional artist, too. Conveniently huge with great prices, Michaels invites you to create familiar legacies.
Finalist- Craft Essentials
Beauty Products Store
Skin Deep 3405 State St., 687-9497
First opened 27 years ago, this store is more like a community for those seeking a little image enhancement or maybe just routine do-management. "As with every year we've won, I'm totally thrilled with the honor," said owner Tina Hasche. "We've been here a long time and we love watching each succeeding generation come along. We intend to be here a long time in the future, too. Thanks, Santa Barbara."
Finalist- Aveda Lifestyles Store Inc.
Place to Buy a Hat
Green & Yellow Basket Shop 911 State St., 965-7722
Once it was a basket store back in the 1950s when it first opened. Today, however, it's a nice stop for protection of your cabeza-as in hats of the bowler, cowboy, sports, or even slightly goofy persuasion. It's heads above the rest.
Finalist- Nordstrom
Vintage Store
Yellowstone Clothing Inc. 527 State St., 963-9609
Some of us long-in-the-tooth folk take slight umbrage that 1970s and 1980s clothes might be considered vintage. What does that make us? Nevertheless, dresses, T-shirts, and skirts are what're selling best nowadays, along with cowboy shirts. "They always sell well," said employee Kristin Harpar. "We've got lots of leather now, too. We're getting ready for winter."
Finalist- The Closet
Consignment Store
The Closet 1213 State St., Ste. L, 963-8083
It's not what you think of as a used couture store, according to owner Johanna Melamed. "We sell a lot of premium denim, like Blue Bee," she explained, only slightly previously owned. "We attract a younger, hipper audience," she said.
Finalist- Jessica
Tailor
Justo's Tailors & Dry Cleaning 3009 State St., 682-6633
They do dry cleaning and all-around apparel repair. If dropped off early enough, Justo is good at getting items back to his customers the same day. Just go to Justo.
Finalist- Lee's Tailoring
Sunglasses Selection
Solstice Sunglass Boutique 3815 State St., 563-4648
Shades are important in a town whose economy is based on looking good at the beach. Well, maybe we're not that superficial, but if the bottom line is protection from too much sunlight and it just happens to look hot on you, well :
Finalist- Occhiali Fine Eyewear
Shoe repair
Jesse's Shoes and Repair 5915 Calle Real, Ste. D, Goleta, 964-3414
For more than 50 years, Jesse Holder has been repairing the shoes, boots, moccasins, flats, pumps, and wingtips of this well-shod city. "We're just the best," he said modestly. "Most of our business is repeat customers, and that must mean something."
Finalist- Step-N-Out Instant Shoe Repair
Art Supply Store
Art Essentials 32 E. Victoria St., 965-5456
"One reason people like us might be because there are limited alternatives. Other stores offer glazing pots or certain kinds of crafts," explained weekend manager Adam Cherry. "But we have everything, and if we don't have it, we do at our Goleta crafts store. For that reason, sooner or later we see everybody in here."
Finalist- Michaels Arts & Crafts
Medical Spa
Evolutions Medical Spa 3311 State St., 687-0212
Under the medical guidance of owner Terry J. Perkins, this "spa" features advanced kinds of bodily treatment, the seriously don't-try-this-at-home care-Botox, peels, laser hair removal, and lipotherapy. Serious stuff that the trained staff takes seriously and our readers can wholeheartedly recommend.
Finalist- Spa Medicus