Best Of
Highbrow to Get Down
Best of Santa Barbara Readers' Poll 2007
Santa Barbara Newspaper Columnist
Barney Brantingham
He broke convent-gate just a few weeks ago, and he's been impeccably incensed and yet thoroughly sensitive about the debacle at the other paper, the one he served faithfully for nearly 50 years. He still manages to deliver tart critiques of Fiesta fare as well as get the lowdown on ordinary blokes walking around this town. He likes to travel and writes winningly about the world. And now he lives here at The Indy. As The Simpsons' Nelson might say, pointing to the big building in De la Guerra Square, HAW-haw!
Finalist- Nick Welsh
S.B. Radio Personality
Matt McAllister
"I am once again grateful and honored," said the popular morning KTYD jock. But seriously, folks, he seemed to say silently, "Actually, I'm just happy for The Independent's sake. It would be awfully embarrassing if you put a radio deejay on the cover of my favorite weekly publication and then didn't give him this award in the same publication. So, the pressure's off for you guys. But I am grateful and honored. You can print that. And I'll see you on the flip side."
Finalist- Hayseed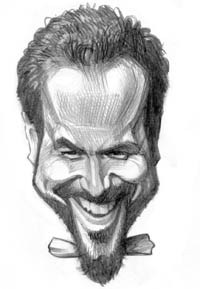 Adrian Spence, Director of Camerata Pacifica.
Favorite amateur musicians?
"The Santa Barbara Music Club offers a small scholarship program to assist students, but most importantly presents free monthly concerts featuring its members. What's lost in technique is always more than made up for in passion and enthusiasm."
Ethnic Festival
Fiesta
It's not surprising, when you think about it, that readers voted Fiesta as their fave ethnic party in lieu of the Oak Park Greek or Jewish or French festivals. Fiesta has defined this city since the late American 1920s. Nowadays, Fiesta consists mostly of gringos in costumes, but it hearkens back to a time when this land belonged first to Spain and then to Mexico, a time when ranchers held languorous barbecues and when wine, feasting, and song were not just promises. Although Fiesta is Spanish in origin, it's a bit like St. Patrick's Day when everybody turns Irish for a day.
Finalist- Greek Festival
Classical Ensemble
Santa Barbara Symphony 1900 State St., Ste. G, 898-9626
"We just want everybody to know how gratified we are to be Santa Barbara's favorite band," said John Robinson, executive director of the S.B. Symphony. This year saw important changes for the symphony-a new conductor Nir Kabaretti and a move over to the Granada Theatre, which is still weighing logistically on everybody's mind. Robinson is hopeful and his "band" is ready, too. "We're cooking along," he said.
Finalist- Music Academy of the West
Dance Troupe
State Street Ballet 322 State St., 965-6066
"We are very grateful to be selected," said founder and Artistic Director Rodney Gustafson, "especially because this year as we prepare to move into the Granada Theatre, we mark our 15th year as a company. We want to thank Santa Barbara for supporting us-and all the dance troupes in town-and for being such a great audience."
Finalist- Linda Vega Dance Studio
Theater Group
Santa Barbara City College Theatre Group 721 Cliff Dr., 965-5935
"We're on a roll up here," said SBCC Theatre Group's Director Rick Mokler. "Our season's subscriptions have steadily increased for the last seven years and it's at about twice what it was nine years ago. Besides that, almost all of the shows in the Jurkowitz Theatre are sold out before they open. We feel really proud to have won. And we are really proud to be able to provide Santa Barbara with affordable theater."
Finalist- Ensemble Theatre Company
Children's Theater Group
Boxtales Theatre Company 961-3906
They have an almost mythical status among the very youngest members of our community-and it's well deserved, partly because they weave the stuff of legends, like Odysseus and folk stories, into highly dramatic and physically attractive presentations. Boxtales started out strong at its inception and after more than a decade of shows-and some changes in personnel-they've lived up to the legend of their own excellence.
Finalist- Stage Left Productions
S.B. Radio Station
KTYD 99.9 FM 879-8300
Once the premiere progressive FM station, KTYD is now home for the thousands among us who can't get enough of that fertile field now known as classic rock. Besides being the paragon of frequencies for Jethro Tull and Pink Floyd, the station also employs some of the city's favorite radio personalities, with a morning show listeners tune in to for satire.
Finalist- KJEE 92.9 FM
Nightclub
Place to Hear Live Latin Music
Place to Hear Live Jazz
SOhO Restaurant & Music Club 1221 State St., Ste. 205, 962-7776
This thrice-decorated nightspot features the best combination possible: It's centrally located with great parking, has terrific food, and a big bar with generous bartenders-friendly, fast, and loose on the pour. In addition, the music programming has been steadily improving, bringing big stars to the stage as well as diverse music. Thus the awards for Latin music and jazz reflect a commitment to make everybody happy, which isn't supposed to work. Guess nobody told SOhO.
Finalists- Nightclub: Wildcat Lounge; Place to Hear Live Latin Music: Ruby's Cafe Place to Hear Live Jazz: The James Joyce
Charity Event
Black & Blue Ball
This gigantic blast is usually held in the large outdoor patio roundhouse at Fess Parker's DoubleTree Resort in July. Big stars show up: Last year featured 1970s blues artist Edgar Winter. Often sold out in advance, the party raises big money for the Muscular Dystrophy Association with $150 tickets that include S.B. restaurant tastes and silent auctions. It's a glamorous nighttime mlee, with cocktails, dancing, and giving, the best of all possible worlds.
Finalist- Zoofari Ball
S.B. Author
Sue Grafton
Kinsey Millhone's creator continues to walk the mean streets of our thinly disguised environment, Santa Teresa, an imaginary town paralleling our own that was first "created" by the late, great detective writer, Ross Macdonald. Grafton's distaff detective has put on quite a bit of alphabet for her millions of faithful readers, and even though they will be happy to know she is popular here in S.B., they're probably more overjoyed that T Is for Trespass will be in bookstores this December.
Finalist- T.C. Boyle
S.B. Media Blog
Craig Smith craigsmithsblog.blogspot.com
Slightly incredulous but happy, Craig Smith has had a field day commenting on the News-Press's peccadilloes and catastrophes. "[Readers] voted for me?" Smith said. "That's so great. I guess I did have a lot of stuff to write about, a great storyline, and that helps. I like to think I do a pretty good job entertaining and providing information, but this helps confirm it. Thank you."
Finalist- Edhat Santa Barbara
Place to Hear Live Rock Music
Santa Barbara Bowl 1122 N. Milpas St., 962-7411
"We're happy to consistently stay in the favor of the people of Santa Barbara," said Sam Scranton, executive director of the Bowl. Despite the recent construction improvements, it's still the place where Santa Barbarians love to spend summer evenings with a thousand or so of their closest friends and maybe a famed classic rock act, too. Scranton wanted to put to rest the persistent rumor that the Stones are going to play the Bowl in the next few weeks, noting that the band had just announced its tour was over. "But I'm not saying it'll never happen," said Scranton. And with the new additions to the stage, it certainly could.
Finalist- Velvet Jones
J'Amy Brown, The Independent's Montecito Montage columnist
Best place to hear Montecito gossip?
"Friday morning's Farmers Market. Everyone is chatty, relaxed, filled with a week full of news, and ready to spill the beans, as it were. It's a place visually laden with bouquets of flowers and bouquets of dish."
Art Gallery (not museum)
University Art Museum UCSB campus, 893-2951
Despite the word museum in its title, Indy readers voted the UCSB Art Museum their favorite gallery. "We're very excited," director Kathryn Kanjo said. "When I first got here, I wasn't really clear on how far-flung we are out here." It's been a great year with strong showings in the architectural exhibitions and the popular Andy Warhol show. "It's a great honor that the city pays us," she said.
Finalist- Santa Barbara Contemporary Arts Forum
Karaoke Bar
Madison's Sports Grill 525 State St., 882-1182
This is a State Street-level sports bar with a secret life upstairs. There, given the opportunity for frivolity, you might find semi-private parties and people shaking their bodies with feckless abandon. Sound lurid? Not at all. A lot more than Monday Night Football transpires here, including the awesome opportunity to make a fool of yourself with the others singing along to a television screen. Hey, what's Japanese for "Free Bird"?
Finalist- Tiburon Tavern
Museum
Santa Barbara Museum of Natural History 2559 Puesta del Sol Rd., 682-4711
Underneath the oaks and behind the Old Mission in a canyon that once was the vital watering line to the nascent city sits a museum of inspired complexities. It has research departments, dioramas painted by the late, great Ray Strong, taxidermied bestiaries, a blue whale skeleton, and a creek that sometimes roars through the grounds. It has a planetarium and regular art shows, including special events like last month's El Camino Realism art walk and occasional musical performances or lectures. Kids even enjoy it, and apparently it has a lot of voting fans in this town, too, which, given its many features, seems only natural.
Finalist- Santa Barbara Museum of Art
S.B. Club Deejay
DJ Gavin Roy 962-3117
His favorite clubs right now for group electricity are Q's and Wildcat. "Consistency is what works best for me," said DJ Gavin Roy, originally from Singapore, though he's been spinning for half a decade in this town. "You have to keep the regulars happy with all their favorite songs, but you have to keep on the cutting edge with new music, too." At first, Roy was reluctant to name the hot music group fearing that by press time it'd be all over already. "I'll say the new Kanye West CD. Because by the time this comes out, it'll be everywhere."
Finalist- DJ Matty Matt
Place to Shoot Pool
Juke Box
Dargan's Irish Pub & Restaurant 18 E. Ortega St., 568-0702
There's not a Best Authentic Irish Pub category, so Dargan's didn't draw votes for what you might expect are its priority attributes. But people, including the wait staff, assure us that the juke box here is the best in town because it has everything except the parental advisory lyrics the kids favor. This brand of mild censorship seems to warm the room in which pool players play, and though they may neither krump nor jig, the habitues of this fine pub do get down behind the eight ball. It's a G-rated thing.
Finalists- Place to Shoot Pool: Q's Sushi A Go Go; Juke Box: Sportsman Lounge
S.B. TV News Personality
John Palminteri
He started in radio in Long Beach and gradually worked his way north to Santa Barbara and to television. The dapper, personable onscreen reporter of breaking news and street culture around town can also be heard on the radio, namely KJEE and KCLU. He's a very busy man and he writes for the Carpinteria paper, too. With all that in mind, remember it's not easy being an icon, but Palminteri wears it very well.
Finalist- Paula Lopez
S.B. Celebrity/p>
Oprah Winfrey
Has there ever been a television talk show personality with more power? The late Merv Griffin had game shows and Regis Philbin has unlikely pizzazz, but Winfrey is single handedly steering the literary life of this country via her book club and, as we all recently witnessed, verging on the role of kingmaker in support of the charismatic Barack Obama. Nobody doesn't like Winfrey, it seems, and here in her hometown, we applaud this powerful woman who so far seems to be up to only good.
Finalist- John Cleese