Best Of
Rugrats to Kitty Cats
Best of Readers' Poll 2007 - Rugrats to Kittycats
Pet Grooming
The Little Dog House5758 Hollister Ave., Goleta, 964-2446
Annabelle Hofmann has been grooming dogs for 33 years in this town, according to her sidekick Holly Allison. "Yay, we won!" Allison said. "And you know why? Because Annabelle treats the pets she grooms like they were her own."
Finalist- Petco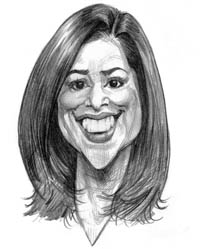 Paula Lopez, KEYT news anchor
Best night away from the kids?
"We recently hopped on our motorcycle and biked up to Pismo Beach. We stayed at a quaint little boutique hotel called SeaVenture. Every room has an ocean view and a hot tub on the deck. We walked on the beach and then enjoyed a terrific dinner and sunset from the hotel's nice restaurant. We got up in the morning, donned our helmets, and made it back in time for most of the Saturday afternoon kid activities."
Daycare Facility
YMCA Five locations
There are two distinct services here, along with all the other amenities that YMCA offers the community-from aquatics to kung fu-at reasonable rates. There is a preschool that combines education and play, and a daycare center where kids can go in the interim hours between when school's out and parents are done with their workday. Both are popular and early enrollment is suggested. With all the camps, school services, and opportunities in an outdoor town like this, YMCA keeps topping the readers' list.
Finalist- Rainbow School
Pet Hospital/Clinic
White's Pet Hospital 532 E. Haley St., 966-1604
Another record for longevity, White's Pet Hospital has been doing business on Haley Street since the 1920s, clearly making it the longest-run pet care facility in our old town. "But the best part of this place is the clients," said Bob Blamire, the hospital administrator. "It's a pleasure to serve them as it was a pleasure to serve their parents and their grandparents. Needless to say, we are very grateful to the community."
Finalist- San Roque Pet Hospital
Veterinarian
Dr. William J. Otto, DVM 585 Walnut Ave., Carpinteria, 684-3617
Carpinteria's veteran veterinarian works in a shop that includes a number of vets and strictly regulates charges for services. But he is popular with the people of this town as well as the denizens of Carp. In fact, a black Labrador of my acquaintance named Shadow was successfully operated on by the vet in question, so I'm personally happy the city voted for Dr. Otto.
Finalist- Dr. David Dawson, DVM
Pet Boarding
Camp Canine/Animal Inn 803 E. Montecito St., 962-4790
"I think it's all about the dogs pulling the owners in the door," said John Sorosky, who, with his wife, Mary, has owned Camp Canine since 1984. "I always tell people to bring their puppies down here to get acquainted, play with us, and then the next time see what the puppy tells you. It's very cool we won; I'm honored."
Finalist- White's Pet Hospital
Pet Store
Petco 19 S. Milpas St., 966-7292; 3985 State St., 964-2868
Here are some things you can buy at Petco just for a dog: Halloween costumes, a honking pheasant squeeze toy, a Dolce Vita Duo-Temp pet bed, Spaw Essentials juniper berry, aloe foaming shampoo, and Castor & Pollux Organix Adult canned food. Gives you paws to reflect, doesn't it; maybe a new leash on life? No wonder readers shop here.
Finalist- Pet House
Toy Store
Kay-Bee Toy & Hobby Shops Inc. 136 S. Hope Ave., 682-6026
If you want to know about the likely state of the future, take a tour through a big-chain toy store. There you will see the fixations of kid culture represented in whatever action figure or faddishly essential game the youth today absolutely need to survive. Remember your own past as you wander the aisles, your Simon addiction, Teenage Turtle obsession, or Duncan yoyo wizardry that helped make you what you are today. Kay-Bee is cool because its big variety includes all those items from spinning tops to Xboxes that will help make tomorrow's grown-ups as incredibly wonderful as we are today.
Finalist- Kernohan's Toys
Place to Get Children's Clothing
This Little Piggy Wears Cotton 311 Paseo Nuevo, 564-6982
Walking into this store makes you want to be a kid again, have one, or be glad that you do have one. Fabrics that are made from soft, 100 percent cotton with style and fun designs make the clothing comfortable and unique. An interesting selection of games and toys as well as costume items (swords, capes, and little princess outfits, for instance) can be found for gifts from the doting extended family.
Finalist- Chicken Little