News
Williams and Schneider In; Francisco Triumphs Over Barnwell
Measure A Election Reform Goes Down in Flames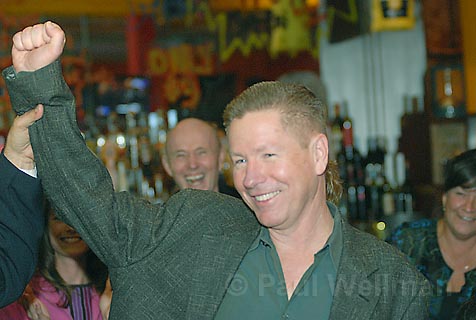 The conventional wisdom held that the three incumbents seeking re-election to the Santa Barbara City Council could cake walk their way into second terms. But on the night of Tuesday, Nov. 6, the conventional wisdom was proven wrong.
In a low turn-out election where very few voters bothered going to the polls-the vast majority of ballots were cast, absentee style, by mail-incumbents Das Williams and Helene Schneider managed to win re-election by comfortable margins. But their fellow incumbent Brian Barnwell was knocked off, placing fifth in a field of eight candidates with only three seats up for grab. Barnwell will be replaced on the council by challenger Dale Francisco, a newcomer to city politics and an outspoken critic of the mini-roundabouts and other traffic calming devices installed on the upper East Side. "The middle of the road is no longer fashionable," Barnwell concluded of his surprising loss. "You're either one extreme or the other. That's the way it went tonight."
While Francisco's election will not alter the fundamental tilt of City Hall, it will change the council's composition. He will be the only Republican on an elected body that for the past two years was composed exclusively of Democrats. On the campaign trial, Francisco proved prickly with his throw-the-bums-out rhetoric-often getting under Williams' skin-but he pledged to work hard, learn the ropes, and try to be constructive. His perspective will be more openly skeptical of the council's clear tilt in favor of alternative transportation, but Francisco harbors no illusions that he can single-handedly turn the council around. "I start with the assumption that everybody has good intentions," he said. "If I want to get things done, I will have to work with them. But I'm confident I can work with all kinds of people." As to Barnwell's theory of the extremes, he commented, "I don't think anybody could be more middle-of-the-road than me."
Williams and Schneider both expressed satisfaction in their own victories, and disappointment for their colleague Barnwell. "It's bittersweet," Schneider said. Williams and Schneider have been the progressive wing of the council, advocating for the living wage, arguing against many developments, and pushing for affordable housing. Both enjoyed strong support from the social activist core constituencies. And both were willing to do the grunt work required to raise campaign funds and walk precincts.
By contrast, Barnwell proved to be a man without a country. The environmental community always tended to regard Barnwell as too pro-growth, and were not won over by his born-again support for city-wide sustainability policies. And the business community-which supported Barnwell during his first campaign-found him too unpredictable for their comfort the second time around. Barnwell lead the charge to impose more stringent height restrictions for new development in Santa Barbara, something bitterly opposed by many in the development community. Nor did it help Barnwell any that he was regularly reviled in the editorial pages of the Santa Barbara News-Press, often for reasons more personal than political. Compounding matters, Barnwell never embraced the money-raising-door-knocking rigors of the campaign trail the way Williams and Schneider did. When volunteers for the Latino-advocacy group PUEBLO went door-to-door throughout Eastside and Westside precincts, they asked voters to support Williams and Schneider, not Barnwell. PUEBLO organizers said Barnwell never showed up for his interview or responded to their candidates' questionnaire.
Santa Barbara voters also overwhelmingly rejected Measure A, which would have changed the timing of Santa Barbara's elections from odd-number years to even numbered years, to coincide with state and federal elections. City Hall pushed for the change because it would save hundreds of thousands of dollars a year in election costs, and a coalition of progressive-minded activists argued the change would almost double the number of people who turned out to vote. By a margin of nearly 2,000 votes, however, voters turned it down.
Measure A organizer Cathy Murillo vowed to come back with a similar measure next year, but this time run a more organized effort to get it approved. "We were naive," Murillo said. "We didn't think anyone would oppose this. Who in their right mind could be against something that increased voter turn-out and saved lots of money? I still don't get it."
Voter turnout: 31 percent
Council race results:
Das Williams: 7,315
Helene Schneider: 6,539
Dale Francisco: 6,290
Michelle Giddens: 5,802
Brian Barnwell: 5,725
Frank Hotchkiss: 5,319
Bob Hansen: 724
Dan Litten: 1,874
Measure A:
No: 7,554
Yes: 5,804