Dance
Modern Dance Company Pilobolus Restructures
Shape Shifting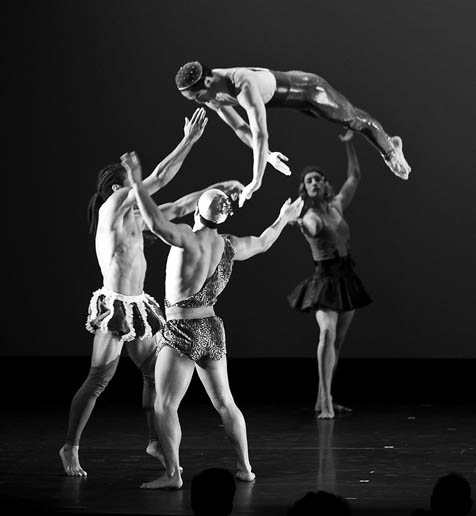 Named for a sun-loving variety of fungus and founded as a collective at Dartmouth College in 1971, Pilobolus Dance Theatre has developed a distinctively gymnastic style of movement involving complex, multi-Â-dancer lifts that are sometimes used to create the shadows of larger single forms.
Born out of the experimental spirit of the late 1960s, Pilobolus began when four of Dartmouth dance teacher Alison Chase's most promising undergraduate students-Robby Barnett, Lee Harris, Moses Pendleton, and Jonathan Wolken-decided to create a dance company. Chase followed them into the collective in 1973, and a sixth principal member and choreographer, Michael Tracy, completed the group shortly afterward. For several decades, the company, which is based in the small town of Washington Depot, Connecticut, has thrived on its idiosyncratic image within the dance world and on its dedication to self-sufficiency.
The founding members were equal partners in the direction of the organization until 2004, when, in an effort to put the company back on its feet financially, its governance model was restructured, and a new board of trustees brought in an executive director for the first time. This new director, Itamar Kubovy, worked with the company on developing Pilobolus both artistically and as a commercial enterprise, resulting in, among other things, its featured appearance on the 79th Academy Awards in February 2007.
Perhaps predictably, this change of governance was not accomplished without drama. Alison Chase, who was responsible for much of the group's choreography through the early '90s, has left in a dispute that began when Kubovy arrived in 2004. Their argument revolves around choreographic rights, a high-profile issue in the dance world since Ron Protas, heir to modern dance pioneer Martha Graham, lost a very public lawsuit to the Martha Graham Center of Contemporary Dance in 2002.
When Pilobolus restructured, the rights race was already on, and their board reflects that fact. Its president is Edward Klaris, an attorney who is the general counsel for the New Yorker and who earned his reputation as an intellectual property and digital publishing rights expert at ABC. Both Klaris and Kubovy belong to a new generation of arts executives for whom the stewardship of dynamic traditional arts legacies is not incompatible with full participation in broad changes in the media.
I spoke with Kubovy recently about Pilobolus's current mission and some possible futures for its work.
You came to this position [executive director of Pilobolus] from directing theater and television. Has it been a fulfilling change? Absolutely. This project has given me the most satisfaction of anything I have ever worked on. It has succeeded in the direction I tried to push it, and that feels great.
What was that direction? I wanted Pilobolus to embrace collaborators from all over the world, and not only choreographers. If we happen to find a great arborist who knows how to get just the right canopy of trees for something that we could do, then that is a great collaboration. We are working with Tim Burton on a shadow play now, and constantly finding all kinds of ways to create hybrid dance theater. We aim for a collage-like assortment of different things, both aesthetically and from a business point of view. We have some more commercial works in production as well, such as an Off-Broadway show that will take Pilobolus to audiences that saw and responded to things like the Blue Man Group. We are always interested in developing more applications for the Pilobolus method.
And this is exciting for you as a creative artist? Yes, because what I am working with is at once powerful and primal in its significance. At Pilobolus, we are looking at the future of art together with a mission to be involved wherever and whenever the human body is used as a metaphor. It's as big as that, and it makes for an incredible, huge foundation to be working from.
What has the controversy about the rights to the choreography taught you? That we are lucky Pilobolus began as a collective, because no matter how strong someone's influence might have been or might be, it is still Pilobolus, not a company named after a person, as with Paul Taylor or Merce Cunningham or Martha Graham.
Pilobolus did the Oscars last year, and the company was even on Oprah. What does all this success in the mainstream entertainment world make possible? Many things. We just did a Hyundai commercial that I think is great, and we're using some of the proceeds to finance community-based residency projects with non-dancers. In terms of method and intent, this work is based on the Theater of the Oppressed. It's multigenerational, it's organized around ideas about social change, and the members of the community collaborate with our dancers to create a piece. When it's ready, they perform it together for the whole town. That's the other half of this new situation for us-the ability to do things like this with our best people now that our foundation is more secure.