Business
J7 Surfboards Goes Downtown
Dropping In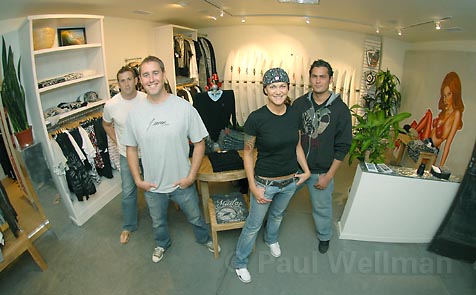 For a town steeped in homegrown surf culture, something funny has been happening recently in Santa Barbara proper. The classic surf shop-a simple affair offering the basics of custom boards, bikinis, leashes, wetsuits, and the occasional T-shirt-has become an endangered species. With the ever-hungry beast of corporate America devouring open storefronts on or near State Street, the locally owned, small-time board shop-you know, the ones where you spent your grommet-hood getting hazed, hearing about far-flung big wave adventure, daydreaming about new boards, and, most importantly, just hanging out on the way to adulthood and better surfing-has been replaced by chain store surf industry titans like Rip Curl, Volcom, and Vans.
Sure, salty and soulful surf shops still exist, but these places-such as A-Frame Surf Shop, Matt Moore's Rincon Designs, and Goleta's Surf Country-are far removed from the heart of S.B., which has always been a waterman's town, despite our more current commercial leanings. Stated simply, surveying the lineup of surf shops in town, one cannot help but echo those famous words of Public Enemy, "Who stole the soul?"
Luckily for the goofy and regular foots among us, just as the first northwest swells wrapped into the Santa Barbara Channel earlier this month, a throwback sort of surf shop opened its doors less than half a block east of State Street. Owned and operated by three young men who are no strangers to the 805 surfing scene, J.seven board shop is exactly the type of place that has gone missing in recent years. Featuring the custom, hand-shaped designs of Jason Feist, the bikinis of Feisty Fashion Show fame, and a handful of lesser-known, artist-driven clothing labels, the East Cota Street space is, in the words of Feist himself, "a clubhouse where you can have a real conversation, maybe check out some local photos or artwork, and order yourself a custom-made surf board."
Along with business partners Sean O'Connor and Tarik Khashoggi, who also happens to be one of S.B.'s best young surfers and J7 team rider, Feist is looking to follow in the footsteps of fellow South Coast surfers/craftsmen like Al Merrick, Renny Yater, and Matt Moore who developed their labels from grassroots underground followings to something markedly more. "I don't want to be some big-time mass production guy and make 20,000 surfboards and have some huge inventory," said Feist. "But at the same time, I'm not just kicked back in my low-profile shaping shack anymore. I've got my name in the window and my heart and soul in the product on the racks. It's pretty scary."
Ironically, it wasn't so long ago that the future of J7 surfboards, let alone the prospects for a similarly named surf shop, was looking about as likely as a rainstorm in July. It has never been easy to make a living as a surfboard shaper but when the rug was pulled out from under the entire industry in late 2005 with the wholly unexpected closure of Clark Foam (manufacturers of more than 60 percent of the world's surfboard blanks) what was already an financially and physically taxing line of work became, in a matter of hours, economic suicide for all but the biggest players in the game. Despite a solid following by surfers from Hawai'i to Cape Cod, the collapse left Feist with only 30 blanks of inventory, thousands of dollars of debt, and stacks of board orders that he now had no way of completing. "Pretty much every day was a struggle but I just kept surfing, worked four jobs, kept making boards for my core team riders, and tried to keep my head on straight," recalled the 34-year-old shaper.
Eventually the industry righted itself and Feist's perseverance and commitment to his team riders, not to mention his undying niceness and "friend first, shaper second" attitude, paid off as his label weathered the storm, setting the stage for this month's grand opening of J.seven. To hear him tell it, it was the hard-learned lessons of the Clark closure, plus the support of friends and surfers like Scotty Turner, Aaron Ernst, Liz Clark, Keoni Cuccia, and newest team rider Kilian Garland that spurred him to take on the massive challenge of running a storefront in downtown Santa Barbara. "At first I was just looking for a space to make more boards out of, but when Sean and Tarik found this place, it just felt right," said Feist. "The bottom line is that I just love making surfboards for people and this is going to keep me doing it."
4•1•1
J.Seven is located at 24 East Cota. Call 290-4129. Grand opening takes place Friday, November 16 and Saturday, November 17.