Cover Story
A Preview of College Basketball in Santa Barbara, from UCSB to Westmont and SBCC
The Way the Ball Bounces
UCSB's basketball teams hope to dock in the Big Dance next March, ushered by two vessels of versatility, Alex Harris and Jessica Wilson.
Both players are four-year starters for the Gaucho men and women. They can do it all-score, rebound, pass, and defend-and they have earned numerous honors from the Big West Conference. But Harris and Wilson should receive lots of support this season. Barring a plague of injuries, UCSB will be putting two of the deepest squads in school history on the floor.
If preseason polls mean anything, much is expected of the Gauchos. The coaches and media of the Big West voted UCSB to finish first in the men's standings and second in the women's. Topping the nine-team league at the end of the regular season is only half the battle. The 2008 Big West Tournament, to be played March 12-15 at the Anaheim Convention Center, will throw eight schools into a win-or-go-home playoff-the teams with the better records will benefit from byes in the early rounds-and the ultimate champions will receive automatic bids to the NCAA tournament.
Santa Barbara has put both teams in the Big Dance only once-in 2002, when the men took a great Arizona team (Luke Walton, et al.) down to the wire at Albuquerque, N.M., and the women scored a historic upset of Louisiana Tech at Austin, Texas.
Before the Big West season begins in January, the Gauchos are embroiled in challenging preseason schedules. The men opened with three games in three days at Stanford's Basketball Travelers Classic. Harris scored 51 points in the first two, as UCSB defeated Northwestern State (Louisiana) 92-71 and Harvard (79-61). Stanford, ranked No. 23 in the nation, brought the Gauchos' streak to an end with a 67-48 victory Sunday, limiting Harris to 18 points. The Gauchos open a four-game home stand tonight, November 15, against Cal Poly Pomona at 7 p.m.
After starting out cold in a 61-50 loss to BYU last Friday, the Gaucho women scored a rousing 69-63 overtime victory over USC on Sunday afternoon at UCSB's Thunderdome. In a remarkable display of perseverance, the Gauchos overcame a 13-point Trojan lead in the last four-and-a-half minutes, tying the score at 53-53 on Wilson's jump shot in the final second. There was a premature celebration when many in the crowd thought Wilson's shot was a three-pointer and a game-winner. When order was restored, Sha'Rae Gibbons-en route to a career-high 19 points-buried a three in the first minute of overtime, putting UCSB ahead for the first time in the game : and for good.
Here is the scoop on the Gauchos, plus a look at the other college basketball teams in Santa Barbara.
Men
Harris, a 6ʹ6ʰ guard, blossomed as an offensive force in 2006-07 when he averaged 21.1 points per game, the best in the Big West and third highest in school history. His intention this year is to be a complete player. Toward that end, he attended the Pete Newell Big Man Camp in Las Vegas during the summer to work on his post moves. He already was a proven scorer outside the paint, draining 46 percent of his three-point attempts.
The senior from Alameda would just as soon see the points spread throughout the Gaucho lineup. "The trick for me is not to use scoring as a measure of success," Harris said. "If we can win more games and I improve my assists and passing, that's fine with me." Last year, the Gauchos went 18-11 overall and finished in a three-way tie for second in the Big West at 9-5.
Harris is equally excited about the defensive end of the floor, where the Gauchos are employing an aggressive approach introduced by new assistant coach Danny Yoshikawa. "It's his masterpiece," Harris explained. "We'll do a lot of trapping and play mostly man. It does two things-it generates points, and it forces us to play hard." Head coach Bob Williams also sees a major improvement in the defense. "We move better laterally," he said. "We have three or four guys who can flat keep their men in front of them. We're going to try to create more offense from our defense."
Even if they're in top physical condition-and the rigorous training program of UCSB's strength and fitness director Mark Brisby has pushed them in that direction-the Gauchos need extra manpower to play as hard as they intend. They showed it in an exhibition victory over Cal State Dominguez Hills, when Williams alternated two separate five-man platoons.
UCSB's forward line is anchored by 6ʹ8Ê° junior Chris Devine, a returning all-leaguer; 6ʹ8Ê° sophomore Ivan Elliott; and 6ʹ9Ê° senior Nedim Pajevic, a transfer from Weber State. All three have exceptional shooting range, giving Williams one of his most explosive teams in his 10th year with the Gauchos. "One of our biggest strengths is our versatile front-line guys," the coach said. "They can step out and shoot the ball."
The Gauchos have a stable of players to join Harris in the three-guard backcourt. Justin Joyner, who started at point guard as a freshman, returns in that role. James Powell, another sophomore, also figures to start. D.J. Posley, a 6ʹ3ʰ junior college transfer, adds a defensive presence to the backcourt. Sophomore Paul Roemer is a solid backup at the point.
UCSB has been ranked as one of the top 20 "mid-major" Division I basketball teams. The category includes schools that do not belong to the power conferences like the Pac-10, Big Ten, and ACC. One of the advantages of the "mid-majors" is they do not recruit players who jump to the NBA after a year or two in college. They are more likely to have true student-athletes.
"My dad wanted me to go to the Ivy League," said Harris, who was an honor student at Saint Joseph Notre Dame High School. "He got an engineering degree from Purdue and then went to Harvard Business School. He runs his own manufacturing company." But the younger Harris is following a different path, majoring in communications with a minor in sports management. "I'd like to be a sports analyst," he said. If you happen to hear him being interviewed, you'll know that Alex Harris has got game, and he's got post-game, too.
Key match-ups
The Gaucho men's current home stand will conclude on Tuesday, November 27, when UNLV's Runnin' Rebels visit the Thunderdome for the first time in 12 years. The Gauchos registered their most significant win last season in Las Vegas, 79-76, as the Rebels went on to win 30 games and advance to the NCAA Sweet 16. On December 22, UCSB will face top-ranked North Carolina at Chapel Hill, N.C. (The Tar Heels will make a return visit to Santa Barbara next year.) UCSB's Big West schedule begins at the Thunderdome on January 3 against defending champion Long Beach State. The Gauchos take their No. 1 position on the preseason poll with a grain of salt. It is generally agreed that several other teams-including Cal Poly, Cal State Fullerton, and Pacific-have a legitimate shot at the men's title.
Women
For 10 years, the Gauchos were almost invincible in the Big West (a 151-9 record in conference games), while making nine consecutive appearances in the NCAA women's tournament. That streak came to an end in 2006 when UC Riverside beat them 59-58 in the conference tournament, and last year, Riverside swept both the regular season and tournament titles.
Jenna Green and Wilson, the last two Gauchos who wore shoes at the Big Dance, want to try them on again. As seniors, this is their last chance. Green was a freshman on the 2004 team that went to the Sweet 16. She was sidelined by a knee injury the following year, when Wilson made her debut. The Gauchos lost to Notre Dame in the first round of the 2005 NCAA tournament and haven't returned since then.
The 6ʹ4Ê° Green is a two-time All-Big West first team selection. She led the Gauchos in scoring last year (16.6 average) even though opposing teams usually put two or three defenders on her. Green's presence was missed when she sat out last weekend's games because of a back injury.
Coach Mark French is challenging the 5ʹ10Ê° Wilson to live up to her potential. He'd like to see consistent performances by the player who stunned nationally ranked UCLA two years ago with a game-tying basket at the buzzer and 11 points in overtime. Despite her uneven play, Wilson put up good numbers last year: 13 points, 6.7 rebounds, and a Big West-leading 4.5 assists per game.
Perhaps her greatest achievement was earning the team's "most improved academics" award last year. Wilson did not come to college from Sacramento with a scholarly reputation. "I was overwhelmed," she explained. "I was at the point where I thought, 'I can't do it here academically : Try something else, leave.'" She was ineligible at the start of her sophomore year. That's when newly arrived assistant coach Camille Burkes got on her case. "As a freshman, I was scared to ask for help," said Wilson, who is majoring in black studies. "Coach Burkes made me study. There were times I cried. Now it's a lot better."
The Gauchos can put a lot of speed on the floor with Wilson, senior Chisa Ononiwu, and junior Whitney Warren. Lauren Pedersen, a junior transfer from UCLA, has upgraded the point guard position. Green's backup, junior Katherine Suderman, is trying to come back from a redshirt injury year. Other veterans are Gibbons, a junior guard, and sophomores Jordan Franey, Ariana Gnekow, Jessie Goble, and Meagan Williams. Power forward Ashlee Brown leads a trio of freshmen. With so many bodies, the Gauchos are playing pressure defense.
French, entering his 21st season as coach at his alma mater, joked about the team's flaws in a preseason interview-"aging head coach, poor decision making"-but he has been seriously concerned about the post defense and rebounding. UCSB needs Green to help shore up those areas.
Key match-ups
The Gaucho women visit 12th-ranked Arizona State on Saturday afternoon, November 17. Six days later, at 7 p.m. on Friday, November 23, they take the floor at the Thunderdome against fourth-ranked Maryland. The Terps still feature most of the stars from their stunning national championship team of 2006. UCSB's first showdown with UC Riverside will take place at home on January 31. The rematch on March 1 at Riverside may decide the regular-season title. Cal Poly, which has upset the Gauchos on their home floor the past two years, visits on February 16.
Following the Gauchos
There will be live commercial radio broadcasts of every UCSB game (men's on KTMS 990 and 1490; women's on KIST 1340). Play-by-play announcers are Gerry Fall and Steve Wendt. Homegrown basketball star Don Ford provides color commentary for both teams. The university's athletic Web site, UCSBGauchos.com, provides news and box scores. The conference Web site, BigWest.org, offers streaming videos of games by subscription.
Westmont
Men
The cozy confines of Murchison Gym on the Montecito campus are a place where basketball purists can enjoy watching a game. Instead of run and gun, it's slice and dice-the damage done by Westmont's disciplined Princeton-inspired offense. "It's a great way to play," said John Moore, who installed the system midway through his 15-year run as the Warriors' coach. "We're still learning. That's the beauty of it."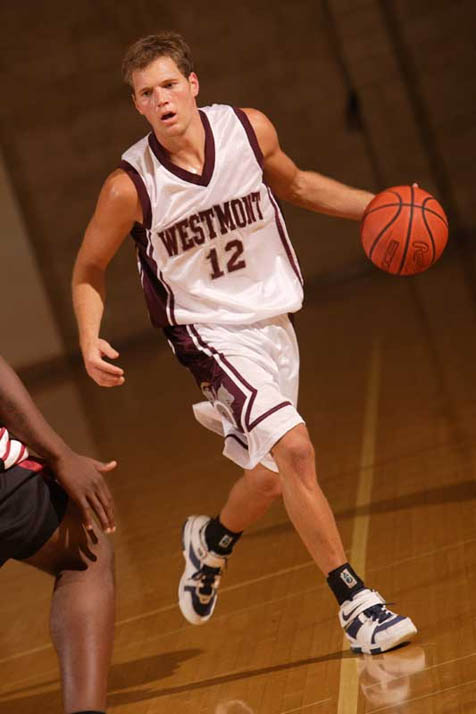 Moore played for Westmont, as did his top assistant Jeff Azain. They have taken the team to the National Association of Intercollegiate Athletics (NAIA) postseason tournament six times, including a Final Four appearance in 1999. All told, Westmont has made it to the NAIA nationals in Kansas City-and for a brief time in Tulsa-15 times, more than any other California school.
The Golden State Athletic Conference (GSAC) is one of the most powerful NAIA leagues. It sent five members, including Westmont, to the nationals last year. Concordia of Irvine finished second. "Our goals are to go undefeated at home and finish in the top three in the league," Moore said.
Pepperdine of NCAA Division I wore down the Warriors in an exhibition game, 97-80, but Moore saw many positives, including Westmont's domination of the boards by a 50-30 margin. Nasa Sete, a 6ʹ3Ê° junior from Hawai'i, was the Warriors' leading rebounder. "He's really competitive," Moore explained. "We have a lot of guys who do different things. We have some big-time clutch shooters."
Ryan Aijian, a 6ʹ1ʰ guard from Bishop Diego High, gives the Warriors a hometown presence. They also have a former county player of the year in sophomore guard Andrew Schmalbach from Santa Maria St. Joseph.
Key match-ups
The bulging GSAC-there are 10 other teams that the Warriors play home and away-takes up most of their schedule. Their home opener December 1 is a conference game against San Diego Christian. Concordia will visit on January 24. The Tom Byron Classic on December 28-29 will bring teams from Wisconsin (Edgewood), Washington (Puget Sound), and New York (Baruch) to Murchison Gym. The GSAC Tournament in early March is a way for teams to solidify their standing for the nationals.
Women
The competition in the GSAC is formidable on the women's side, too, and Westmont got into the mix last season with a fourth-place finish, good enough to send the Warriors to the nationals for the third time. Vanguard University, undefeated and ranked No. 1 until the NAIA semifinals, led the way.
Despite returning all but two players, Westmont was picked to finish sixth on the preseason conference poll. "That's all right," third-year coach Kirsten McKnight said. "We were picked seventh last year. We have high expectations of ourselves."
Amber Stevens, a 5ʹ7Ê° sophomore out of Dos Pueblos High, had a great freshman season. She was third in the nation in steals. "She brought our defense to a whole other level," McKnight said.
The Warriors competed well in exhibition games against Pepperdine and UCSB, despite the absence of All-America forward Ali Mooty. The 6ʹ1ʰ junior is recovering from a foot injury.
"If we can stay confident and healthy, we can accomplish a lot this year," McKnight promised.
Key match-ups
Every GSAC outing is a double-header, with the women's teams playing at 5:30 p.m. and the men's at 7:30 p.m. Non-conference opponents visiting the Warrior women include Taylor (Indiana) on December 18, Montana State-Northern on December 19, and British Columbia on December 31.
Following the Warriors
Fifteen Westmont games will be aired on the radio on KZSB 1290, with veteran John Martony at the microphone. There will be pay-per-view Internet video coverage of all 29 men's and women's home games. Visit the athletics link on the Web site westmont.edu for information.
SBCC
Men
Morris Hodges, in his 19th year at SBCC, is the dean of Western State Conference (WSC) coaches. He is used to seeing high turnover at the community college level, and this year is no exception, as the Vaqueros have 11 new players. Four men return from last year's team that went 16-13 and upset eventual state champion Fresno 79-77.
Alberto Rangel, a 6ʹ5ʰ center, leads the sophomore class. The freshmen include two South Coast players, guard Joseph Bregante from Santa Barbara High and forward Bo Rodriguez from Dos Pueblos.
The Vaqueros are playing in six tournaments, including their own SBCC Classic on December 6-8. That will be their only appearance in the Sports Pavilion until January.
Women
For the first time in 27 years, the Vaquero women are coming off a championship season. They shared the WSC title with perennial power Ventura, splitting their games with the Pirates to go 11-1 in the conference and 23-8 overall. Coach Sandrine Krul enters her fourth season with an overall record of 62-31.
High energy will be provided this season by a pair of 5ʹ3ʰ sophomores, all-conference point guard Ari Hendrix-Roach and Santa Barbara High grad Jackie Perez. Another veteran in the backcourt is Roni Gordon, the top three-point shooter. Brittany Collins, a 5ʹ11ʰ banger, returns to the front line. Katie Randall, a setter on the volleyball team, brings versatility to the floor.
Krul won't be keeping her eager freshmen on the bench. "We want to run, run, and run, both on the offensive and defensive end," said the coach.
The Vaquero women are spending the next six weeks playing 16 consecutive road games all over the state. They will not play at home until their last pre-conference match on January 4 against Foothill College.