News
Indy Photographer in Contempt of Court
Paul Wellman Refuses to Hand Over Unpublished Work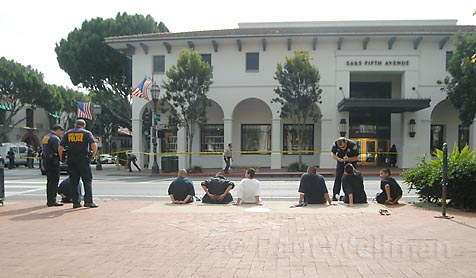 In an expected move by Santa Barbara Superior Court Judge Brian Hill, the Santa Barbara Independent and the newspaper's staff photographer, Paul Wellman, were found in contempt of court Thursday afternoon, November 29, for refusing to turn over unpublished photographs which had been subpoenaed by defense attorney Karen Atkins in the murder trial of 14-year-old Ricardo Juarez.
Juarez is accused of murdering 15-year-old Luis Angel Linares during a gang melee on State and Carrillo Streets on March 14. Many media, including the Independent, covered the event. Wellman took roughly 350 photos in the hours following the incident. "I have adjudged Mr. Wellman and the Independent to be in contempt," Hill told the courtroom, which was filled with various media, including several from the Independent, and Juarez's parents and friends.
Hill took time to explain his decision. "Any one of these photographs might cause the defense to rethink the way they were preparing (their case)," he said, such as who they might call to the stand or who they might impeach. Though California has a Shield Law to protect reporters and photographers in the media, it doesn't extend to every situation, he said. According to one precedent-setting case, Delaney vs. Superior Court, there are four factors which go into determining whether photos are protected by the Shield law, including whether or not the information was sensitive or confidential. "It seems to me all of those factors lead to favoring the publication of all those photos," Hill said. Wellman did offer seven photos which were published either in the print edition of the paper or in its online version, but didn't bring any of the unpublished photos.
The Independent's attorney, Michael Cooney, said this case was important not only for the Indy, but for all media organizations. He said if Wellman is forced to hand over the photos, it could open the door to more serious subpoenas in the future asking for reporters' or photographers' testimony regarding what they may have seen or who they might have talked to. "We're on a slippery slope," he said.
Judge Hill said he understood the media's interests, but cited the 1990 Delaney case which concluded that in some circumstances, the defendant's federal Sixth Amendment right to a fair trial preempts state shield law.
Hill imposed a $1,000 fine on Wellman and the paper, but ordered a stay in the judgment of contempt pending action by an appellate court.
Atkins-who had previously subpoenaed the Daily Sound's photographs , and the paper eventually turned them over-said that after looking at the seven published photos Wellman provided, she was anxious to see the rest. "It reaffirms my belief that the body of photos Mr. Wellman took would be important to our case," she said.
Wellman commented that he was "relieved to hear that Judge Hill understood that this could set a precedent for us to hand over all our photographs for any investigation. If you hand over unpublished photos you stop being part of the media and you start being an arm of the government. If I went onto a scene," he explained, "and I said, 'This is off the record,' or 'I'm not going to show your face,' or 'I'm not going to disclose the location,' it's going to be hard to sell that to someone if they feel I'm going to turn over photos every time I get subpoenaed."