Living
Made in Santa Barbara
Where to Find Handcrafted Holiday Gifts
Nothing proves it's the holidays like crowded sidewalks, heaps of traffic, and stressed-out shoppers. So, every year, we try to take some of the hurt out of the season of gift-buying by suggesting alternative venues to peruse that offer unique goodies made by Santa Barbara artisans. Fortunately, our town overflows with clever, creative persons and so handmade gift ideas abound. Below we've listed a few places shoppers can find refuge from the maddening crowds as well as one-of-a-kind items for those special someones. Also, be sure to look for the Made in S.B. stamp throughout the paper that indicates other homegrown gift ideas. Happy shopping!
CAF Holiday Boutique
If malls and mass-produced goods just aren't your thing, this can be a tough time of year. After all, holiday shopping waits for no man (or woman or child or elf), and the search for the perfect, perfectly unique gift doesn't exactly lend itself to speed shopping. But, fortunately, you're exactly the sort of shopper the Contemporary Arts Forum had in mind when it put together its first-ever Holiday Boutique fundraiser, which goes down Saturday and Sunday, December 15-16, from 10 a.m.-6 p.m. at CAF (653 Paseo Nuevo).
The vendor lineup is decidedly to the luxe side of things with lines carried by the likes of Barneys New York and Fred Segal. And you'll even be doing some good for a cause, too: A portion of the proceeds will fund CAF's exhibitions and educational public programs. At the boutique, shoppers will find giftable goods from 17 vendors, most of which are local (including Bella Notte Due, blaec, Flysouth Clothing, Funky Dumplin', Jaqua Beauty, Luxury Lab Linens, and Stewart+Brown), but some of which have been culled from Miami, New York, Los Angeles, and London.
Holiday Art Bazaar at Reds Cafe
It's the time of the year when shopping rules-even more so than usual-but it's also that time when we find ourselves reflecting on how much we have, and how lucky we are to have it. We want to give to those who are less fortunate, but we also want to find that perfect gift for that special someone, and there's only so much time. In the interests of helping out charitable-yet time-strapped-holiday shoppers, Reds Cafe (211 Helena Ave., 966-5906, redsSB.com) has teamed up with S.B. artists in support of the Unity Shoppe (unityshoppe.org), and the events they've put together will let you do a double-dose of yuletide giving.
The Third Annual Holiday Art Bazaar takes place on two Saturdays-December 8 and 22, 9 a.m.-5 p.m.-and 10 percent from all proceeds will be donated to the Unity Shoppe of Santa Barbara. The events will feature unique, gift-worthy pieces from more than a dozen area artists, including hand-blown glass, jewelry, bags, soaps, ceramics, yoga apparel, and more. Reds, which will donate 10 percent from all cafe sales on the days of the events to the Unity Shoppe, will also act as an official drop-off location for Toys for Tots and the Unity Shoppe Food Drive. So, while admission is free, shoppers are encouraged to bring a new, unwrapped toy and/or food item to donate.
Santa Barbara Arts
After 14 years of showing her artistic wares at the Yes Store-in addition to managing it-Lynn Adams decided S.B. needed a shop where area artists and craftspeople could sell their items year-round. So, she opened Santa Barbara Arts, which, though in the Paseo Nuevo for the last three years, recently found a new home on Canon Perdido Street (128 E. Canon Perdido St., 884-1938, sbarts.org). Inside the boutique, you'll find plenty of handmade arts and crafts to peruse from myriad S.B. artists, and a handful of national artists, too. Check out the delightful silver dogwood-inspired earrings by Sherry Tinsman; Tom Torrens wall bells, each featuring a different, dulcet tone; Heartwood Creations wooden Secret Boxes; as well as creations by area artists Oscar Bucher, Georganne Alex, MAD Dreams Design, Chira Designs, Henry Fechtman, Judith Geiger, Thoi Vo, Sisters, Hanna Dreier, and Story People, to name a few. Not only are you sure to find original gifts for those on your holiday list, Santa Barbara Arts is a nonprofit with all proceeds going to an animal sanctuary.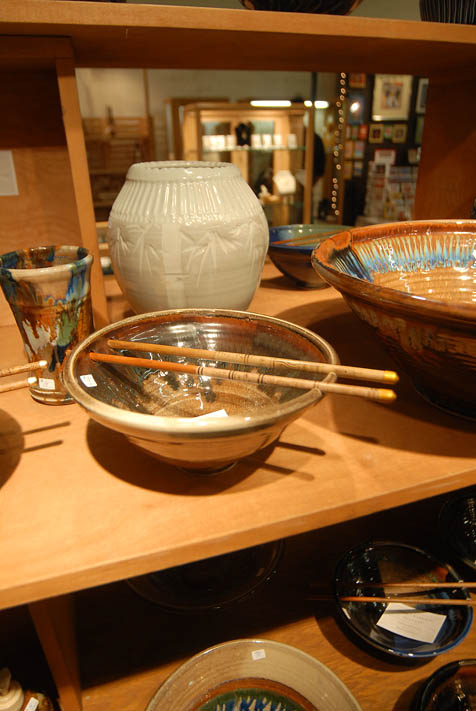 Yes Store
The cooling temperatures may signal the beginning of winter but they also herald the opening of the Yes Store (530 State St., 564-8969). For nearly four decades, Santa Barbarans have been treated to this roving cooperative gift gallery to find one-of-a-kind art and crafts for the special people on their holiday list. Each year, a jury selects who will be allowed to show their wares in the Yes Store, thereby keeping the inventory ever-changing and fresh. The store features handcrafted work in many different mediums such as ceramics, clothing, jewelry, glass, graphics, leather, metal-sculpture, mixed media, photography, textiles, weaving, and wood. The store is open until December 24, from 10 a.m.-7 p.m. daily.
La Cumbre Art Walk & ArtWalk at Cabrillo Beach
For the third year in a row, about 40 artisans will fill in the walkway of La Cumbre Plaza offering their handmade wares for purchase. Art Walk dates are December 8, 14-15, and 21-24, from 10 a.m. until dusk.
If you prefer doing your holiday shopping seaside, meander any Sunday along Cabrillo Boulevard and browse the many artisan booths set up along the sidewalk at the ArtWalk at Cabrillo Beach.
Quixotic MarketPlace
Don't forget to stop by the Quixotic MarketPlace (501 Chapala St., Ste. E, 568-1918), where shoppers can find handmade gifts from featured Santa Barbara artists-who joined together to create the store-as well as items like tea sets, children's wooden toys, birdhouses, and hand-painted silk scarves, to name a few. The MarketPlace is open Wednesday through Saturday, 11 a.m.-5 p.m. and on Sundays from 11 a.m.-4 p.m.